Here's a chance to experience some innovative 360 videos at SXSW if you're in Austin, Texas. They're coming from Brett Leonard, director of Lawnmower Man, which remains a classic if terrifying vision of our technology-laden future. The film is 27 years old and holds up well, despite its aging CGI. But Leonard has never been one to stand still. His new work, Hollywood Rooftop, experiments with a new form of immersive storytelling.
It's a hybrid between 360 videos and the collective storytelling experience we have in movie theaters. Immersion without the headsets, if you will.
Brett Leonard's 360 videos at SXSW
Broadway World describes what Leonard sets out to do.
While already having set a benchmark with its very creation (the project was shot simultaneously as both a VR series and 2D feature) Leonard will look, once again, to ride the bleeding edge of cinematic history by debuting one of the episodes-or 'frags' as the term has been coined-to a room full of people viewing at the same time without a VR headset; instead utilizing the world's most advanced 360-degree video projector (from BroomX Technologies) to display the piece-the sum total of which will then constitute the first-ever live-directed interactive group theatrical presentation.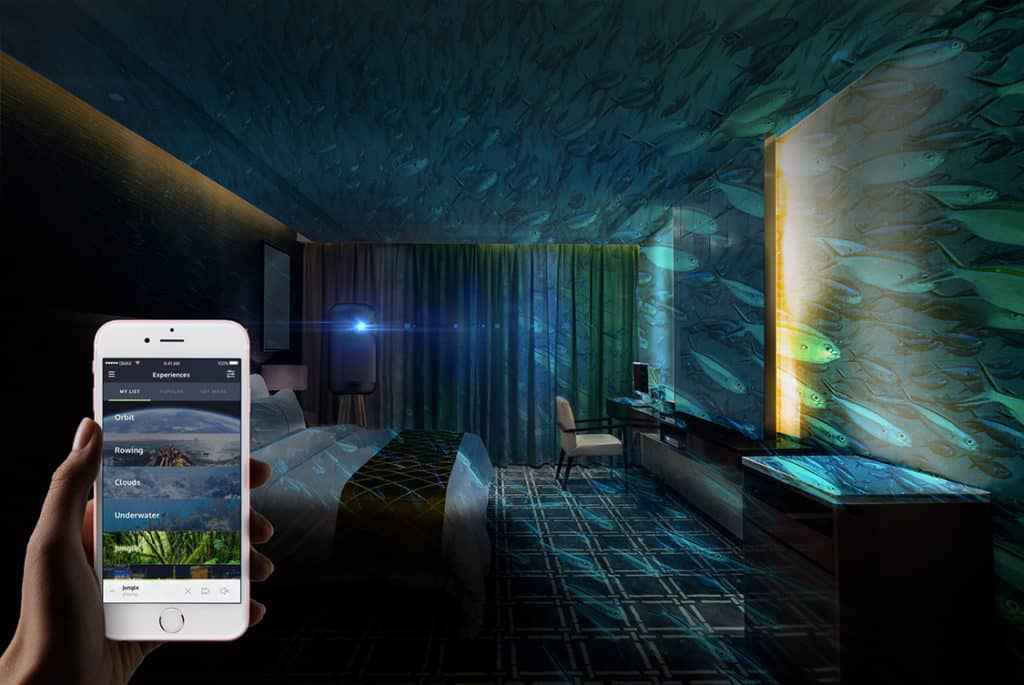 The BroomX technologies video projector is designed to give you a headset-free VR experience. After all those concerns about VR headsets being isolating (though that's not the case when you're in Social VR), here's a virtual experience without all the gear and the issues they raise.
Here's a short video of the experiences BroomX can provide.
Of course, the BroomX Technologies solution has to hold up against the rapid developments in Mixed Reality – especially the Magic Leap One and just released HoloLens 2. Both keep you in the real world while incorporating immersive elements. But both are expensive, and while prices will fall, they're not designed as hardware for the consumer market.
Leonard has his own aims in doing 360 videos at SXSW. He's exploring the possibilities of a collective storytelling experience similar to what we know from Hollywood movies. Just that this time, it's deeply immersive.
Here's his take on the project.
Our aim with Hollywood Rooftop is to inspire an 'Immersive New Wave' of storytelling in this emerging medium, combining classic cinematic technique with the intimacy afforded by Virtual Reality, allowing audiences to be more fully engaged with story, character, and emotion in an actual Immersive Movie experience.
360 Video Event Details
It will be interesting to see how the SXSW crowd reacts. If you're at the Interactive festival this week, you'll find it at the VR Lounge in the Capital Factory at the downtown Omni hotel on March 13th. More details and reservations for the 360 videos at SXSW are on Eventbrite.
Could this lead to a new form of storytelling? We're not sure but definitely intrigued. It offers an element of connectedness that is hard to achieve with our current headsets. But will it be immersive enough?
If you have a chance to experience it at SXSW, let us know what you think.
Emory Craig is a writer, speaker, and consultant specializing in virtual reality (VR) and artificial intelligence (AI) with a rich background in art, new media, and higher education. A sought-after speaker at international conferences, he shares his unique insights on innovation and collaborates with universities, nonprofits, businesses, and international organizations to develop transformative initiatives in XR, AI, and digital ethics. Passionate about harnessing the potential of cutting-edge technologies, he explores the ethical ramifications of blending the real with the virtual, sparking meaningful conversations about the future of human experience in an increasingly interconnected world.