Over the years, KFC has done some strange things to sell chicken (a take out box that charges your phone), but their new employee VR training program is bizarre. Eater says that they are . . .
. . . putting its workers through a bizarre initiation rite: a creepy BioShock-esque virtual reality "escape room" replete with narration from an omnipresent, mildly demonic-sounding Colonel Sanders.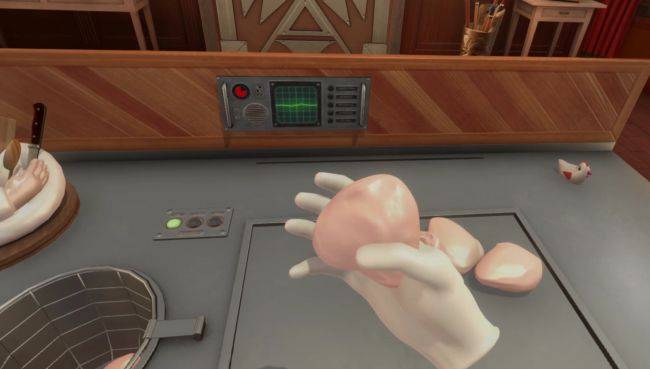 We're not sure it's an actual employ training program and neither was Tyler Wilde at PC Gamer. He called around to a few stores and no one had heard of any VR training. But he was talking to current employees, not new hires.
Then Yum! Brands (which owns KFC) contacted Wilde, forwarded a press release, and said the program is coming.
KFC will use the VR simulation to supplement its robust, multi-step employee training program, called Chicken Mastery Certification, which provides detailed eLearning and hands-on training for cooks in each of KFC's kitchens.
We'll reserve judgment until we see more evidence, but KFC may be jumping on the virtual reality train.
VR training
Of course, the idea is not entirely new. Walmart is rolling out VR training for continuing employees and other companies are experimenting with training simulations using immersive technologies. It currently remains a challenge since users with high-end headsets usually require an assistant. And there's usually only a few headsets available.
But as the hardware gets easier and AR comes into its own, it will take off. And when AI is incorporated into virtual reality, the simulations will be a game-changer. Employees will be able to make mistakes, try out high-pressure scenarios (eg., Black Friday), and work through highly realistic customer simulations.
KFC's VR Training
Here's the description from Eater.
In order to get out of the virtual escape room, employees will have to play as a pair of disembodied hands to demonstrate (virtual) mastery of the five-step cooking process — inspecting, rinsing, breading, racking, and pressure-frying — all the while being cajoled by a cackling Colonel.
Right now, it sounds more like something you'd find on the Steam VR Store, not a corporate training program.  On the other hand, for a younger generation that will grow up in virtual reality, this will seem commonplace.
Here's the video – just be ready for the weirdness of it all.
https://youtu.be/W4DIM5S68W0
Is KFC is having a little fun with us or taking a surreal stab at innovation? We'll update you if we hear more.
Emory Craig is a writer, speaker, and consultant specializing in virtual reality (VR) and artificial intelligence (AI) with a rich background in art, new media, and higher education. A sought-after speaker at international conferences, he shares his unique insights on innovation and collaborates with universities, nonprofits, businesses, and international organizations to develop transformative initiatives in XR, AI, and digital ethics. Passionate about harnessing the potential of cutting-edge technologies, he explores the ethical ramifications of blending the real with the virtual, sparking meaningful conversations about the future of human experience in an increasingly interconnected world.