While we wait for our consumer market smart glasses later this year (or next), AR development just took a fascinating turn with Niantic's acquisition of 8th Wall. Niantic is well known for its wildly popular AR game, Pokémon GO, and its Lightship SDK which works with Unity to produce standalone experiences. 8th Wall quickly made a name for itself with an easy-to-use platform for developing AR experiences that don't require a smartphone app. We had the opportunity to experience both at last fall's Augmented World Expo and felt they were critical for augmented reality's future. Looking back on it now, Niantic's acquisition hardly comes as a surprise.
Niantic and AR Development
RoadtoVR sums up the impact of Niantic's acquisition on AR development.
Though best known for its games like Pokémon GO, Niantic is moving to position itself as a platform for AR development. The company recently launched its Lightship SDK—a suite of AR development tools to give third-parties the ability to create world-scale AR content—along with a $20 million development fund to kickstart the platform.

While Niantic's Lightship SDK is designed to integrate with the popular game engine Unity—and ultimately produce standalone app-based experiences—the company's acquisition of 8th Wall expands its toolset to cover web-based AR content as well. Strategically that moves Niantic closer to being a one-stop shop for developers building AR content across a broad range of devices.
8th Wall claims to support 5 billion smartphones, and at AWE last fall, they walked the walk by demoing AR development on prior generation smartphones. It was not your typical vendor presentation with the latest devices and a promise of backward compatibility. We saw it in action.
Here's a quick overview of 8th Wall's platform.
As VRScout notes,
Over the past four years, over 50,000 AR experiences have been developed using 8th Wall's WebAR platform, from a Spider-Man: Into the Spider-Verse interactive face filter to a fully-playable Pac-Man game developed for Pizz Hut. Other notable partnerships include LEGO, Porsche, Nike, Honda, and Broadway just to name a few.
Unlike standard AR development that requires a dedicated app, 8th Wall's technology allows developers to push out AR content through a compatible browser (Google Chrome and Mozilla Firefox), without the need for a dedicated app. Even better, as 8th Wall notes, "You control your launch and update schedule, distribution, and analytics."
And that's the only way augmented reality will ultimately take off – it needs to be (if we can coin a phrase) app-free. 
An AR Experience Done With Niantic and 8th Wall
If you want to see an example of AR development done through Niantic and 8th Wall, click on the QR code in the image below or visit 8th.io/niantic for a quick AR experience.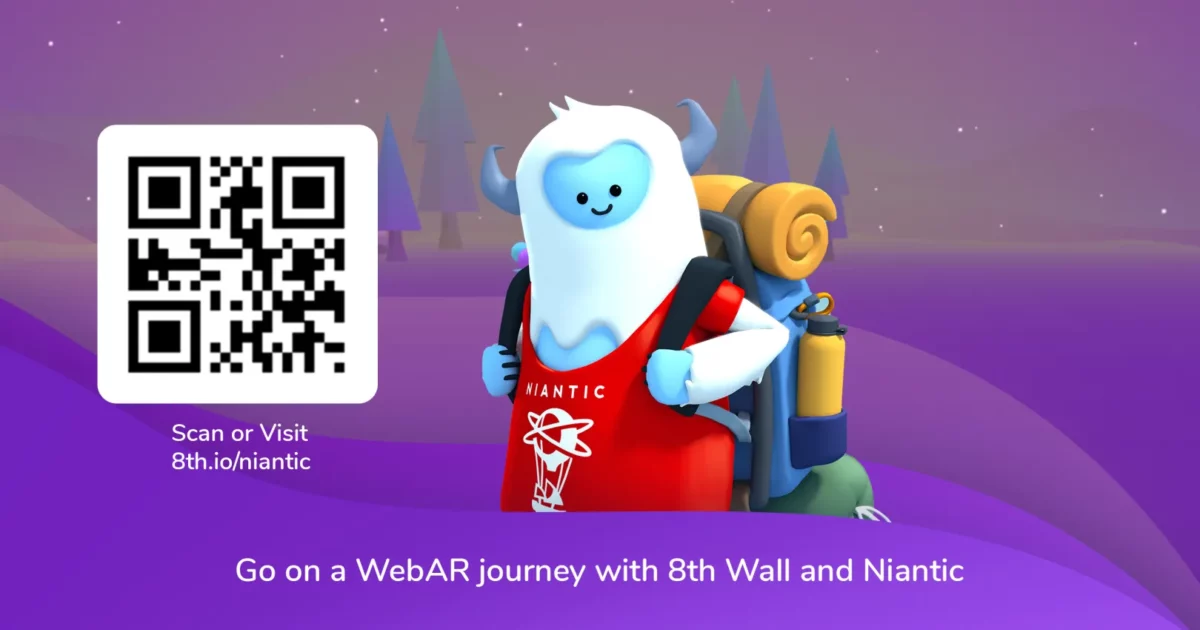 Typical of Niantic's software development kit, the AR experience enables occlusion, real-time mapping, precise geolocation. And 8th Wall's technology lets you access the experience without an app.
You can learn more about 8th Wall's technology here and check out some of Niantic's unique projects. It's good to see AR development take off before our smart glasses arrive. As we know with the recent history of VR, innovations in hardware are only one part of the equation – we need virtual content. When our smart glasses arrive, the AR development process will be ready for them.
Emory Craig is a writer, speaker, and VR consultant with extensive experience in art, new media, and higher education. He speaks at global conferences on innovation, education, and ethical technology in the future. He has published widely and worked with the US Agency for International Development, the United Nations, and the Organization for Economic Co-operation and Development (OECD). Living at the intersection of learning, games, and immersive storytelling, he is fascinated by AI-based avatars, digital twins, and the ethical implications of blurring the boundaries between the real and the virtual.