It's time for the NMC conference – and we're thinking about immersive learning and the future of education. The Digital Bodies team is preparing for the New Media Consortium conference taking place in Boston June 13 – 15. We have a packed schedule and lots to talk about in VR, AR, AI, the NMC Horizon Report meta trends, and Digital Literacy and the future of learning.
Here's our schedule of activities for the week:

Tuesday – Learning with Immersive Experiences 
On Tuesday morning we will lead a three hour pre-conference workshop on Immersive Learning. This session will feature speed dating activities and design thinking exercises to dive deeper into the potential uses of virtual reality in the learning environment.
Virtual Reality Master Class: Learning Through Immersive Experiences
Join the presenters for a workshop that mixes storytelling, future thinking, and experimenting with virtual and augmented reality tools (VR and AR). In this hands-on workshop, experiment with a variety of immersive tools and apps, including Snap Spectacles, VR cameras, mobile headsets, 3D scanners, and platforms. Participate in group projects to learn workflows for using these tools to create immersive AR/VR experiences. Discussions will focus on how these new forms of stories will transform learning. Strategies will be developed for implementing AR and VR in both formal and informal learning environments.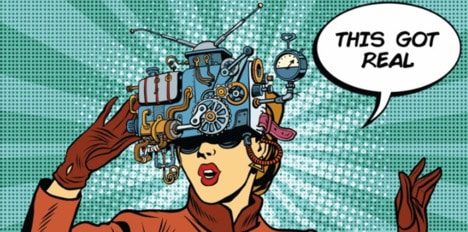 Wednesday – Future Trends and the NMC Horizon Report 
In the morning, we will join our good friend Bryan Alexander on his Future Trends Forum. Bryan will be broadcasting live interviews from the NMC Summer Conference. The session will take place via the Shindig Platform 10:30 -12:00 and will feature a number of presenters from the conference.
In the afternoon, Maya will join Alex Freeman, the NMC's Senior Director of Membership and Special Projects, to discuss the meta trends in this year's NMC Horizon Report for Higher Education. They will be talking about access, data, demographics, creating a culture of innovation, immersive learning with AR and VR, and Artificial Intelligence.
Connecting the Dots: Six Meta-Categories from the NMC Horizon Report – 2017 Higher Ed Edition
Meta-categories help tell a larger story about the overarching themes driving progress in — or impeding — teaching, learning, and creative inquiry. Each of the Horizon Report's 18 topics can be placed into one (or more) of six meta-categories that reflect movements in higher education: Spurring Innovation, Fostering Authentic Learning, Tracking and Evaluating Evidence, and more. This presentation will feature the latest research on advances in technology related to teaching, learning, and scholarship in higher education under these meta-categories and attendees will be encouraged to share current uses they would consider good models, as well as far-horizon technologies and how they might help to advance the teaching and learning process.
Thursday – Digital Literacy, VR, AR and AI
Thursday continues with a round of events on immersive learning and the future of education. In the morning, we both will be doing one of NMC's signature Five Minutes of Fame Talks. We promise to finish before the gong! Join us for two fast-paced talks.
Digital Literacy: From Fake News to Fake Realities
With the recent crisis of "fake news," what has happened to digital literacy? What is it and how should it be taught? With rapid advances in virtual and augmented Reality, is society ready to deal with "fake reality?" How should literacy be defined and taught when virtual worlds mean that human experience itself is no longer a touchstone for what is real? This presentation is not about a completed project, or one underway; it is an urgent proposal — a provocation — for everyone. As educators and leaders, the digital and visual literacy of future society is in your hands.
From Leonard to Google's Tilt Brush in VR
Leonardo da Vinci was not just a painter, designer, and engineer. With his imagination, he envisioned and realized ideas far beyond the sciences of the 15th century. In the digital age, people are faced with complex questions and need edge tools to solve them. This presentation will demonstrate how virtual and augmented reality can empower learners to visualize problems and experience immersive stories and data. Google's Tilt Brush is an example of a tool that can enable learners to design and rapidly prototype solutions. As VR matures, students will become creators, and like Leonardo, invent the new technologies of the future.
In the afternoon, we team up with Lorenzo Vallone from Mirum Learning to talk more VR and AR in education. Mirum has developed new content pieces and we will share our insights on VR and AR developments in learning.
How VR, AR, and MR are Transforming Higher Education 
Virtual Reality, Augmented Reality, and Mixed Reality are transforming how we live, work, and play — and changing teaching and learning. These technologies have reached critical mass and are being used across all sectors of the economy. Higher education is already taking advantage of these solutions to transform how students engage and learn. From general education to advanced sciences to vocational training, these highly immersive Extended Reality experiences are enabling students to experience learning in an entirely new way and to practice advanced concepts in a safe, virtual space.
Immersive learning and the future of education
In between the many sessions we look forward to playful and thought-provoking conversations, and good times with old and new friends. We will be social media correspondents at the conference so follow us and NMC for more updates before and from the conference. If you'll be in Boston, we look forward to meeting you!
Maya Georgieva is an EdTech and XR strategist, futurist and speaker with more than 15 years of experience in higher education and global education policy. Her most recent work focuses on innovation, VR/AR and Immersive storytelling, design and digital strategy. Maya actively writes and speaks on the topics of innovation, immersive storytelling and the future of education and consults organizations and startups in this space.