If you're connected with the VR community, you likely heard a collective sigh of relief as Meta ended the Facebook account requirement. It's been nearly two years since the requirement was implemented, upsetting users that didn't want a Facebook account or were concerned about data privacy.
As challenging as it was for individual users, the need to have a Facebook account was a huge stumbling block for universities, nonprofits, and businesses who wanted to use the world's most popular VR headset. You were forced to swallow Meta's requirement, devise a policy-violating workaround, or let the Quest become an expensive paperweight.
Now that Meta has publically announced the end of the Facebook requirement let's see what that means for Quest users. And more importantly, let's take a quick look at what the future holds. The account requirement was clearly a business decision about the future commodification of personal data in VR; terminating it only means that Meta will be looking for other revenue streams – or new approaches to tapping into personal data in the Metaverse.
In other words, celebrate the good news, but don't get overly excited. Everyone – but especially Meta – will still try to figure out ways to tap into the firehose of personal data that VR will offer.
The End of the Facebook Account Requirement
The new policy will be rolled out in August and, according to CEO Mark Zuckerberg, will provide users with "more flexibility and control in VR." Here is Road2VR's breakdown of the news:
Everyone needs a Meta account to login to their device
Everyone needs a Meta Horizon social profile, used for social stuff
You can unlink your Facebook account entirely 
New Meta accounts let you add Facebook and/or Instagram to the same Accounts Center for "connected experiences"
"Friends" will become "Followers" à la Instagram
You'll be able to set your social profile to 'Open to Everyone,' 'Friends and Family,' or 'Solo.' There is also a 'Private' mode which will be the default for teens aged 13-17. That latter point sounds good, but given how underage children seem to be monopolizing many social VR platforms, we're not sure this approach does anything concrete. 'Private" mode is not something completely private. Let's call it "privacy lite".
 . . . only your followers can see who you follow and who follows you. Everyone else will still be able to see your profile picture, avatar, username, display name, follower count, and the number of people you follow. [Road2VR]
While it's no longer tied to the Facebook social media platform, the new Meta account requirement is mandatory. You won't be able to just pick up a Quest HMD and use it.
Thankfully, if you've already linked your Oculus and Facebook accounts, you'll now be able to unlink them. Also, the new Meta accounts no longer include the Real Name Policy with Facebook that was resulting in a number of people getting their accounts shut down and their headsets bricked.
UpLoadVR provides a helpful Before and After chart for the new account structure: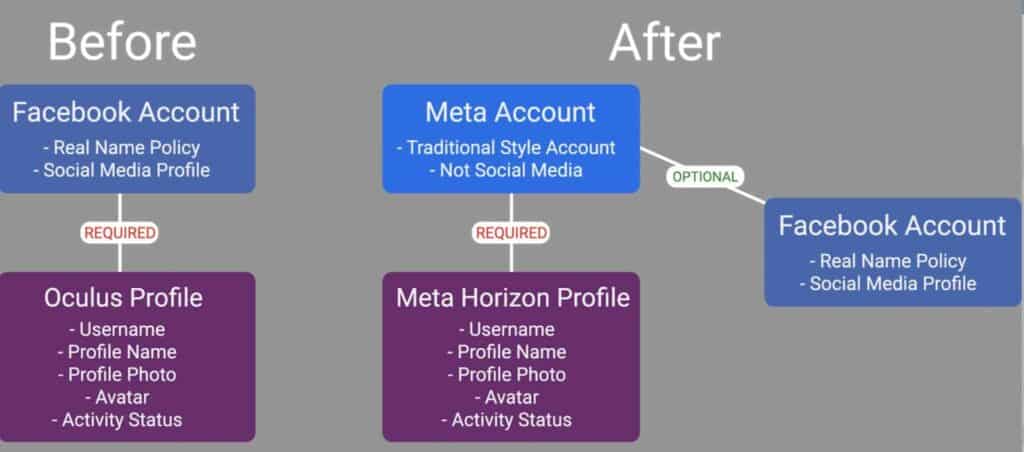 Overall, it's a much better account arrangement – at least until you begin to think about Meta's plans for the future. Some of the tech press is getting lost here – with VRScout seeing this as a step toward making access to the Metaverse frictionless. No, this move isn't about Meta finally discovering how to create an easy sign-up process (Zuckerberg learned how to do that back in a dorm room at Harvard). On the contrary, it reflects Meta's struggle to develop revenue streams for the day when the Metaverse becomes real.
What is Meta's Business Model for VR?
For the most part, tech companies only make money in one of three ways: they sell you products (e.g., Apple, Amazon), provide services to other businesses (e.g., Microsoft, Salesforce), or sell you as a product to advertisers (e.g., Meta and Alphabet). While Meta has cornered a significant share of the VR market, it's likely only breaking even on headset sales (and possibly even losing money). It's made a massive investment in AR and VR which resulted in a staggering $10 billion dollar loss in 2021. Zuckerberg has a long way to go before hardware sales start to replace Meta's revenues from social media ($115 billion in 2021).
On the other hand, there is little potential to sell VR as a software service for the enterprise sector in the foreseeable future. Let's be real here, Azure and Oculus aren't even in the same league.
That brings us back to what Meta currently draws 90% of its revenue from – selling personal data gathered from social/virtual environments. Clearly, the Facebook account requirement generated too much opposition as an initial step to doing this in VR. But unless there is a significant breakthrough in hardware with the mass-market adoption of smart glasses, that leaves Meta right where it is now – trying to figure out how to monetize user behavior in virtual reality.
Good News – Just Don't Get Too Comfortable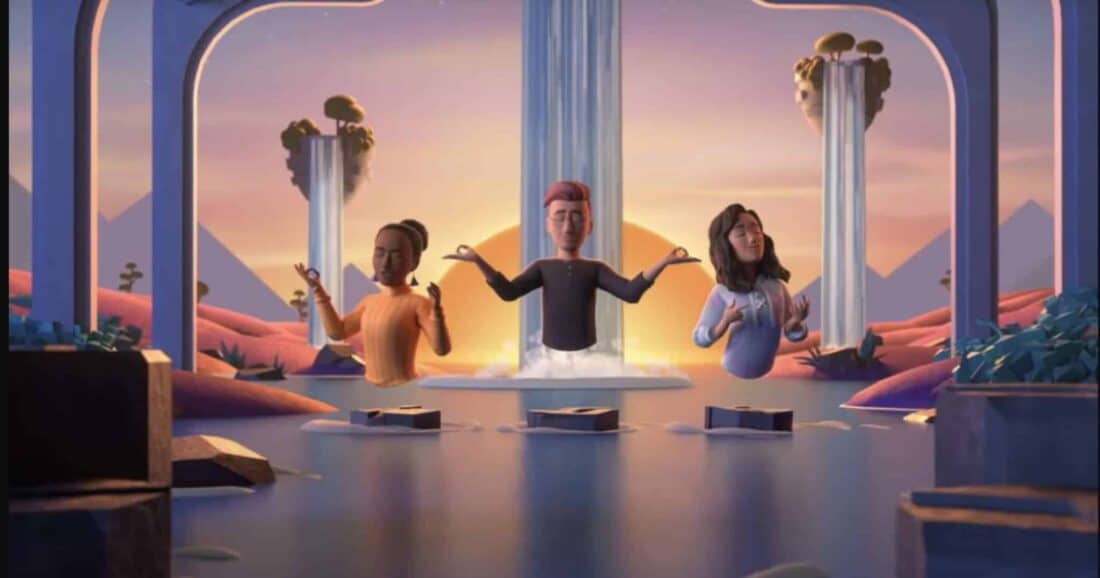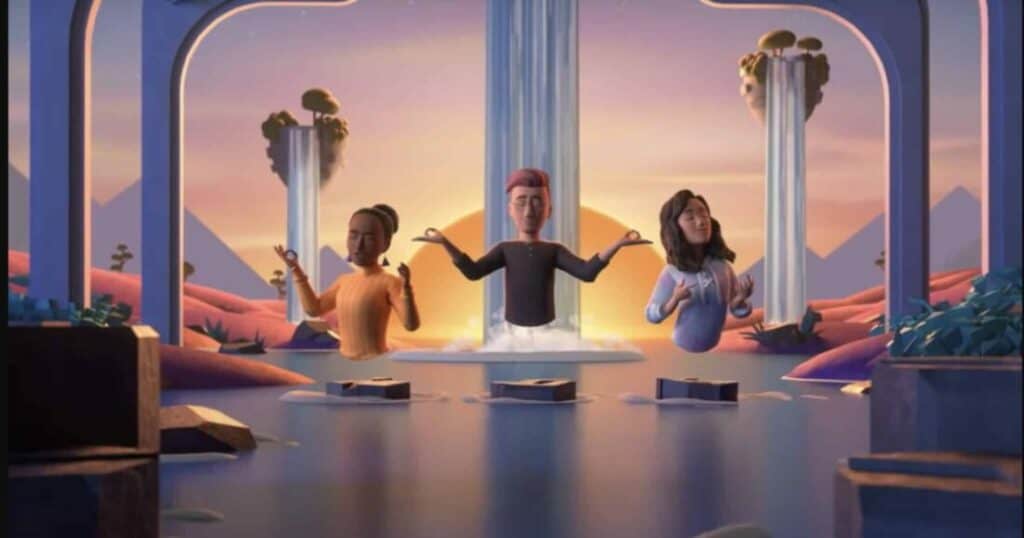 We're delighted to see the Facebook account requirement come to an end. It will make life much easier for education and business to experiment with VR and roll out immersive learning and workforce training initiatives. But the development hasn't placated our skeptical side. Most of all, we fear that the new Meta accounts and Horizon profiles will be merged as Meta moves closer to making the metaverse a reality. And if Meta makes that move in a few years, we'll be right back where we started with the Facebook account requirement. A Meta Horizon social profile could just be a Facebook account requirement by another name.
We'll be watching to see how this plays out.
Emory Craig is a writer, speaker, and consultant specializing in virtual reality (VR) and artificial intelligence (AI) with a rich background in art, new media, and higher education. A sought-after speaker at international conferences, he shares his unique insights on innovation and collaborates with universities, nonprofits, businesses, and international organizations to develop transformative initiatives in XR, AI, and digital ethics. Passionate about harnessing the potential of cutting-edge technologies, he explores the ethical ramifications of blending the real with the virtual, sparking meaningful conversations about the future of human experience in an increasingly interconnected world.