As we continue our uneven recovery from the COVID-19 pandemic (good in some countries, record outbreaks in others), you may want to check out Jean-Michel Jarre's live concert in VR. The French electronic musician will do a 40-minute virtual performance, Alone Together, in VRChat on Sunday, June 21st, at 9:15 pm CET. That works out to be 12:15 pm Pacific Time, 3:15 pm EDT in the US.
While you will be able to watch it on Facebook or YouTube, we recommend VRChat, even if you don't have the headset and need to be in desktop mode. Here's how to access it:
As it's being hosted in VRChat, the concert will be accessible to those with or without a VR headset. For those with a PC VR headset, you'll simply need to open VRChat and enter 'VRROOM' in the world search bar at the time of the performance. For those without a PC VR headset, you can start VRChat in Desktop mode and enter 'VRROOM' in the world search bar to join the virtual concert on your non-VR device. (UpLoadVR)
One quick tip: it appears that you must use all caps when you search for "VRROOM" to access it.
The Latest Live Concert in VR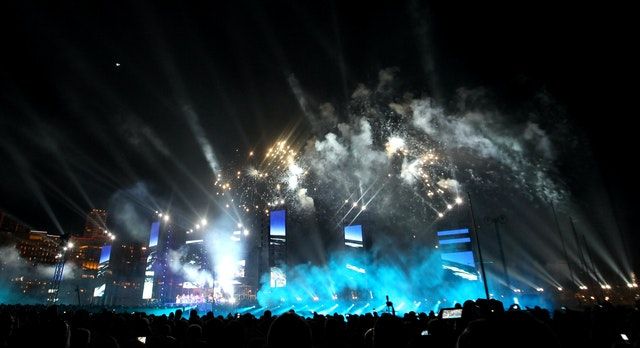 Jean-Michel Jarre's project follows on the heels of a growing number of musicians experimenting with virtual reality. We've gone from the early days of the Paul MacCartney and others putting a 360 camera on stage to full-blown performances in VR by Lindsey Sterling and the US rapper Travis Scott, who played inside the online game Fortnite back in April. As We Rave You noted,
. . . music lovers have been tuning in across the world for other special virtual concerts such as Brownies and Lemonade's Digital Mirage, or Couchlands, the virtual version of iconic dubstep festival 'Lost Lands',
Jarre is promising to take the live concert in VR format a step further by live mixing the music during the event.
The well-known artist has a mission that goes beyond experimenting with new technologies. The performance is designed to send a message to the public and the music industry on the value of music – whether live or virtual – especially in a time of crisis. In addition to the VR performance, there will be a "silent" broadcast of the event for music, art, and design students who will gather at the Palais Royal in Paris:
At the end of this simultaneous performance, the participants gathered in the courtyard of the Palais Royal will be able to chat live with Jean-Michel Jarre's avatar, erasing even further the boundaries between the physical and virtual worlds. To conclude, the avatar will open a virtual backstage door to which Jarre will welcome the group of students in person to his studio to share the behind the scenes of the evening. (Jean-Michel Jarre website)
Jean-Michel Jarre is a cultural icon in France. His genre-defining 1976 album Oxygene had a major impact on electronic music and performance. The virtual environment for the live concert in VR is being kept under wraps until its debut. However, you'll be able to check out the virtual space an hour before the performance begins.
Expect something big from an artist who is anything but understated in his performances, having staged events at the Pyramids of Giza in Egypt and the Forbidden City in China. You'll be able to experience it through a wide range of wired headsets, including Oculus Rift, HTC Vive, Valve Index, Samsung Odyssey, and Windows MR. Just go to VRrOOm inside VRChat right before the concert goes live or you can click on this direct link. Note that if you are already in VRChat before it begins, you'll have to refresh your connection for the live event.
Referring to the groundbreaking film, Jarre promises to deliver something that ". . . will be like the Matrix."
See you in VRChat this Sunday.
Emory Craig is a writer, speaker, and consultant specializing in virtual reality (VR) and artificial intelligence (AI) with a rich background in art, new media, and higher education. A sought-after speaker at international conferences, he shares his unique insights on innovation and collaborates with universities, nonprofits, businesses, and international organizations to develop transformative initiatives in XR, AI, and digital ethics. Passionate about harnessing the potential of cutting-edge technologies, he explores the ethical ramifications of blending the real with the virtual, sparking meaningful conversations about the future of human experience in an increasingly interconnected world.