So Google's new VR headset – the Lenovo Mirage Solo – arrived on Friday, before next week's annual I/O event. You almost feel it was rushed out the door to keep Facebook's new Oculus Go from sucking up the publicity for standalone virtual reality HMDs. No matter there will be much more VR news coming out of the conference (which we'll be streaming live here).
Google's headset was announced last year and unveiled at CES 2018 back in January. It's their first standalone unit, though they've never offered a tethered HMD. From the early days of Google Cardboard, Google always focused on mobile VR – slip your phone into a headset to get basic virtual reality – or at least 360 video. Now, you'll no longer need your phone.
As Clay Bavor put it in Google's blog,
The Mirage Solo puts everything you need for mobile VR in a single device. You don't need a smartphone, PC, or any external sensors—just pick it up, put it on, and you're in VR in seconds.
But you could just as easily say the same about Oculus Go – and indeed, Oculus says as much.
Easily enter virtual reality with no PC or wires attached.1 Oculus Go is a standalone VR headset made to fit you. Designed with breathable fabrics, adjustable straps and our best lenses yet.
Google's new VR headset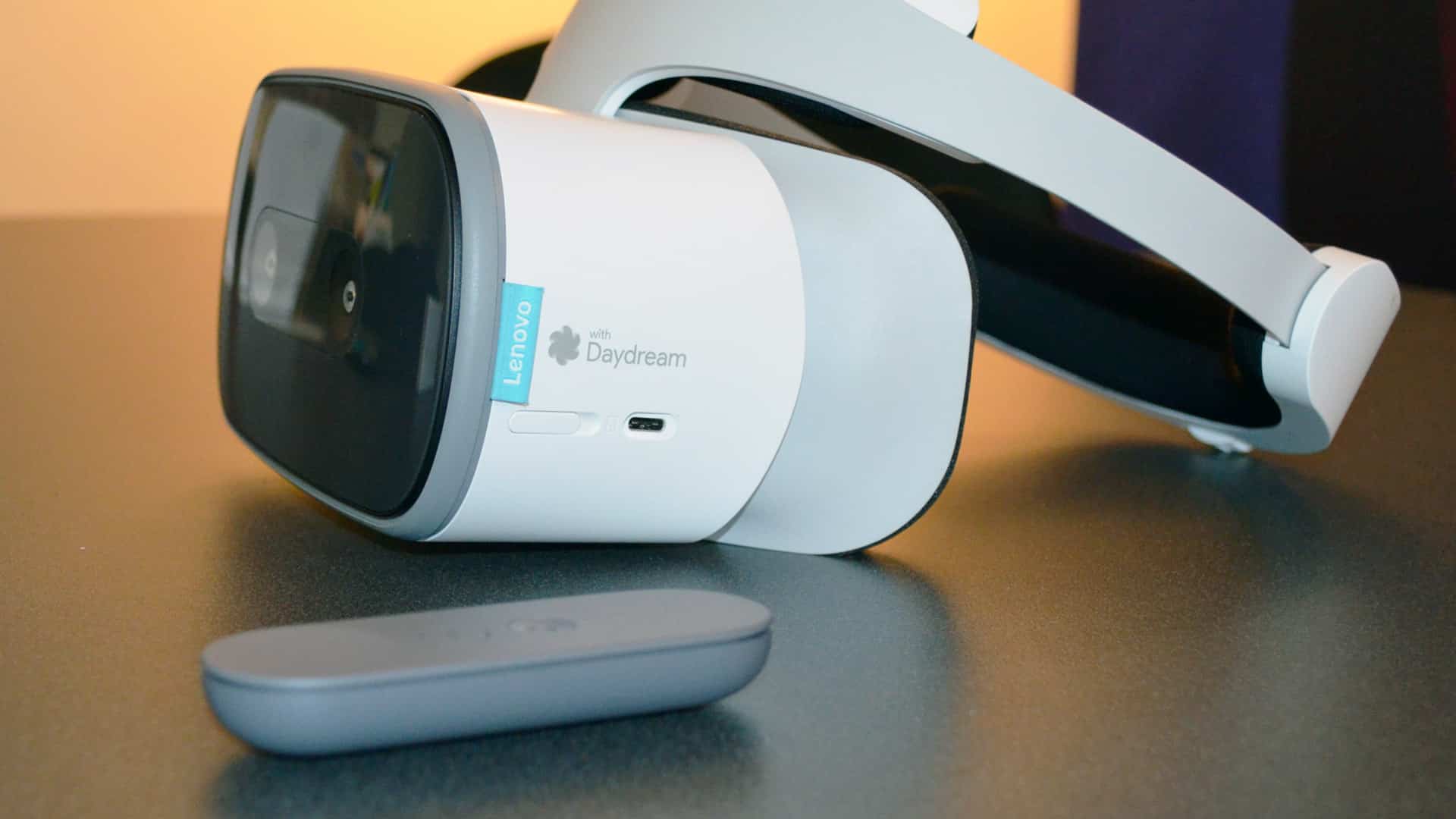 Since our unit hasn't arrived yet, we won't do a full comparison with Oculus Go. But here's some quick observations if you are eager to pick up Google's new VR headset – or wondering which one to get.
First, you may have to wait a bit for Google's headset. Amazon is already listing the Mirage Solo as out of stock while Facebook's unit is arriving 5-7 days after ordering.
Oculus Go is 3DOF device (3 degrees of freedom) – which means it's like all other mobile HMDs. It tracks your head movements, but not your body. Depending on the VR experience, that will make it feel less immersive.
Mirage Solo comes with Google's Worldsense which gives it 6DOF (6 degrees of freedom) – to some extent. You can move around a 1.5-meter circular area, better than what any 3DOF HMD offers. But don't expect it to feel like a high-end VR headset. This doesn't come close to the room-scale freedom of movement with the HTC Vive. However, you do get a 6DOF experience without the pain of setting up base stations.
Google's new VR headset has the better processor, coming with a Qualcomm® Snapdragon™ 835 in contrast to the less powerful 821 in the Oculus Go.
Can the Mirage Solo hold its own?
The Mirage Solo does more but it costs more – indeed, the price point matches Facebook's Oculus Rift. Easier to set up and use, for sure, but it's unclear if the average consumer wants to drop $400 for standalone VR.
Two early strikes against the new VR headset from Google – one minor, one major (to us, at least):
The Mirage Solo offers the same controller that comes with basic Daydream View. It's a design we praised for its simplicity when it first arrived, but this HMD calls for more. Compare it to the Oculus Go controller which includes a trigger and a more ergonomic shape. The latter is a better solution.

More importantly, isn't content king? If it is, Google is faced with a major hurdle. Right now, there are only 250 VR titles in the Daydream store, while Oculus Go offers a thousand. That's a hard sell when it's the more expensive HMD.
There's already a winner in this battle
It's early in the game so count these as just initial observations on Google's new VR headset. The Daydream platform has always been fun and incredibly simple to use. But it's yet to fully deliver. With the Rift as a popular high-end HMD and Oculus Go as an entry-level model, Facebook is nicely positioned at both ends of the market. It remains to be seen if Google can grab a significant share of the middle.
The best news in all of this is that we're debating the pros and cons of VR headsets that cost from $200 – $400. What a world of difference from the days of $600 headsets that required a $1,500 gaming computer. Whatever happens in the battle for the VR market, we're the ones that come out ahead.
Emory Craig is a writer, speaker, and consultant specializing in virtual reality (VR) and artificial intelligence (AI) with a rich background in art, new media, and higher education. A sought-after speaker at international conferences, he shares his unique insights on innovation and collaborates with universities, nonprofits, businesses, and international organizations to develop transformative initiatives in XR, AI, and digital ethics. Passionate about harnessing the potential of cutting-edge technologies, he explores the ethical ramifications of blending the real with the virtual, sparking meaningful conversations about the future of human experience in an increasingly interconnected world.