The beginning of summer is here, meaning it's time to step into the world of augmented and virtual reality at AWE 2023. The annual Augmented World Expo is more than a gathering of AR/VR enthusiasts set against the picturesque backdrop of sunny California. It's a stage for industry leaders and startups to showcase the latest advancements in XR technology. We've been covering the conference for many years, and it remains one of our favorite events – a mix of industry leaders, practitioners, and startups.
AWE 2023 always serves up a broad canvas of XR possibilities across various disciplines. The conference covers gaming, fashion, and entertainment and digs into the more practical applications of XR in education, healthcare, and enterprise settings.
Going back to 2010, over 5,000 companies and 60,000 professionals have found common ground at AWE, meeting, conversing, debating, and living the possibilities of XR.
The Metaverse Took A Hit This Year
A short year ago, everyone was focused on the Metaverse, Web3, and blockchain. Facebook rebranded itself as Meta toward the end of 2021, and it felt like everyone would soon be living, working, and learning in virtual environments. But how quickly times change. A year later, crypto crashed, and hackers and scam artists stole a record $3.8 billion. Tech companies laid off more than 93,000 employees, followed by 150,000 more by mid-May 2023. Generative AI burst upon the scene at the end of 2022, forcing Silicon Valley to rethink its priorities and investments. The concept of an overarching Metaverse impacting education, business, and industry lost its luster, replaced by primitive versions of AI that were both easily accessible and deeply compelling. Who needed virtual worlds when we were suddenly awash in auto-generated content?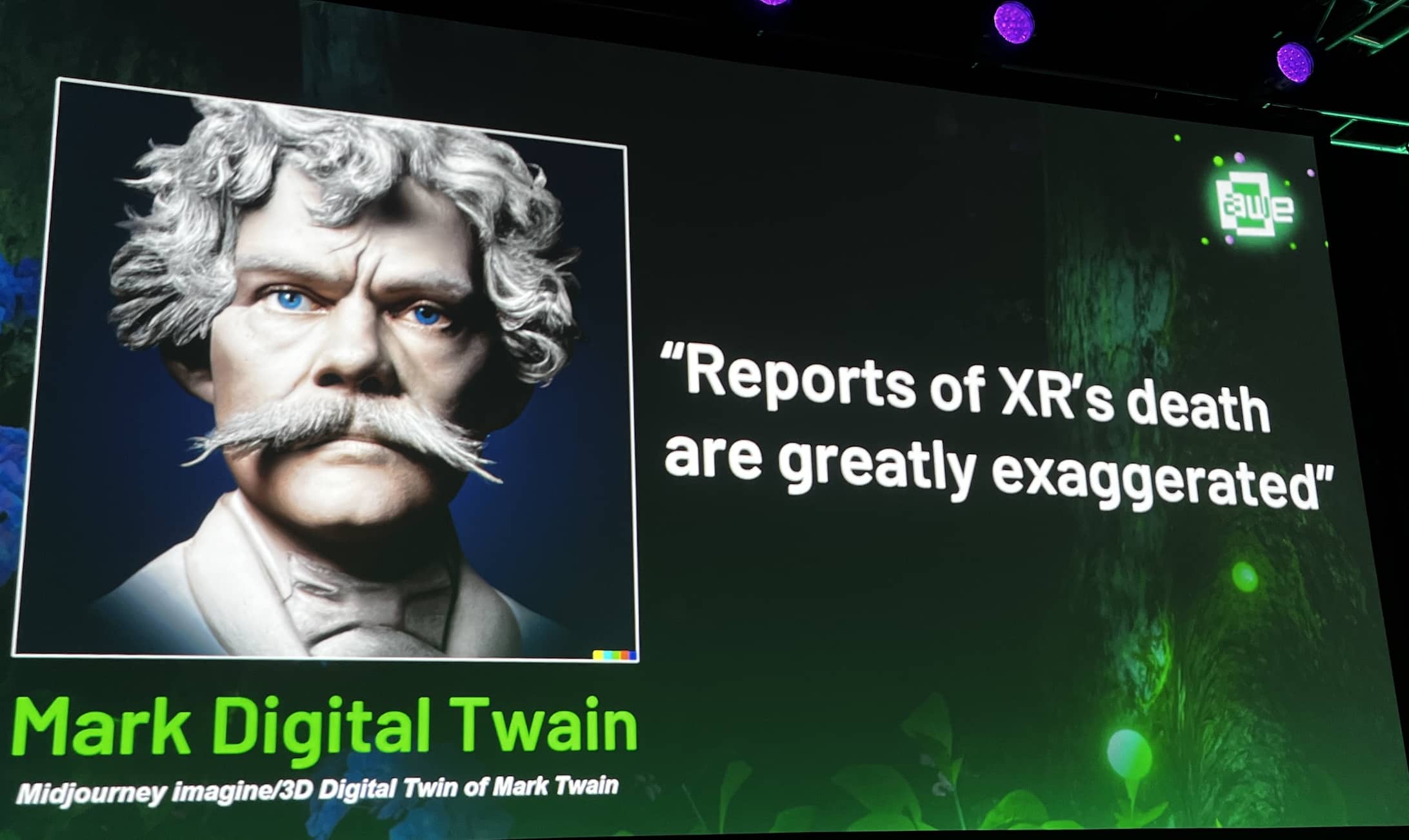 But you would hardly recognize this scene from AWE and Super Ventures cofounder Ori Inbar's opening keynote, which included a robust defense of XR and the Metaverse. The idea of a virtual world was alive and well on the AWE  2023 stage as the numbers flashed across the screen – XR is a $35 billion market and is projected to hit $345 billion by 2030.
But AI is already impacting XR developments, and Ori Inbar acknowledged its presence at the conference with a quick sleight of hand. He opened the conference by appearing as a digital twin of himself through ARHT's innovative live hologram technology. ARHT captures and transmits lifelike holograms that can appear remotely in multiple locations and interact with live audiences. With both Ori's on the AWE 2023 stage, his avatar used remarks generated by ChatGPT while the real-life Ori revealed his human side. Generative AI is amazing, but the Metaverse still promises human connection.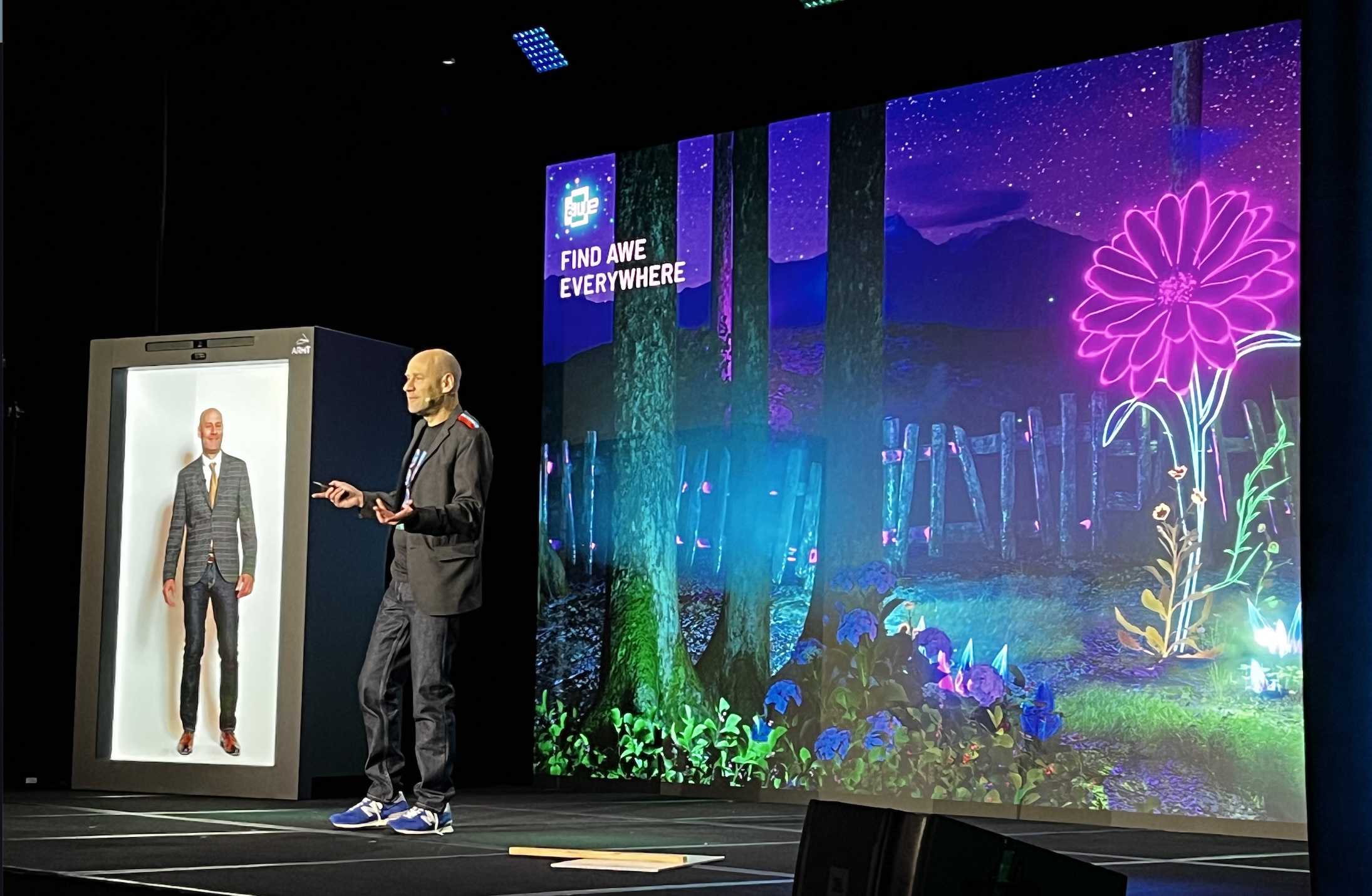 What we are witnessing is the convergence of AI and XR that we have forecasted since the middle of the last decade. XR and Metaverse need AI for content production, virtual world creation, and the massive amount of data we need to process in our HMDs. As Ori and others said today, XR will be the interface for AI.
A Conversation with Neal Stephenson
A highlight of the first day of AWE 2023 was Ori Inbar's conversation with Neal Stephenson, who coined the term "Metaverse" in his groundbreaking novel, Snow Crash. He developed the metaverse concept by predicting the implications of the widespread use of advanced computer graphics. The Metaverse in Snow Crash is a virtual space featuring homes, nightclubs, and physical and social experiences.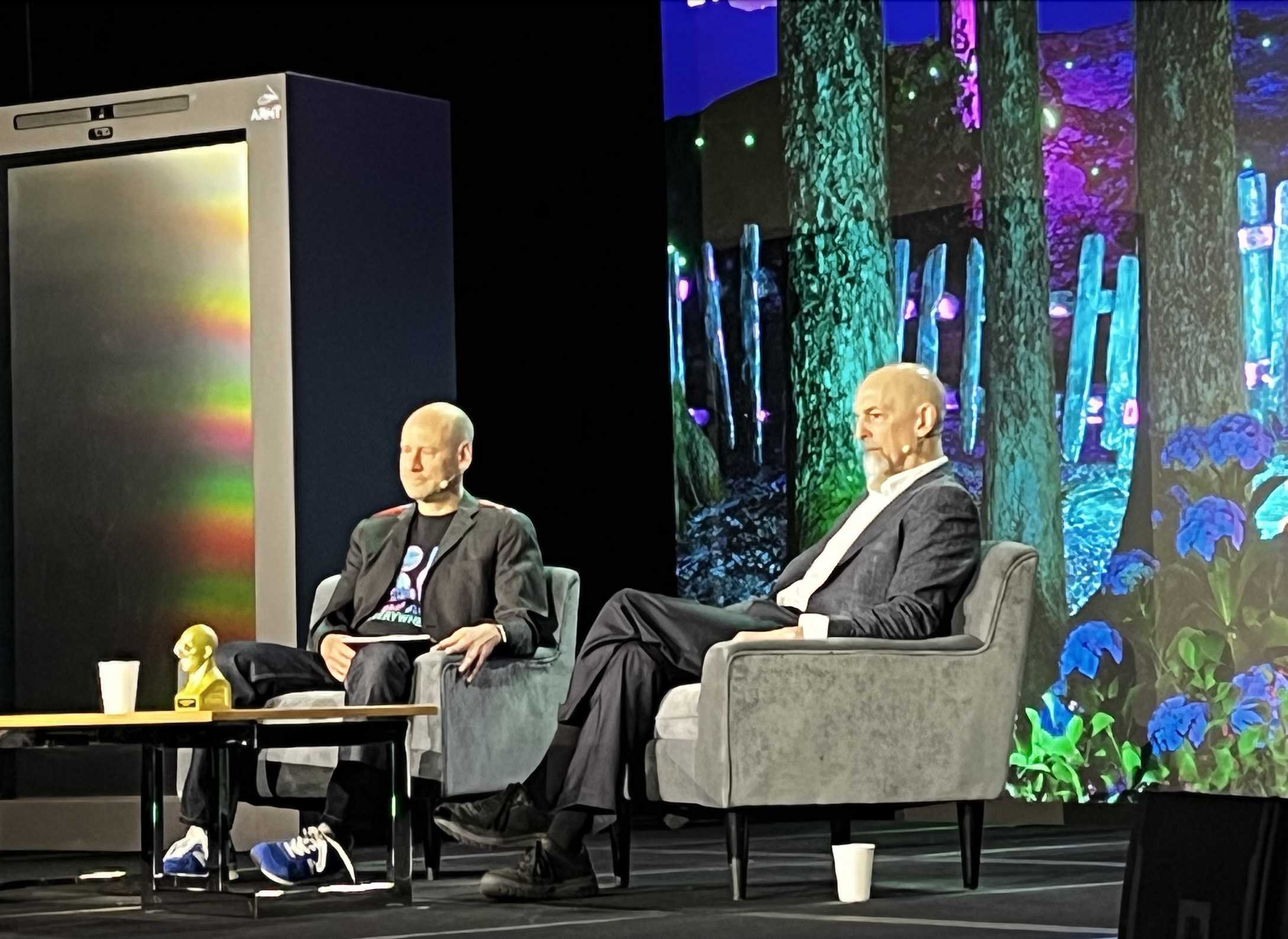 With the prevalence of futuristic ideas at the time, Stephenson felt he couldn't present a straightforward view of the future in his novel. Instead, he opted for a dystopian approach, using Snow Crash to parody existing narratives. As he explained,
It is also a parody of dystopian novels. The tropes were familiar. It didn't seem I could write one of those with a straight face.
Stephenson also discussed the importance of extended reality (XR) technology for a 3D-animated metaverse and addressed blockchain games, suggesting that while they haven't yet appealed beyond the hardcore crypto community, blockchain infrastructure is essential for a decentralized metaverse where creators can be compensated. He argued that developing such a metaverse will require an economic framework to reward creators for their work. Creators already possess the necessary skill sets but need incentives to build immersive experiences. Finally, he stressed the importance of creating worthwhile experiences for a metaverse that billions would use.
AWE 2023
Hanging over the conference as a looming question mark is what kind of XR device Apple will release next week. It's an endless topic of speculation both in the hallways of the Santa Clara convention center and in the broader tech community. But we'll focus on this week, where AWE 2023 offers a densely-packed agenda with keynote speeches, workshops, and provocative exhibits exploring the frontier of XR. We'll continue to cover the conference over the next few days as we immerse ourselves – and you – in a future that will look nothing like the world we know today.
Emory Craig is a writer, speaker, and consultant specializing in virtual reality (VR) and artificial intelligence (AI) with a rich background in art, new media, and higher education. A sought-after speaker at international conferences, he shares his unique insights on innovation and collaborates with universities, nonprofits, businesses, and international organizations to develop transformative initiatives in XR, AI, and digital ethics. Passionate about harnessing the potential of cutting-edge technologies, he explores the ethical ramifications of blending the real with the virtual, sparking meaningful conversations about the future of human experience in an increasingly interconnected world.