The DAQRI Smart Helmet reveals how dramatically Augmented Reality may change work in the future. Virtual Reality has been all over the news but under the radar developments in AR could have a larger impact.
The original Google Glass held promise in the work environment, but in the end it offered little advantage over using a Smartphone. That may change with the new version, but DAQRI, a Los Angeles based company, already offers a different approach.
Designing for Augmented Reality
The DAQRI Smart Helmet is designed like a standard safety hard hat that anyone working in the energy, manufacturing, mining, transportation, etc. fields needs to wear. By adding a retractable see-thru visor, you don't get the off-putting cyborg look of Glass. And when the visor is down, you're immersed in a wide-field augmented reality environment while keeping your hands free.
Of course, DAQRI is not the only player in this space. Epson Moverio Glasses offer a more traditional eyewear design with a transparent display. And Vuzix (which works with a number of partners) offers a range of prosumer and enterprise models.
To my mind, DAQRI stands out in two ways:
It looks like a safety helmet, making it easier to accept in the social sphere (at least in the industrial work sector)
It includes a full size visor instead of a miniature screen, which is less tiring on the eyes
Augmented Reality and Work
For anyone working in fields like energy, manufacturing, mining, transportation, etc., the advantages are obvious. As the Economist notes:
. . . augmented reality applications present an illusion of layers of graphic information superimposed on some portion of the worker's field of view.
Imagine being able to interact with complex machinery and see the previous settings of knobs and valves. Or getting recommendations from remote experts when problems arise. 
And while you're working, the Smart Helmet's 360 degree cameras keep an eye out for dangers from behind. It makes our current safety hard hats look downright primitive.
Done right, wearable tech is not threatening, the exact opposite of the response generated by Google Glass. As Patrick Ryan, the engineering manager for augmented reality at Newport News Shipbuilding, says: 
The beautiful thing about AR is that it doesn't replace people, like robotics or automation does. Instead, it empowers people. It is an investment in people.
If we start seeing people wearing AR headgear in the industrial sector, it may not be long before we see it in the office.
AR in Apple's future?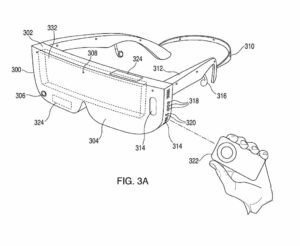 The rumor mill suggests that Apple is working on something in Augmented Reality. Back in 2013, Apple bought PrimeSense (which made the cameras for Microsoft's Kinect Xbox) and this year, they acquired the German AR startup, Metaio.
End result? Apple now owns over a 170 patents related to augmented reality.
Obviously a stack of patents doesn't mean Apple will develop an AR device. And if they did, it could be for the consumer market instead of the workplace. Though the Apple Watch seems targeted to multiple markets.
For now, DAQRI has created a fascinating augmented reality device that may well make work in the industrial sector a lot more interesting – and safer.
And you can surely see offshoots of this design moving into other sectors in the workplace, not to mention education (with a little creativity).
Emory Craig is a writer, speaker, and consultant specializing in virtual reality (VR) and artificial intelligence (AI) with a rich background in art, new media, and higher education. A sought-after speaker at international conferences, he shares his unique insights on innovation and collaborates with universities, nonprofits, businesses, and international organizations to develop transformative initiatives in XR, AI, and digital ethics. Passionate about harnessing the potential of cutting-edge technologies, he explores the ethical ramifications of blending the real with the virtual, sparking meaningful conversations about the future of human experience in an increasingly interconnected world.