It's WWDC time again and that means Apple AR rumors are in the air. And they're interesting – we're going to get multiplayer Augmented Reality in ARKit 2.0.
Just don't expect AR Glasses. Tim Cook has made it abundantly clear the tech doesn't provide the field of view and the display quality that Apple requires. In an interview with the Independent last fall, Cook said,
Anything you would see on the market any time soon would not be something any of us would be satisfied with. Nor do I think the vast majority of people would be satisfied.
Try to imagine Apple selling something that looks like Snap's Spectacles, or even better, the steampunk-like wearable that Magic Leap plans on delivering this fall. Everything points to an AR project under development at Apple with over 20 open positions mentioning augmented reality. We'll see AR Glasses in 2020.
The new Apple AR rumors
For now, the interesting AR developments will be on our iPhones. From Mac Rumors,
iOS 12, set to be unveiled at the Worldwide Developers Conference on Monday, will include ARKit 2.0, an upgrade to the existing ARKit 1.5 SDK that's available to developers to allow them to build augmented reality experiences in their apps.

ARKit 2.0, according to a new report from Reuters, will include a feature that's designed to let two iPhone users share an augmented reality experience, with the same objects displayed on multiple screens.
According to the Reuters report, Apple is taking a different approach that Google, which recently demoed its own version of multiplayer AR. Google used "Cloud Anchors" to store data shared between phones in the cloud. In contrast, Apple is creating a "phone-to-phone" system.
Both are seeking to allow two people to share data so they can see the same virtual object in the same space via their individual devices. But that has sparked privacy concerns – if AR apps become commonplace, people will be scanning their homes and other personal spaces routinely, developers say . . .

. . . Apple designed its two-player system to work phone-to-phone in part because of those privacy concerns, one of the people familiar with the matter said. The approach, which has not been previously reported, differs from Google's, which requires scans of a player's environment to be sent to, and stored in, the cloud.
Google has said the data will only be stored for a week. But whether a week or a minute, once it's left your phone it's open to others. More and more, you feel like Google and Facebook are on one side of the privacy debate, with Apple and Microsoft taking the opposite approach.
Games top the AR list
For all the Apple AR rumors, this is what we know so far. Almost half of the downloads of apps developed with ARKit are game related, with utilities and entertainment grabbing the rest. If Apple does multiplayer AR, games will take an even larger share.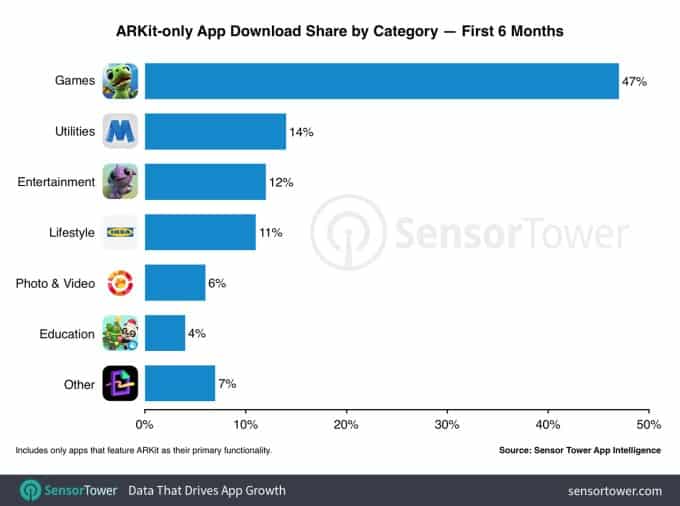 Right now, education is way down the list though that's not really a problem. Augmented Reality is just beginning to move into the public's consciousness (thank you, Pokemon Go). If Apple does this right, we could see developers incorporating AR into a wide range of apps. And while we wait for the AR Glasses, we'll have time to experiment with augmenting retail, entertainment, and learning.
Move over, Zara, we're coming for you. The possibilities are fascinating.
Emory Craig is a writer, speaker, and consultant specializing in virtual reality (VR) and artificial intelligence (AI) with a rich background in art, new media, and higher education. A sought-after speaker at international conferences, he shares his unique insights on innovation and collaborates with universities, nonprofits, businesses, and international organizations to develop transformative initiatives in XR, AI, and digital ethics. Passionate about harnessing the potential of cutting-edge technologies, he explores the ethical ramifications of blending the real with the virtual, sparking meaningful conversations about the future of human experience in an increasingly interconnected world.