There hasn't been much news out of AltSpaceVR since Microsoft swooped in and saved it at the last second – literally on the final night of the platform. But it's good to finally see a Social VR update that adds the ability to create custom worlds on the platform.
Here's the news from the AltSpaceVR blog:
AltspaceVR just released the easiest way to create your own sharable space in virtual reality. Easily drag and drop objects in a space on all AltspaceVR-compatible headsets — including Oculus Go and Gear VR. Save the space and then invite others to join your space. This is step one of a greater plan to make sure our community can help build AltspaceVR with us. Today our community will have basic kits that they can use to build their environment. We'll aim to release more kits so folks can have more options to customize their world.
Microsoft is covering all the bases here by providing an easy-to-use drag and drop interface to create "Base Worlds" from templates and SDK Playground Worlds for more advanced users. The spaces are fairly simple in keeping with the overall aesthetic of AltSpaceVR but it will still give users significantly more options. You'll still need an AltSpaceVR-compatible VR headset to build and use the virtual spaces.
The extensive Social VR update also includes new features that let you,
create virtual hangout spaces for friends and community.
create custom versions of Campfire and Alien Planet.
host multiplayer social games in VR.
import and showcase all your in-world photography snaps.
add teleporters to common spaces (Campfire/Origin) or straight to your friends' world.
change the mood of your World with different skies and sounds.
create labels.
A welcome Social VR update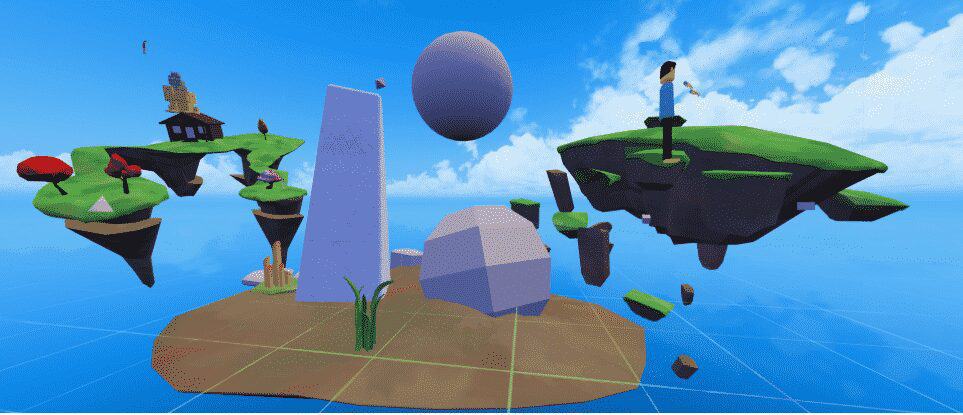 We'll always hold a special place for AltSpaceVR as it was our introduction to Social VR. And back in the early days, they did some remarkably innovative live performances with Reggie Watts and others. It had the same rush of excitement as the beginning of Twitter – you were actually connecting to people in ways you never thought possible.
But it never quite found its footing – is it primarily a broad social gathering space, a place to hang out with your friends in Virtual Reality, or a virtual performance arena? And without the built-in backing that Facebook Spaces has, it's struggled to find a broad audience.
Still, it has potential, a good UI, and has worked to create virtual communities that are welcoming spaces. We have mixed feelings about the Second Life feel its always had. Some find it distracting, though many like it. Curiously, they've never joined the Facebook move toward more realistic avatars. Whether or not that changes once we get the massive increase in network speed through 5G is unknown.
Here's a (non-360°) video of the most recent Town Hall event in AltSpaceVR. It was hosted by Keegan Law, Head of Engagement at AltspaceVR, and Alex Kipman, the Chief inventor of HoloLens & Head of Microsoft's Mixed Reality team.
https://youtu.be/kjVaFLP-aj4
If you haven't tried AltSpaceVR, it's worth skipping around through a few of the scenes. Better yet, grab your HMD, create an account and try out the Social VR platform.
Halfway through the video, there's some quick demos on the new world-building feature and Alex Kipman talks with the audience about future plans for the platform.
Social VR is of huge interest to us. We're looking forward to what they do next.
Emory Craig is a writer, speaker, and consultant specializing in virtual reality (VR) and artificial intelligence (AI) with a rich background in art, new media, and higher education. A sought-after speaker at international conferences, he shares his unique insights on innovation and collaborates with universities, nonprofits, businesses, and international organizations to develop transformative initiatives in XR, AI, and digital ethics. Passionate about harnessing the potential of cutting-edge technologies, he explores the ethical ramifications of blending the real with the virtual, sparking meaningful conversations about the future of human experience in an increasingly interconnected world.