The new Oculus Quest VR headset has many features we've been waiting for but the most striking is the free-roaming VR experience. At the Oculus Connect 5 (OC5) conference, it was referred to as "arena-scale VR" – a less than subtle dig at HTC Vive's room-scale VR. Vive is more than doubling its free-roaming space (to 33′ x 33′), but nothing comes close to what the untethered Oculus Quest offers.
Many of the VR experiences at OC5 were placed in large temporary rooms. But the Dead and Buried experience was set in an astonishing 4,000 sp ft. space. Granted, that was a special installation running off its own server. Don't expect to see that as an option when Oculus Quest arrives in the spring (though it may be sold to location-based VR centers).
But as with all tech, we doubt you'll have to wait that long to see large-scale VR experiences in the consumer/educational market.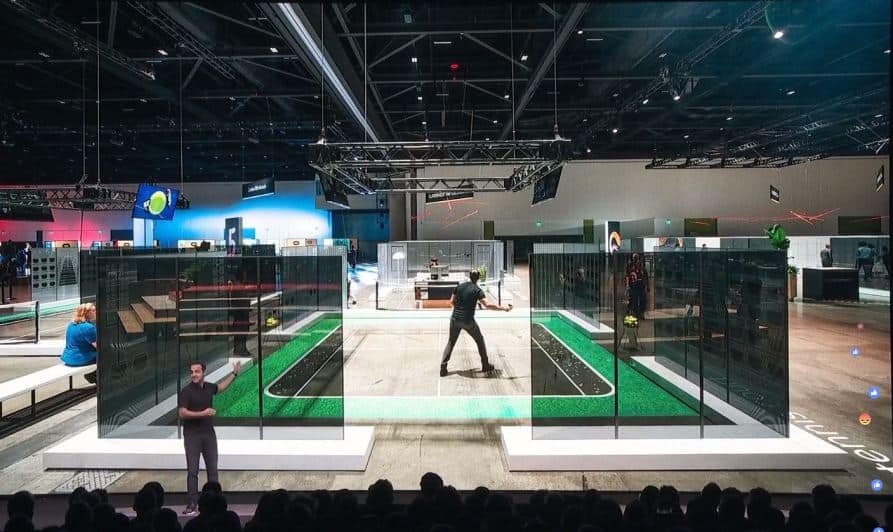 So that brings up the obvious question: where will we use Oculus Quest in the learning environment? Most of us have relatively small VR labs designed for HTC Vive's format for room-scale VR. A 15'x15′ space (if we even have that) has served us well.
But free-roaming VR changes the spatial requirements. To create large virtual environments, we're going to need space.
Lots of it.
Let's say you want to recreate a part of the Roman Colosseum in VR. In theory with the Oculus Quest HMD, you could have an accurate rendering of the entire environment at full scale that you could walk through. That would be an amazing experience but where would put it?
We just don't have learning spaces of that size (unless we start ripping seats out of large lecture halls. At long last, there might be a new reason for the academic side of higher education to look at the recreational facilities.
Seriously, with free-roaming VR, we going to have to start thinking temporary spaces or going outside. Or perhaps, we'll start eyeing that gleaming new basketball arena on the other side of the campus. Smooth floors, no obstacles, nicely defined walls – it's absolutely perfect for arena-scale VR.
Who knew?
Oculus Quest and new learning spaces
The question of using Oculus Quest outdoors came up at OC5 last week. David Jagneaux, Games Editor at UpLoadVR, put that idea to Sean Liu, Head of Hardware Product Management, at OC5. He was thinking of outdoor gaming, but the issue equally applies to learning.
And here's Facebook's response.
It is indoor only. We have tried to make the rooms here at OC5 different to show a wide range of setups . . . . The easiest way to think about this is the sensors are analogous to your eyes. So if you can read a book in an environment, you can probably also track. If things are lit up during the day time, you can probably track. It is indoor use only so there is no outdoor.
As David Jagneaux points out, there's probably some solid legal reasons here also. The last thing Facebook wants to do is recommend wearing a device outside that could block your vision. Zuckerberg has enough on his plate with his annual apology tour for Facebook's privacy screw-ups.
The technical issues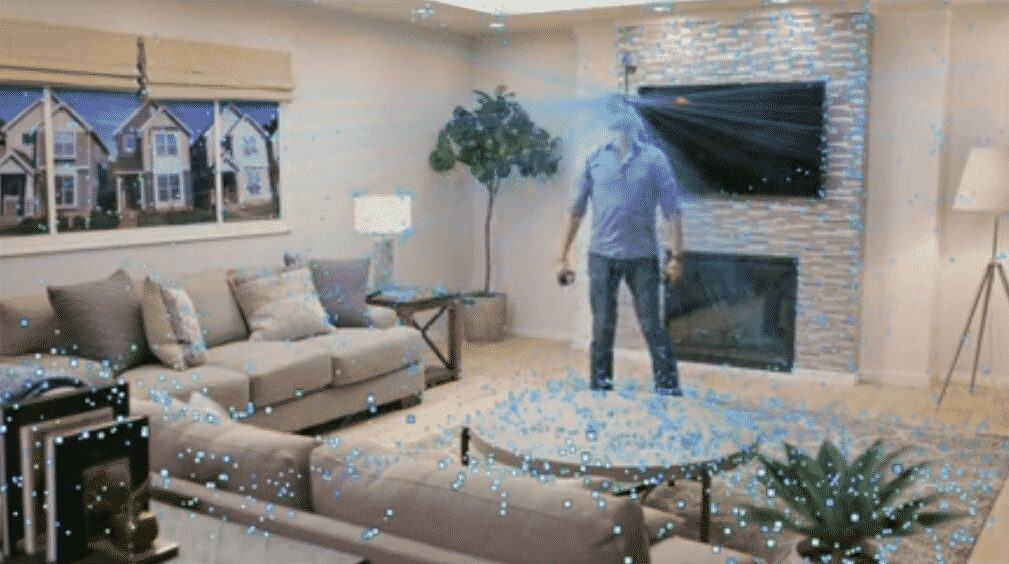 But technical issues do come into play with the Oculus Quest. As a standalone HMD, it uses four wide-angle cameras to track both the hand controllers and the environment you're in. The "Insight" system lets you freely walk around a prescribed area.  As VR Focus notes,
The technology looks for edges, corners, and any other distinct feature in the environment to generate a point map of the users location, creating an estimate every millisecond of where their head is.
That system also co-locates other devices making Quest a multiplayer device. But in open space outdoors without defined walls, the system won't work. If you look at the indoor spaces Facebook set up at OC5, they went with high-contrast black and white shapes.
But outside of lighting and contrast of the boundary walls, nothing says it couldn't be done.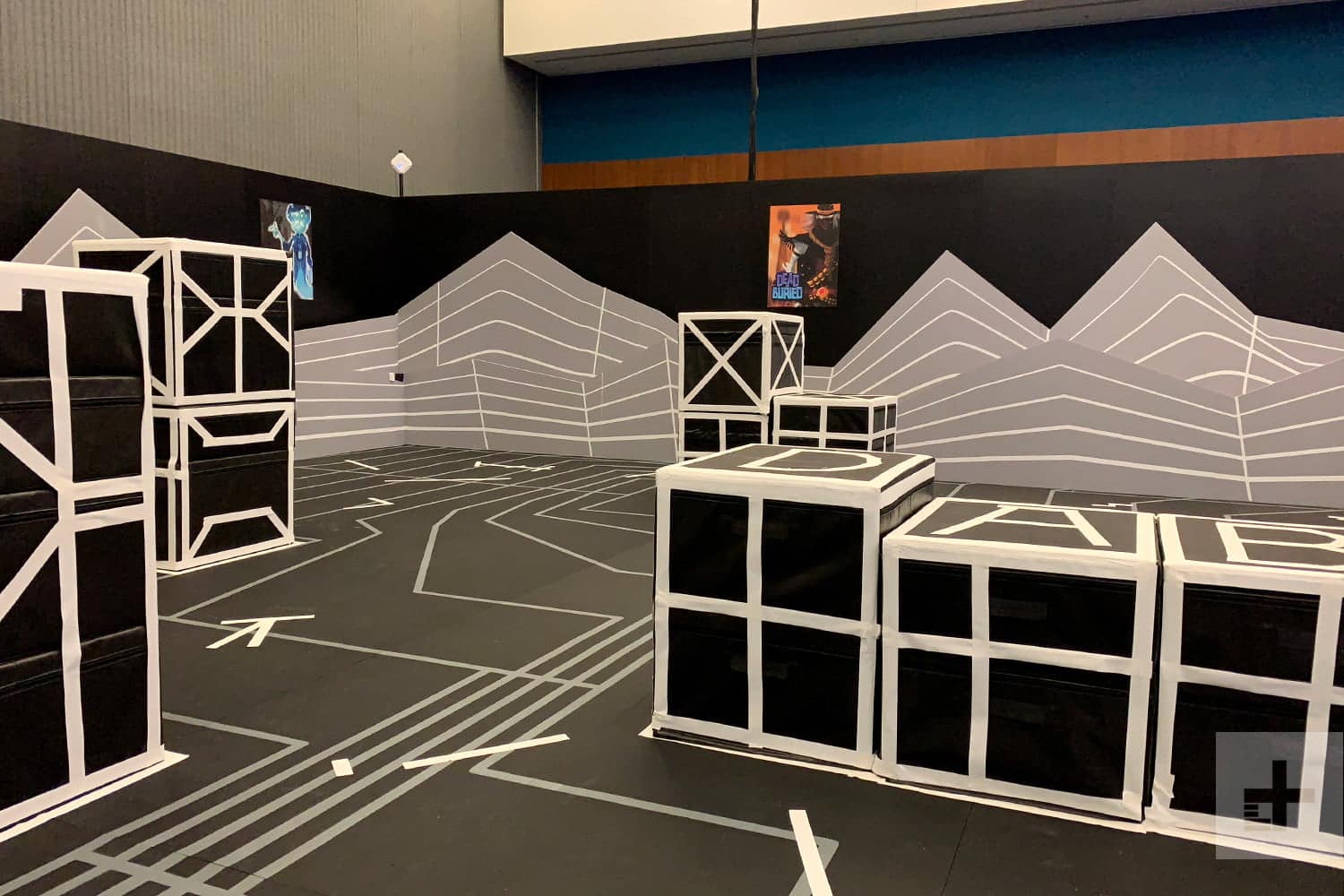 VR labs in the future
So where do we put the VR lab in the future? One solution is the approach taken by the Virtual Reality Design Lab (VRDL), which is located in the public courtyard of Rapson Hall at the University of Minnesota. Expansive courtyards can be ideal locations – and they help put the technology and (more importantly) the learning activities right in the public arena. Socrates would smile.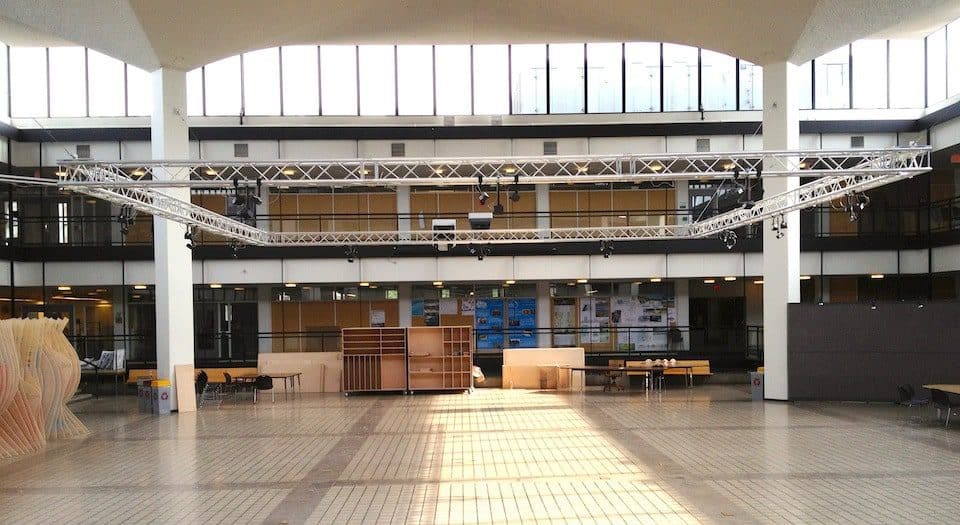 Another solution – outside of a history seminar battling the athletic department for time on the basketball court (good luck on that) might be to temporarily move the learning environment outdoors.
All the Insight system needs are defined walls and high contrast colors. Setting up outdoor space dividers or dark cloth on poles would create a space that you could use with the Oculus Quest. Nothing needs to be permanently installed and you've created the space for true-to-scale VR environments.
Down the road, you might even see higher education institutions pushing their large-scale indoor and outdoor virtual installations just as they now hype the climbing walls in their brick-and-mortar facilities. Come study at the Louvre Museum on our Quad. Or walk the streets of Renaissance Florence in our courtyard.
Once we move from analog to digital experiences, everything could change in the learning environment. Just as it has in retail.
Of course, all this is speculative until we get our hands on Facebook's new VR headset. And getting buy-in for a large amount of indoor space for an emerging technology is always challenging. Anything outdoors will require a flexible solution to create defined boundaries for both technical and safety reasons.
But it's fascinating to consider how we may find ourselves having to rethink the location and size of our learning environments now that VR has the potential for large-scale installations.
Emory Craig is a writer, speaker, and consultant specializing in virtual reality (VR) and artificial intelligence (AI) with a rich background in art, new media, and higher education. A sought-after speaker at international conferences, he shares his unique insights on innovation and collaborates with universities, nonprofits, businesses, and international organizations to develop transformative initiatives in XR, AI, and digital ethics. Passionate about harnessing the potential of cutting-edge technologies, he explores the ethical ramifications of blending the real with the virtual, sparking meaningful conversations about the future of human experience in an increasingly interconnected world.