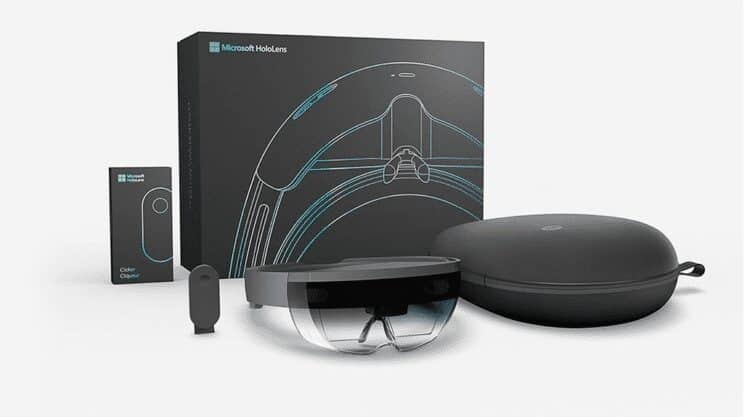 Developers have access to Microsoft HoloLens, but up to now, Redmond has not publicly released the specifications. So here they are to satisfy your geeky side.
From Geeky Gadgets:
– OS : Windows 10.0.11802.1033 32-bit
– CPU : Intel Atom x5-Z8100 1.04 GHz Intel Airmont (14nm) 4 Logical Processors 64-bit capable
– GPU/HPU : HoloLens Graphics
– GPU Vendor ID :8086h (Intel)
– Dedicated Video Memory : 114 MB
– Shared System Memory : 980 MB
– RAM : 2GB
– Storage 64GB (54.09 GB available)
– App Memory Usage Limit : 900 MB
– Battery :16,500 mWh
– Camera Photos :2.4 MP (2048×1152)
– Camera Video : 1.1 MP (1408×792)
– Video Speed : 30 FPS
Comparison to Google Glass
It's a completely unfair comparison, but consider Google Glass for a moment. It was pretty much the closest thing we had to a head-worn computing device a few years back. Even with the required Smartphone, Glass was a wimp in contrast:
A Smartphone running Android 4.0.3 (Ice Cream Sandwich) or higher
16GB (only 12GB usable) Flash memory
570mAh single-cell lithium
5 megapixel camera for stills, 720p video recording
Wi-Fi b/g, Bluetooth
Battery life was a real weakness in Google Glass. 570mAh is not even close to the size of the battery in your smartphone. But it had to be lightweight since Glass rested on your nose.
One thing is clear. Microsoft's headset design makes wearing a much heavier battery much more comfortable. Until we resolve power issues, visor style designs in wearables are the way to go.
Where HoloLens Needs to Improve
For all the technology packed into HoloLens, there's two areas where it needs to improve – battery life and field of view.
TechnoBuffalo notes that Microsoft's Bruce Harris has HoloLens running about 5.5 hours on a single charge. Though that can drop to 2.5 hours with heavy use. That's significantly better than Glass given what it does, but hardly ideal.
But the most noticeable issue (though not everyone agrees – see arstechnica) is the limited field of view (FOV). It's narrow – like looking at a 15 inch monitor while standing two feet away. In contrast, our eyes have about 180 FOV, and Oculus Rift is at 120.
Most of us have only seen the videos of the demos Microsoft has published. While not misleading, they are different from what you actually see through the device. Here's how the holograms appear in the real FOV: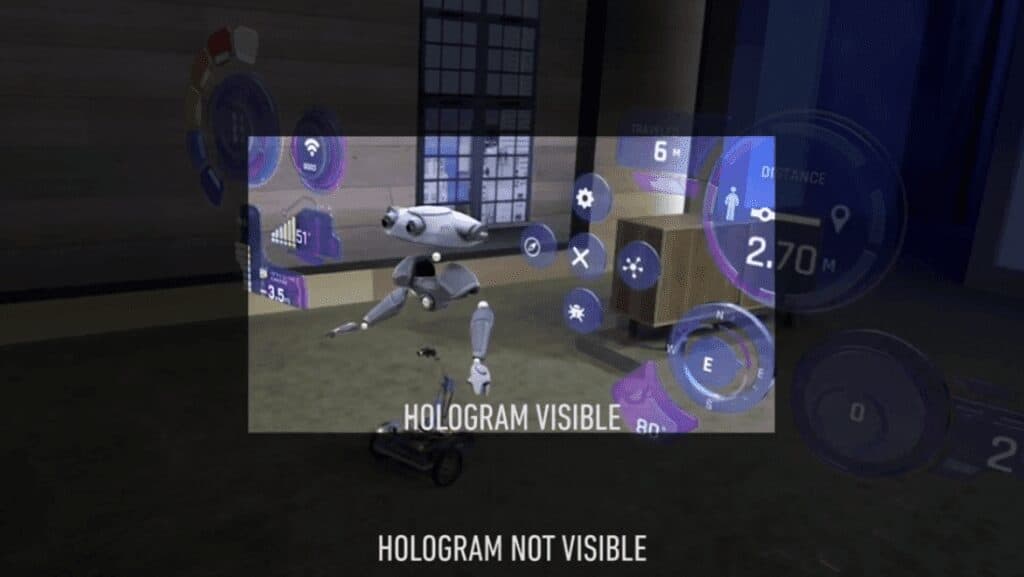 It's unclear why Microsoft has kept the FOV limited but it's probably the technical challenges and (of course) battery life. So don't expect HoloLens to shrink down in size any time soon. Instead, we'll see an expanded the field of view and longer battery life.
Our Wearable Tech Future
HoloLens is an incredibly well-designed device, a major step in wearing a full-fledged computer on the human body. As Alex Kipman of Microsoft said at the TED conference in Seattle, the goal is to get computers off our desks and out of our hands (yes, our Smartphones). To put an end to technology that stands between us and the world. With wearables, we will look through our screens, using them to interact with our environment and reconnect socially with others.
Emory Craig is a writer, speaker, and consultant specializing in virtual reality (VR) and artificial intelligence (AI) with a rich background in art, new media, and higher education. A sought-after speaker at international conferences, he shares his unique insights on innovation and collaborates with universities, nonprofits, businesses, and international organizations to develop transformative initiatives in XR, AI, and digital ethics. Passionate about harnessing the potential of cutting-edge technologies, he explores the ethical ramifications of blending the real with the virtual, sparking meaningful conversations about the future of human experience in an increasingly interconnected world.