As we head into the fall, IDC has a new report on the Wearables market. And it's an interesting read, not because of the overall data but what's happening in different segments of the market.
Of course, the overall market for wearables has grown. For the second quarter of 2016, it's up by 26.1%. That's a decent number but far less than some of the feverish predictions made in the past.
Here's the big picture from IDC: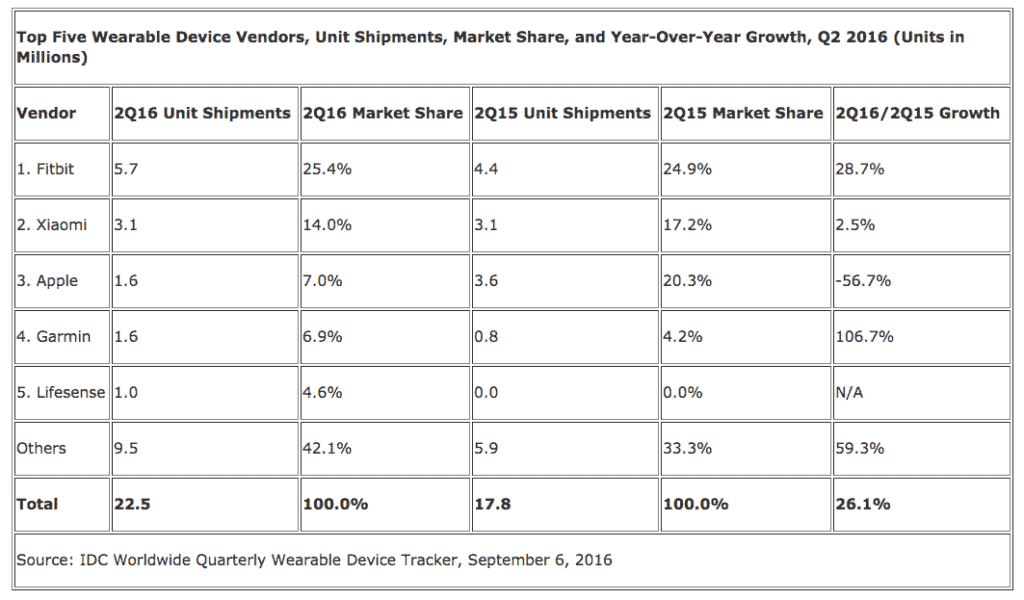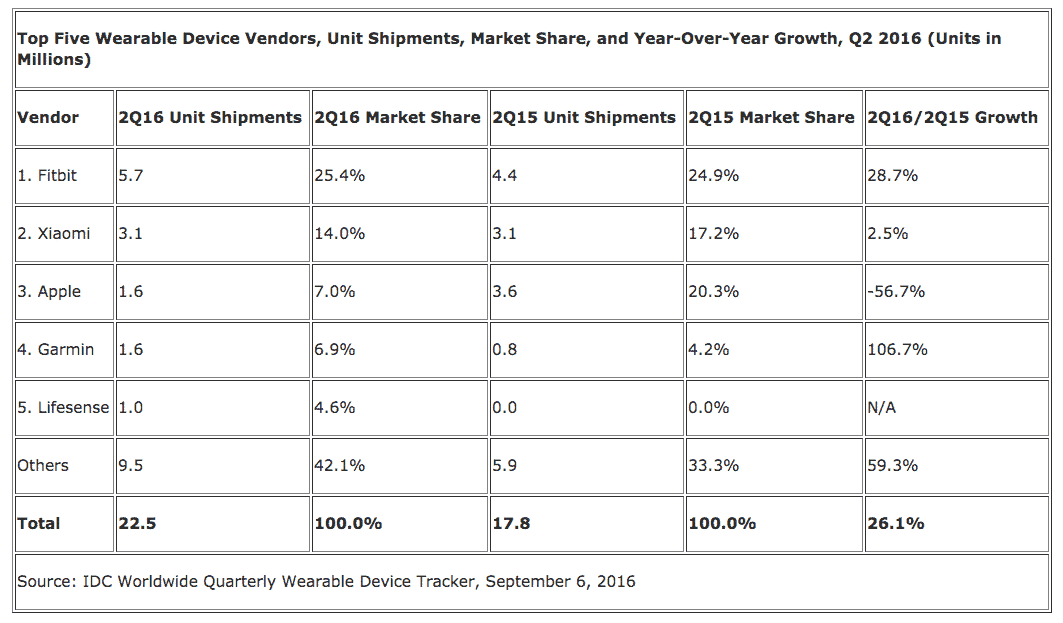 The only real news here is that Apple has fallen off the cliff – going from 20.3% to 7% of the market.
The Wearables Market
IDC breaks the data into two different categories – Smart Wearables and Basic Wearables. Smart Wearables are devices that support third-party applications while Basic Wearables function on their own. Most all fitness trackers fall into the latter camp.
And when you look at the categories, there's only bad news for Smart Wearables. Basic Wearables jumped by 48.8% year over year while their smarter offspring actually declined in sales – falling 27.2%. Something is clearly wrong in the Wearables wonderland.
Here's Ramon Llamas, research manager, Wearables. on the market:
Basic wearables, which include most fitness trackers, have benefited from a combination of factors: a clear value proposition for end-users, an abundant selection of devices from multiple vendors, and affordable price points. Consequently, basic wearables accounted for 82.8% of all wearable devices shipped during the quarter, and more vendors continue to enter this space. . . . Smart wearables, meanwhile, are still struggling to find their place in the market. There is plenty of curiosity about what smart wearables – particularly smartwatches – can do, but they have yet to convince users that they are a must-have item.
That amounts to good news and bad news for both segments. If Basic Wearables have found their place, the competition is ruthless. It's the Andy Grove (of Intel) environment – only the paranoid survive.
On the other hand, Smart Wearables have plenty of room to grow but face a doubting public. It's a huge win for whoever (Apple? Samsung?) works out the challenges. But at the moment, you can still leave home without your Smartwatch; your day is ruined if you forget your smartphone.
Your Move, Apple
Does anything change with Apple's announcement of the Series 2 Watch? Not really. It is definitely an improvement over the original but it is hard to see where it breaks new ground in the Smart Wearables category.
Here's how Gizmodo described Apple's strategy back in May of this year.
The Cupertino kids have a long tradition of watching competitors launch crappy products and then pouncing on the opportunity to fix their mistakes with a perfect product. The iPod is one of the most famous examples of this. Every electronics company on Earth tried to make a portable digital music player, and then Steve Jobs put 10,000 songs in everyone's pocket. A few years later, the black turtleneck enthusiast eclipsed that accomplishment by creating the iPhone, a device that made other smartphones look downright dumb.
Problem is – Apple has not done that than since Steve Jobs. And it shows in the Wearables market. Apple's sales will increase in the high end of the fitness market, but a Smartphone and a Fitbit still covers the essentials. So again – your move, Apple. 
Down the road a bit, someone will make Apple's move, creating a Smart Wearable that upends the entire market. We have our eyes on a couple of projects, particularly devices that aim at hacking into your brainwaves. Muse, Thync or Emotiv are already on the market, though they have yet to convince the public of their need (more accurate data would help). And they will have to be much easier to use and far less obtrusive. If Google Glass proved one thing, we are not in love with tech that covers our face. But when a breakthrough comes here, it will have a profound impact on the way we work and learn. And then, like the Smartphone some eight years ago, the wearables market would explode.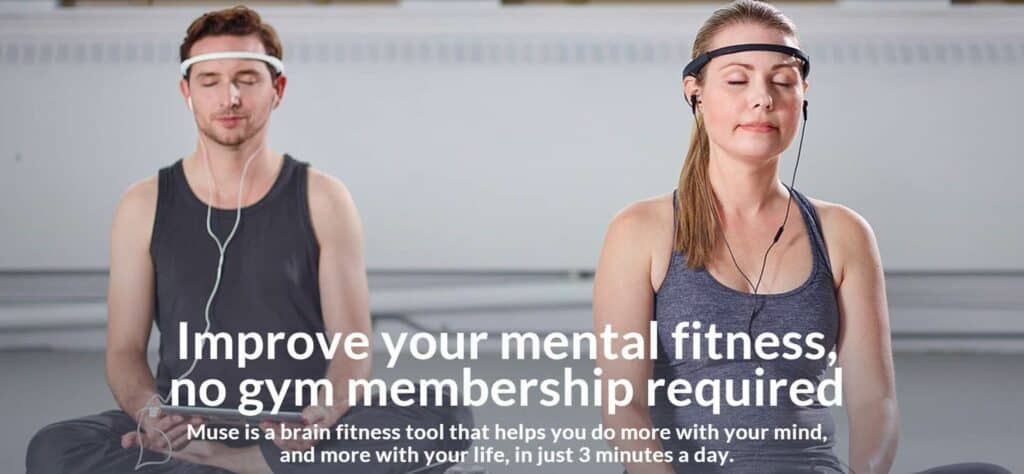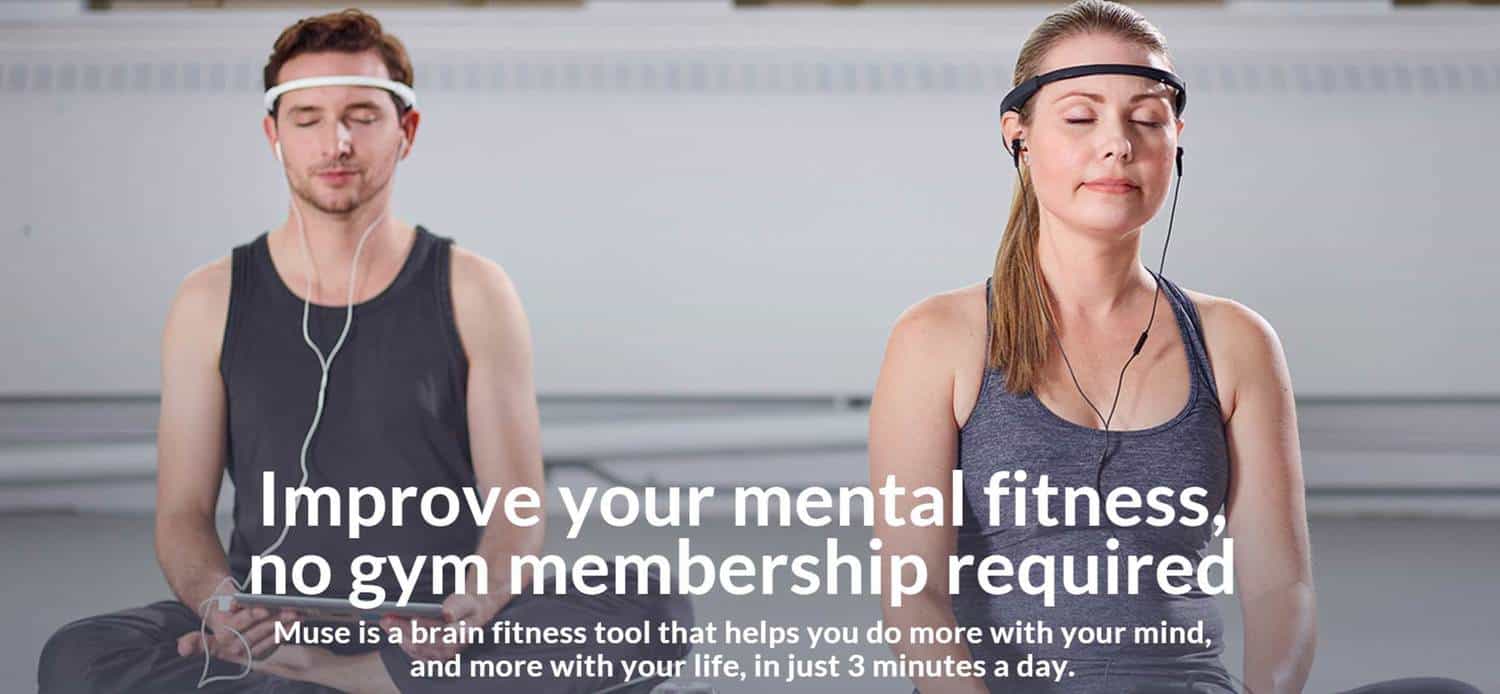 Emory Craig is a writer, speaker, and consultant specializing in virtual reality (VR) and artificial intelligence (AI) with a rich background in art, new media, and higher education. A sought-after speaker at international conferences, he shares his unique insights on innovation and collaborates with universities, nonprofits, businesses, and international organizations to develop transformative initiatives in XR, AI, and digital ethics. Passionate about harnessing the potential of cutting-edge technologies, he explores the ethical ramifications of blending the real with the virtual, sparking meaningful conversations about the future of human experience in an increasingly interconnected world.