Vuzix Blade AR glasses may actually be Augmented Reality eyewear that you won't mind having on your face. The Verge takes it further:
Vuzix Blade AR glasses are the next-gen Google Glass we've all been waiting for.
and Tech Radar named the wearable the "Best AR on Show at CES 2018. We've been watching Vuzix over the years and the new Blade AR Glasses are well-designed and actually wearable.
But we're not ready to jump on the bandwagon just yet. There are problems here, though they have less to do with Vuzix than the current state of AR technology. As Apple knows well, we're just not there yet.
First, the good stuff, then the challenges.
What you get in the Vuzix Blade AR Glasses
If you want the Vuzix Blade AR glasses right now, you're going to pay dearly for them. A $495 deposit puts you line to pay $1,997 for the developer kit. The units are expected to ship at the end of Q1.
Vuzix put a lot of technology into their wearable including a powerful Android processor, their see-through waveguide optics, 8MP camera, noise canceling mics, storage and batteries. It also syncs with Alexa, a break-through in bringing together AR and voice-activation platforms.
And they've packed all this into something that, if not a fashion statement, at least approximates ordinary eyewear. You don't have to worry about the "I'm from the future" Glass-hole look.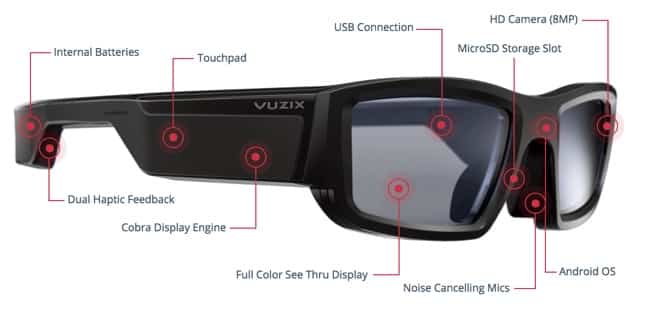 While Vuzix hasn't release details on the aspect and display resolution, you get a bright virtual screen floating in front of your eyes. Digital Trends describes how they work.
In an insane way you would probably never believe if you didn't see it with your own eyes. A tiny LED projector in the temple shoots an image sideways into the lens, which has been laser-etched with tiny dots at specific depths that catch the "sideways" image and light it up in your field of view. If that all sounds a little ridiculous, it is. But that's why Vuzix has been working on it for years, and why the end product looks so damn good. The same tech appeared in last year's AR3000 smart glasses, but Vuzix marketed those more toward businesses.
A business and professional device
We expect the Vuzix Blade AR Glasses to do well in professional and work environments. Price is less of an issue here as long as there is relevant content. They'll find a home in engineering, construction, urban planning, and healthcare to name just a few of the many fields with possible applications.
But we doubt they take off in retail given the importance of eye-contact in sales. An experiment in a high-end retail setting like Dolce & Gabbana? Perhaps. Seeing them at Gap? Never.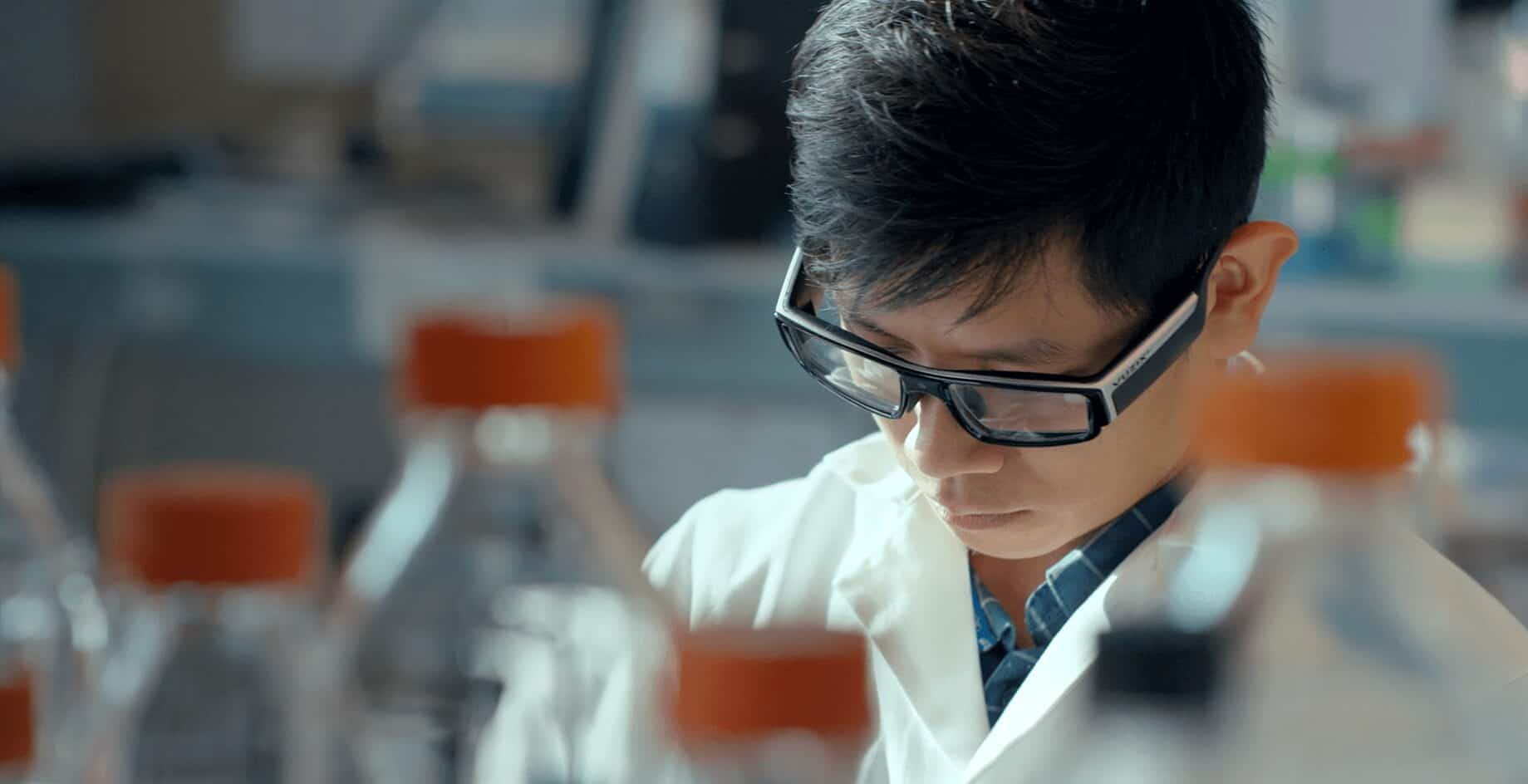 They'll find some use in education, but it will remain largely experimental. AR Glasses are just too new to move beyond pilot projects at this point. Unfortunately for Vuzix, everyone is waiting to see what Amazon, Apple, Facebook, Google, and Microsoft will do in the augmented reality space.
So far, there's only Microsoft's mixed reality HoloLens. And that will never be a mass market device.
The public will pass on this
Too many issues stand in the way of widespread public adoption. The $1,000 price tag will give many pause (though Vuzix is working to get it down to $500). Battery life is fairly good but not when it comes to watching videos – which they're not designed for. And that's a problem, as we're wedded to our video streams.
Games will be challenging if you have to continually hold one of your hands up to the frame-based touchpad or use voice commands. Novelty gets us excited, but it never trumps ease of use.
All these reasons are probably why Apple has held off producing their own smart glasses. As Tim Cook said back in October,
The technology itself doesn't exist to do that in a quality way. The display technology required, as well as putting enough stuff around your face–there [are] huge challenges with that.
But we know Apple is working on AR Glasses and rumors were flying that Apple did attend CES 2018 to meet with suppliers.
Almost there
Unlike the arrival of the smartphone, we're in a curious position with augmented reality. We know what we want in our AR Glasses, but our current technology is unable to deliver. We're still probably two years away from game-changing AR eyewear.
Or not, depending on how things turn out with the coming release of Magic Leap headset. Or how quickly Apple moves.
Vuzix is a remarkably well-designed device. And it's a major step toward a future where AR is integrated into every aspect of our lives, transforming our interactions with each other and the world itself.
But we're not there yet. 
Emory Craig is a writer, speaker, and consultant specializing in virtual reality (VR) and artificial intelligence (AI) with a rich background in art, new media, and higher education. A sought-after speaker at international conferences, he shares his unique insights on innovation and collaborates with universities, nonprofits, businesses, and international organizations to develop transformative initiatives in XR, AI, and digital ethics. Passionate about harnessing the potential of cutting-edge technologies, he explores the ethical ramifications of blending the real with the virtual, sparking meaningful conversations about the future of human experience in an increasingly interconnected world.