Here's a list of some of our workshops and talks on virtual, augmented and mixed reality and AI. You'll find descriptions and more details for some of the workshops in the drop-down menu or in the links below.
We have a busy schedule planned for 2019. Check back here or on Twitter for upcoming events.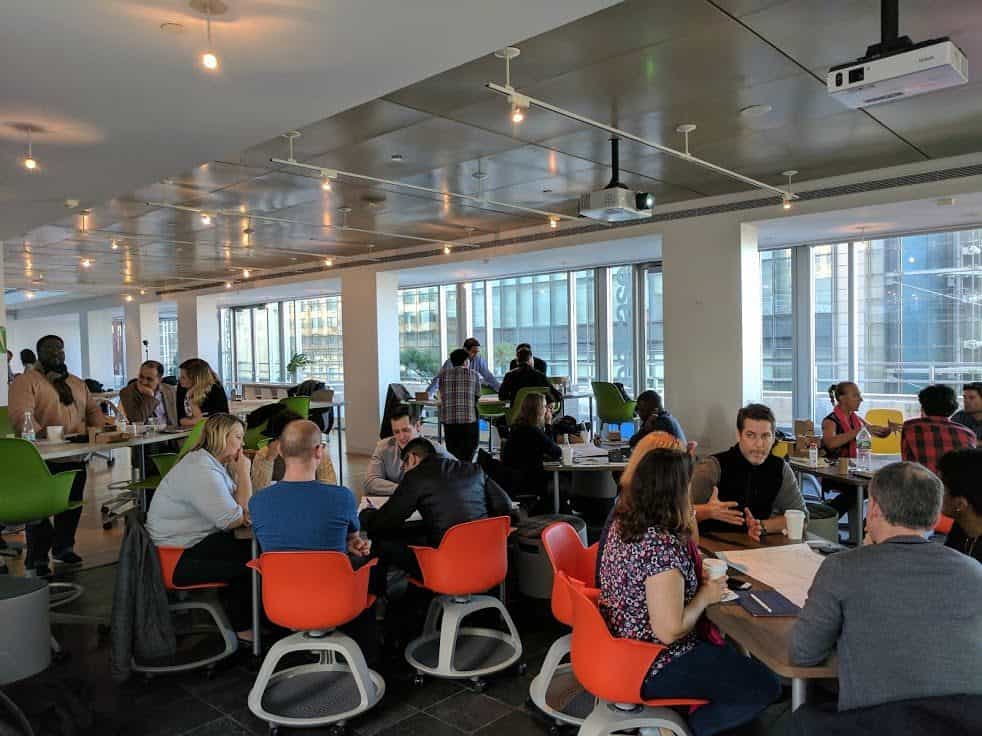 Featured VR Workshops and Conference Sessions
Some examples of our work at major education US and international conferences.
2019 Workshops and Presentations
Coming up – Designing Immersive Learning and Storytelling Experiences with 360° Video | EDUCAUSE ELI 2019
Coming up – Is VR the Ultimate Empathy Machine or Just an Illusion? | EDUCAUSE ELI 2019
Coming up – Stepping Into The Story: Design Principles for XR I SXSWedu
Coming up – Playing with Fire: Ethics and Literacy in VR & AR I SXSWedu
2018 Workshops and Presentations
Immersive Experiences | Business, Design & Technology Conference
Creating the Future of Immersive Learning with XR | ID2ID Webinar Series 
What will the Fourth Industrial Age Demand of Higher Education Panel | Innovation Leadership Forum. John F. Kennedy Presidential Library.
VR and AI as Catalysts for Innovation in Learning | AIM North conference, Oslo, Norway
Digital Technology for Science and Innovation, OECD Workshop, Norway
Ethics and Digital Literacy in VR and Immersive Learning Environments | EDUCAUSE Annual Conference
Creating Immersive Storytelling Learning Experiences in 360° Video (separate registration is required)  | EDUCAUSE Annual Conference
Virtual and Augmented Reality in the Liberal Arts, The Grinnell College Immersive Experiences Lab (GCIEL) Speaker Series
Virtual Reality and Augmented Reality: New Opportunities for Teaching, Learning, and Research, The Grinnell College Immersive Experiences Lab (GCIEL) Speaker Series
The Future of Immersive Storytelling: The Birth of a New Medium | Connected Learning Summit 2018 | MIT
How Immersive Experiences will Transform Business, Education, and Social Life | The Future of Communications | Fair Media Council
Artificial Intelligence and Virtual Reality in non-fiction storytelling and human memory | Montclair Film Festival
Bringing Virtual and Augmented Reality to the Classroom Workshop I New Jersey Association of Independent Schools (NJAIS)
IT Forum Panel on Virtual and Augmented Reality: Assessing Campus Readiness for Implementing and Expanding VR/AR Programs | EAB (formerly Education Advisory Board)
Virtual and Augmented Reality for Real Life Teaching | Keynote for Faculty Summer Institute I Fashion Institute of Technology (FIT)
3D Tech in Higher Ed: Blended Reality Summit | Yale University
Prototyping and Creating VR 360° Video Experiences Workshop | Realities360
Facing Ethical Challenges in Virtual Reality Projects | Realities360
Social VR Challenges and Opportunities | Realities360
Augmented Realities Campaigns | Realities360
2017 Workshops and Presentations
Virtual Reality Playground: Experiences from Medicine, Health, History, and the Social Sciences | EDUCAUSE Learning Initiative (ELI), Houston TX
Virtual Reality Playground: Experiences from Art, Design, Journalism, Museums, and Cultural Sites | EDUCAUSE Learning Initiative (ELI), Houston, TX
Spotlight Talk Horizon Report 2017: Trends, Challenges, and Technology | EDUCAUSE Learning Initiative (ELI), Houston
Virtual Reality and the Future of Learning Lab | New York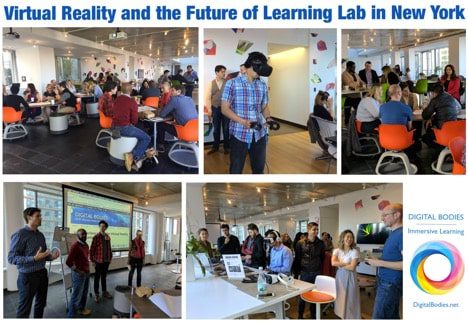 VR & Mixed Reality Trends: Insights for Educators | SXSWedu, Austin, TX
Girls Technology Forum: Virtual Reality Playground for K-12 | Hudson County Community College, Jersey City
Keynote – See STEM Teaching Differently | Arizona State University (ASU)

VR  for Education Workshop | NERCOMP,  Southbridge, MA
Virtual and Augmented Reality: Stepping Into the New Frontier of Learning | ELI Webinar
Emerging Directions in Immersive Learning | Campus Technology Webcast
Keynote – VR, Digital Humanities and the Future of Libraries | Library Association Tech Conference, New Jersey
Virtual Reality Master Class: Learning Through Immersive Experiences | New Media Consortium, Boston, MA
Connecting the Dots: Six Meta-Categories from the NMC Horizon Report – 2017 Higher Ed Edition | New Media Consortium, Boston, MA
Teaching and Learning in a Virtual, Wearable and AI World | Campus Technology Conference, Chicago
VR and AR Master Classes for Educators – Workshop Series: August 30 – 31 in NYC
 1. VR and AR in Education: Focus on Strategic Vision and Implementation;
2. VR and AR in Education: Crafting Immersive Experiences in Humanities, Social Sciences, and STEM
Designing Immersive Experiences and Stories in VR/AR That Will Transform Learning  | EDUCAUSE Annual Conference
Insights for Advancing a Digital Learning Strategy in Higher Education | EDUCAUSE Annual Conference
Virtual and Augmented Reality: The New Frontier of Learning | New Jersey Association of School Librarians (NJASL)
Trends and Applications in VR and AR for Online Learning | OLC Accelerate 2017 | Online Learning Consortium Conference
Creating the Future: VR Developer as Artists and World Builder | NYU AR/VR Developer's Day | NYU Tandon School of Engineering
Strategies & Tools for Prototyping and Visualizing Stories in VR/AR | NYU AR/VR Development Day | NYU Tandon School of Engineering
Girls Exploring Technology Conference | Rutgers Preparatory School
VR/AR Trend for Education | Reimagine Education Conference
The AI Revolution | Reimagine Education Conference
EDUCAUSE Live! Webinar – Insights from the EDUCAUSE-ELI Series, "VR/AR: Stepping into the New Frontier of Learning"
2016 Workshops and Presentations
Virtual Reality and the Future of Education | EDUCAUSE Annual Conference, Anaheim, CA
Developing Visual Literacy Strategies for Higher Education in the 21st Century | EDUCAUSE Annual Conference, Anaheim, CA
How Virtual Reality and Augmented Reality are Transforming Higher Education | Online Learning Consortium, Orlando, FL

Virtual Reality and the Future of Learning – Wearable Technology Innovations | Campus Technology, Boston, MA

Virtual Reality and the Future of Learning | New Media Consortium, Rochester, NY
Visual  Learning and Emerging Technologies – Rethinking 21st Century Literacy for a Visual World | Digital Education Show Asia, Kuala Lumpur, Malaysia
Learning Through Virtual Reality Experiences | SXSWedu, Austin, TX
Virtual Reality Lab: Immerse Yourself in the Future of Learning | EDUCAUSE Learning Initiative (ELI), San Antonio, TX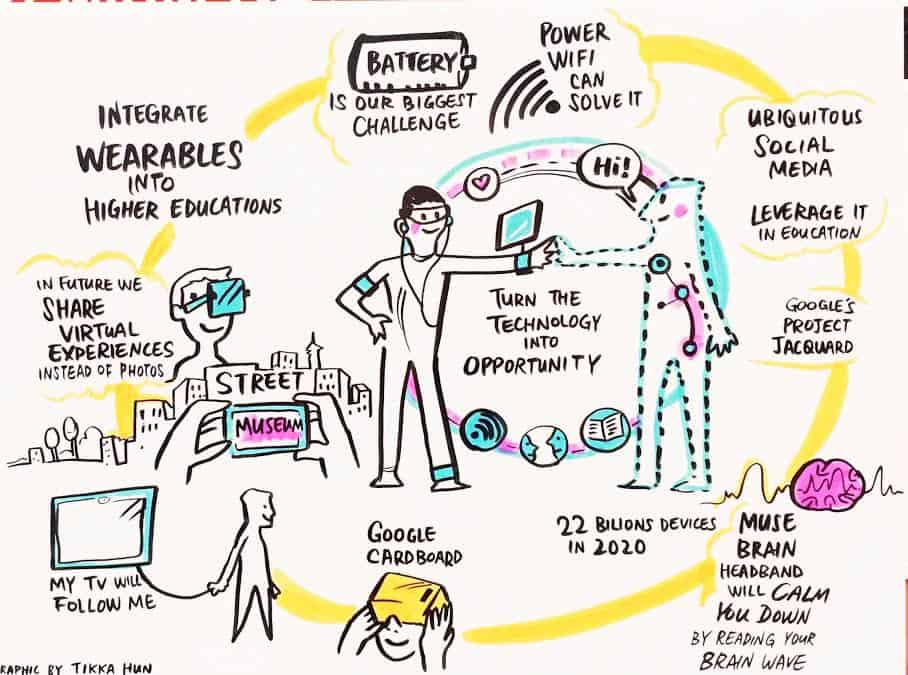 2015 Workshops and Presentations

  Augmented Minds, Smart Bodies: Wearable Tech Enters the Academy | EDUCAUSE Annual Conference, Indianapolis IN
Wearable Technology and the Future of Learning | Campus Technology, Boston, MA

Wearable Technologies | Digital Education Show Asia, Kuala Lumpur, Malaysia
Immersive Learning: The Wearable Pop-up Studio | New Media Consortium, Washington DC

Wear to Learn: The Body as Interface | SXSWedu, Austin, TX