AnandTech broke the news this morning that a new HP VR headset is coming in March. It's almost identical to the Windows Mixed Reality Headset VR1000-100 HP released last year.
The new version is the Professional Edition, but about the only added thing you get are replaceable face cushions. That definitely helps in multi-user environments where HMD's are widely shared. But it's hard to see that worth an extra $50 in the price.
Outside of the of the changes above, specifications wise the Professional Edition is no different than the non-PE edition. It uses dual 2.89-inch LCD screens at 1440×1440 resolution each (per eye), along with a 90Hz refresh rate. It also offers Windows Mixed Reality Ultra, with a 100° Field of View (from 90°), that allows for immersion within the environment. With the motion controllers, there are six degrees of freedom (6DoF) with no tracking boundaries for freedom of movement. The VR headset also includes integrated motion tracking which allows participants to jump right into Mixed Reality without setting up additional peripherals. (Anandtech)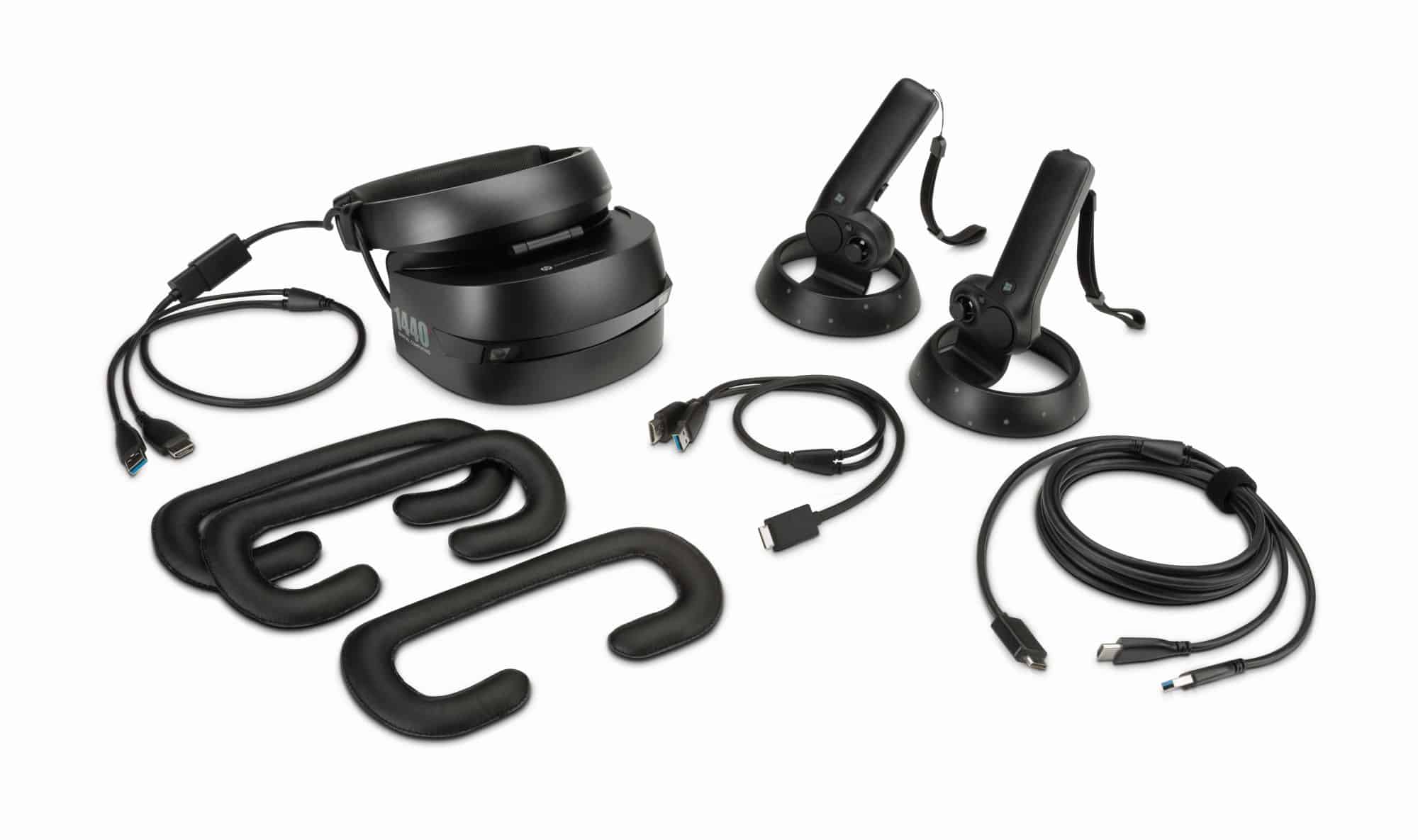 And like the other Windows "Mixed Reality" HMD's, this isn't really an MR headset. You won't see the external world or interact with it – unless you have the misfortune of tripping over a desk or coffee table.
It's straightforward Virtual Reality with some MR objects from the Microsoft Store thrown in for good measure. They can be fun the first few times you use them, but it wears off fast.
Call it a Mixed Reality headset if you want, but this is no HoloLens or Meta 2 Glasses.
Reviews of last fall's HP VR Headset were mixed at best. Acer and Dell came out ahead on comfort. We use the Dell Visor headset and it's the most comfortable VR HMD we've ever used.
The original HP unit was criticized – like all the Windows HMD's – for lacking content. To some degree that's been resolved with the Microsoft units getting access to the Steam Store. But it's still not the smoothest process to have to load software before getting to your VR experiences on Steam.
Services outside the New HP VR headset
It's what is outside the new HP VR headset that fascinates us.
HP has also partnered with Epic in order to streamline VR development and accelerate design, particularly in product design and architecture. The goal of the downloadable launch kit is to provide an end to end solution to configure appropriate systems, as well as seamlessly receive 3D content out of CAD and into a VR experience both faster and with fewer issues. HP mentioned the VR Launch kit was designed to relieve two major pressure points: to streamline the process for seasoned VR users, and a simpler and faster way to get VR into the design visualization process for newcomers.
Indeed, these are pressure points and anything that helps us get content into VR is decidedly welcome. Along with the release of the unit, HP is offering DaaS, "Device as a Service" which will get you the HMD's and support for a monthly fee. That will undoubtedly be attractive to small businesses and organizations seeking to implement Virtual Reality projects but balking at the upfront costs.
There's a surge of new VR headsets in the pipeline this spring. The new HTC Vive Pro HMD was announced at CES 2018 and images of consumer-ready boxes for Oculus Go are already on Twitter and Reddit. In that light, HP's release is not all that remarkable. But the additional services approach could be a sign of a future development in the consumer VR market.
Practically every laptop sold comes with an OS and added programs – much to the enduring dismay of geeks and gamers. But the tech crowd doesn't support a market – the larger public does and ease of use is the path to mass adoption.
Soon every VR headset may be sold as a device, software and a service. And that would open the floodgates for content creation in the mass market.
Emory Craig is a writer, speaker, and VR consultant with extensive experience in art, new media, and higher education. He speaks at global conferences on innovation, education, and ethical technology in the future. He has published widely and worked with the US Agency for International Development, the United Nations, and the Organization for Economic Co-operation and Development (OECD). Living at the intersection of learning, games, and immersive storytelling, he is fascinated by AI-based avatars, digital twins, and the ethical implications of blurring the boundaries between the real and the virtual.