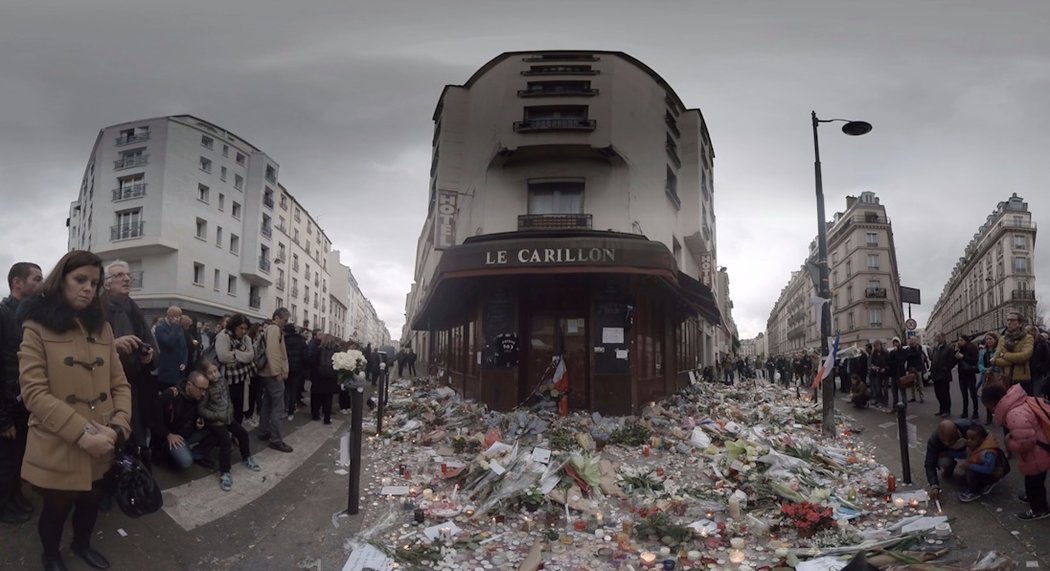 The New York Times Virtual Reality film of the Paris vigils continues their VR journalism experiment. After the distribution of Google Cardboard and the release of the VR documentary, "The Displaced", it was unclear what they would do next in virtual reality. But within a week of the Paris terrorist attacks, the NYT VR app has a short (5:12) film of Parisians gathering at the makeshift memorials around the city.
For the Times, the film continues to explore how virtual reality may engender empathy in the viewers.
Watching the film
The film is best viewed on a mobile device, though you can watch it on a laptop. If you haven't already, you should download the NYT VR app from your app store. We're unable to embed the film here so click on the following link: https://youtu.be/o3yvjEMFbnM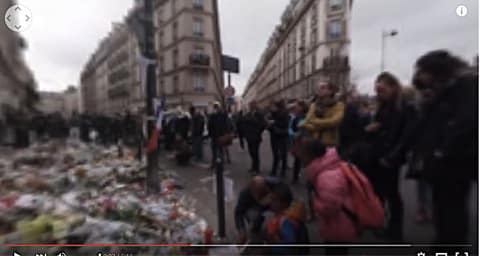 New York Times VR film of the Paris vigils
As two reporters for the Times explained, they found a city determined to move past the violence. And instead of simply writing about the memorials and gatherings, they drew upon virtual reality to convey how a city was coming together in the aftermath of the attacks:
The Paris attacks shocked the world's conscience so profoundly that we felt we should bring our audience to the streets of Paris in the most visceral way we could. We wanted them to feel both the grief and the strength that we encountered on every street corner.

In places of destruction and pain, one can find inspiring stories of hope and resilience. We tried to communicate the hope we found in spaces that were once vibrant but had become crime scenes. It was in front of the cafes that had been bombed and in the central squares where people gathered that you could understand a true sense of community and togetherness.
Of course, empathy engendered through a virtual reality experience doesn't stop terrorism. But it can help convey the complexity of the situation, what is missed in the simplistic portrayals of Paris in the nightly news.
Despite the pain and sorrow, a wounded city gathers, comes together, to tentatively reshape its own destiny. Virtual Reality can help bring the audience into these scenes, revealing that in the midst of tragedy, there is the strength of human bonds.
Emory Craig is a writer, speaker, and VR consultant with extensive experience in art, new media, and higher education. He speaks at global conferences on innovation, education, and ethical technology in the future. He has published widely and worked with the US Agency for International Development, the United Nations, and the Organization for Economic Co-operation and Development (OECD). Living at the intersection of learning, games, and immersive storytelling, he is fascinated by AI-based avatars, digital twins, and the ethical implications of blurring the boundaries between the real and the virtual.