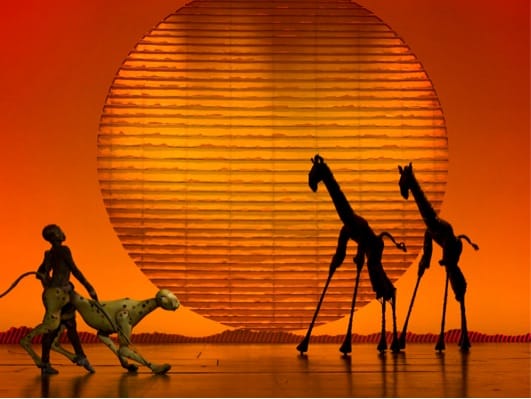 Disney's Lion King VR Experience the "Circle of Life" brings more than delight, it marks a major step into the world of virtual reality entertainment. Over the past year filmmakers, media and tech giants have wrestled with the questions on how do we begin to think about Virtual Reality and storytelling.
Every single step counts, like the ones taken by Chris Milk, Jaunt, The New York Times, big tech companies like Samsung, Facebook's Oculus and Google and the startups around the corner. And they are all thinking big.
Stepping into the medium
These projects and the people behind them are letting us step deeper into the medium. Some steps are bold, while others merely tentative. This week's step is a partnership of Disney Theatrical Productions and Total Cinema 360 to produce the Lion King's opening number in virtual reality. If you haven't seen the actual show, one of the most popular on Broadway, by all means go see it – you can get inexpensive tickets for the show in New York and other locations at Main Event Specials for the Lion King.
But whether you've seen it or not, the 360-degree immersive video of "The Circle of Life" is a must. Filmed at New York's Minskoff Theater, it is the first virtual reality experience of the live show on Broadway. You can watch it with Google Cardboard with the YouTube app, Littlstar app on iOS or Android, or the Samsung Gear VR with Milk VR.
Disney's Lion King VR Experience
Yes, it is breathtaking. Did you glance behind the stage curtains as the act was unfolding? Did you look down at the orchestra? I did, and followed the giraffe and the elephant. From another perspective, I watched the performance from above the stage. It's all of the things I have always wanted to do in the theater. I moved along, I saw puppets and actors look me in the eye, I felt like I was kneeling in the circle with them.
When you sit in the audience, you are trying to capture the entire scene. Virtual reality is different. I was present in ways I have never felt before watching the show form a seat in the theater. The VR experience allows me to feel the movement of the story and the actors. I was in control of my vantage point and perspective.
It felt special and I was touched by the mastery of every actor. This was not a stage performance. It felt personal, it felt intense. As if they were doing it for me, as if I was there with them on stage.
Yes, it is the ensemble that makes the stage extraordinary in Lion King, but in VR, every actor's subtle movement is so much closer, the connection so much stronger, the perfection like the one in Circle of Life so much more amazing.
What Makes Good VR
Good Virtual Reality will mean finding new masters in this domain and this means that some will likely fail. To film the performance many adjustments were made with the choreography, stage lights, decisions on how to move the cameras. In the interview, WIRED reports that Total Cinema 360 worked with resident dance supervisor Ruthlyn Salomons and production stage manager Ron Vodicka to re-calibrate the opening number with VR in mind.
This is not unlike what we have done with other mediums, like radio and movies. We begin with a prior framework – theater in this case – and then discover that there's so much more we can do in the new medium. According to the Wired:
The film crew used a relatively small rig of six GoPro cameras it moved around the stage between takes. That lets viewers feel like they're moving around within the performance.

Total Cinema 360 co-founder Adrian Vasquez de Velasco adjusts a rig of six GoPro cameras during a rehearsal.
All the World's a Stage
Finally, I will play it many times more and probably shed a tear as I want to be on this stage. I want to see into every single corner of the set and look at every single costume and entrance. Because I want to be amazed.
Today, I only want to listen and merely be present, tomorrow I will want to touch the costumes, and in the not too distant future I want to dance along. I want to experience the emotion in full, to transport on this stage, to experience the rhythm and interactions, because as Shakespeare said centuries ago,
All the world's a stage, and all the men and women merely players.
Storytelling and Immersion
VR is immersive. It is multidimensional and works on so many of our senses. Entering this new realm will always start by having a good story to share. To do VR well is to recognize that we want more, so much more, we will want to immerse ourself, to play along to become one with the story. The story will be synonymous with the experience.
There will be no audience. We will all be part of a unique experience every time we enter the story. Virtual Reality is not Sci-Fi, is not just another medium or fad. Once it matures, VR will be the way we will make sense of our present, past and future. With technology advancing so rapidly, the interaction will become greater and the flow of storytelling even more personalized.
Disney's Lion King VR Experience positions us at the dawn of a new age of human creativity. It will be remarkable!
Maya Georgieva is an EdTech and XR strategist, futurist and speaker with more than 15 years of experience in higher education and global education policy. Her most recent work focuses on innovation, VR/AR and Immersive storytelling, design and digital strategy. Maya actively writes and speaks on the topics of innovation, immersive storytelling and the future of education and consults organizations and startups in this space.