The idea of using VR at airports intrigued us – especially since we fly out of NYC which has some of the worst big-city airports in the country. This latest use of VR comes from PeriscapeVR, a Los Angeles based startup that describes themselves as a "content studio and production company."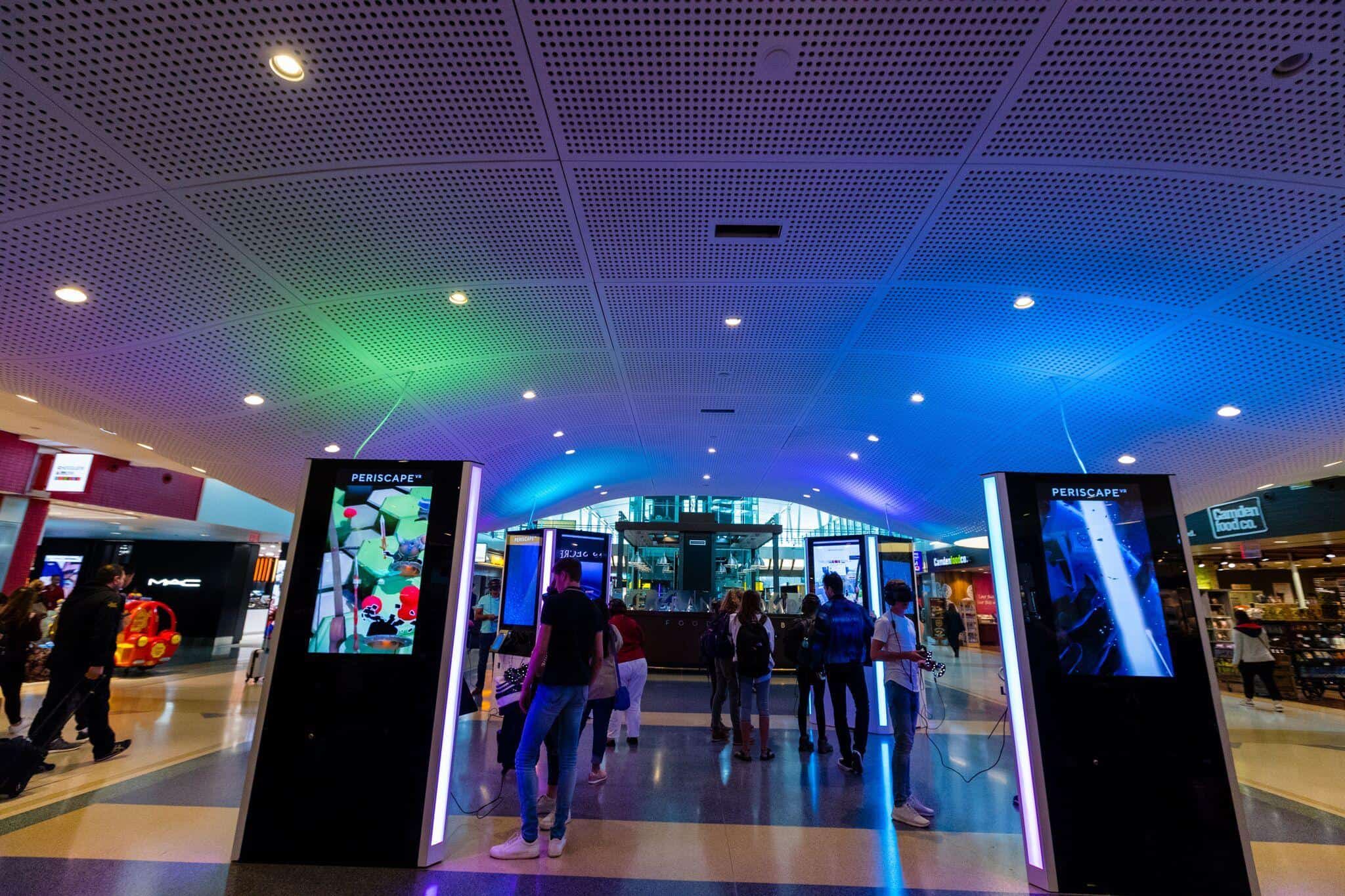 According to VRScout,
. . . PeriscapeVR is offering an escape for commuters at JFK International Terminal 4 – one of the busiest international terminals in the United States – with a unique VR experience designed to be easily approachable with limited instructions so you can dive right into the VR fun.

As you approach each VR Tower, you'll see a screen with a menu and a securely tethered VR headset. You'll also notice that each station has a large monitor with the purpose of allowing passerby's to see the same action that you're seeing while playing games such as Audioshield, Longbow, or Job Simulator just to name a few.
The company went to great lengths to pull off doing VR in airports. PeriscapeVR's stations are nicely designed and they took care of the important details. Sanitary wipes are available (good grief, they're definitely needed here) and the stations include lockers to store your bags (it would be a little jarring to step out of the virtual and find your real world bags had disappeared).
If there's an oversight in the rollout, it's the lack of swivel chairs so that you can sit down and enjoy some of the less intense experiences.
According to their press release,
PeriscapeVR was created for travelers who desire a fun, blissful and euphoric respite from airport crowds and long hours between flights.
Airport Technology website (yes, VR leads me down the strangest paths for research), provides more details.
Available entertainment options have been classified into five separate categories: First Time, Experience, Create, Play, and Social Cause. They feature exclusive content from some of the most respected brands in virtual reality.

In order to provide virtual reality location-based entertainment, Terminal 4's travel retail group Paradies Lagardère has teamed up with PeriscapeVR.

The centre has been designed by architect Gensler. It features HP Windows Mixed Reality Headsets, as well as HP Z240 Tower Workstations to offer the required performance for immersive VR experiences.
But seriously, VR at airports?
Let's put aside the location for a moment (even though the context of a VR experience always plays a role).
The more immediate question is the price. You purchase time at the PeriscapeVR stations in blocks of 15, 30, or 45 minutes at a $1.00 a minute. That seems steep, especially if you're springing for the larger 45-minute block.
Pay a little more and you can get yourself a one day pass from some airlines to their business class lounge, or a seat on your overbooked flight with more leg room. Either option seems much more relaxing than wrestling with Job Simulator VR in front of airport crowds.
But to each their own.
The first week of the soft launch at JFK saw 2,000 people pay for the experience. That's at least $30,000 a week in revenue (at the minimum 15-minute blocks of time) and could easily result in $2 million annually.
Clearly, that's what PeriscapeVR is banking on. They have plans to roll this out across 229 airports around the world.
Will it last?
Will VR in airports on public stations take off (apologies for the obvious pun)? It may be attractive to people who have never tried VR before and want to get their mind off that upcoming crowded flight. Or for someone who is absolutely dying to finish up a task in Job Simulator.
Give PeriscapeVR credit for a novel idea. And they've given us a glimpse of where we're headed in the future. Virtual experiences and immersive storytelling will be everywhere – in entertainment centers, our homes, at work, in schools, and even at airports. JFK may finally be tolerable someday (though I'm not holding my breath).
But PeriscapeVR's experiences don't come cheap. And with the rapid pace of immersive tech developments, it could quickly turn into a relic from the past. Once we have AR glasses, our immersive entertainment options will cost a lot less than a dollar minute. And we'll have a lot more options to choose from.
We're in no rush to get out to JFK this week, but definitely curious to see it in action. Let us know if you get a chance to try it out.
Emory Craig is a writer, speaker, and consultant specializing in virtual reality (VR) and artificial intelligence (AI) with a rich background in art, new media, and higher education. A sought-after speaker at international conferences, he shares his unique insights on innovation and collaborates with universities, nonprofits, businesses, and international organizations to develop transformative initiatives in XR, AI, and digital ethics. Passionate about harnessing the potential of cutting-edge technologies, he explores the ethical ramifications of blending the real with the virtual, sparking meaningful conversations about the future of human experience in an increasingly interconnected world.