Leave it to Mark Cuban to help bring about the first virtual reality sports broadcast. The Indiana University Athletics Department announced:
Working with the Dallas based company BigLook360, fans will be able to view all of the Hoosier Hysteria action as if they were standing on Branch McCracken court.  Five Samsung Gear VR headsets will be set-up in the North lobby of Assembly Hall beginning at 6pm.  Fans attending Hoosier Hysteria are encouraged to visit the display to experience Hoosier Hysteria like they never have before.
Mark Cuban donated $5 million to the school to help launch the Mark Cuban Center for Sports Media and Technology. The Center focuses on using cutting-edge technology to produce professional content including video displays and virtual reality videos for athletic instruction and for the fans.
Virtual Reality sports – how it works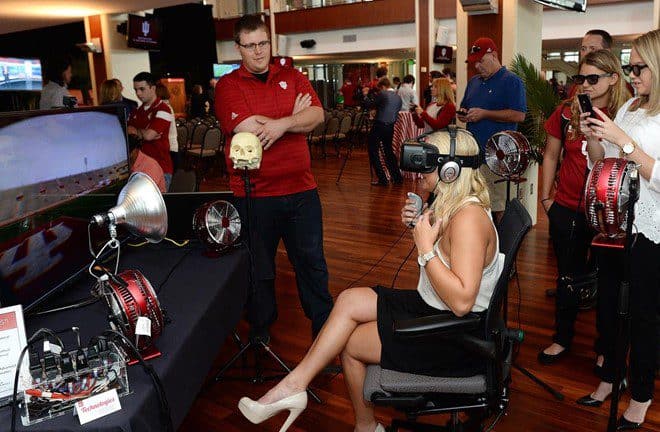 BigLook360, which is providing the virtual reality platform, has lot's of experience in the field. They're the ones behind the live VR streaming videos of the Emmys, the Golden Globes and the Academic Awards.
For now, thankfully, you won't be sitting in the stands wearing a virtual reality headset and bumping into the screaming fans in front of you. That would be a little unsettling if not downright anti-social. Your VR experience will be from a chair in the lobby, but even there, you'll feel very much like you're in the game.
The fact that you're isolated from the social aspect of the game – which at UI and other college and professional sports venues is a (the?) major part of the experience – is one of the challenges of VR. It is a technical issue that will probably be resolved in a few years, once we get past the bulky headgear and can do VR through a pair of glasses.
Someday, we'll look back on our current state-of-the-art VR headgear and shake our heads like we do when we see early versions of mobile phones. You wonder how people ever used this stuff.
But lobby and bulky headgear aside, it will be an incredibly compelling experience to see the game from a perspective that no one has outside of the players. Or from a vantage point that is closer than the most expensive and coveted courtside seats. Simply put, we've never been there before.
According to Associate Athletic Director Jeremy Gray.
Fans will be able to experience what it is like to have Troy Williams fly over you for a dunk, how quick Yogi Ferrell is off the dribble, and what it is like to watch the action courtside.
Virtual reality won't replace real life, but if you can't physically be at the game, it will be a whole lot better to be virtually in the game.
And this is where virtual reality delivers.
Emory Craig is a writer, speaker, and consultant specializing in virtual reality (VR) and artificial intelligence (AI) with a rich background in art, new media, and higher education. A sought-after speaker at international conferences, he shares his unique insights on innovation and collaborates with universities, nonprofits, businesses, and international organizations to develop transformative initiatives in XR, AI, and digital ethics. Passionate about harnessing the potential of cutting-edge technologies, he explores the ethical ramifications of blending the real with the virtual, sparking meaningful conversations about the future of human experience in an increasingly interconnected world.