Here's a virtual reality experience that will let you step inside a Dalí painting. The Dalí Museum in St. Petersburg, FL will be giving visitors the opportunity to literally immerse themselves Dalí's work through VR in the upcoming exhibition, Disney & Dalí: Architects of the Imagination.
The virtual reality experience, Dreams of Dalí, is based on his painting, Archaeological Reminiscence of Millet's "Angelus."  Using VR headsets, viewers will be able to go inside the painting and move around one of the artist's bizarre landscapes.
A Virtual Reality Experience of Dalí
If any artist seems a perfect match for a virtual reality experience, it would be the Surrealist painter Salvador Dalí. Dalí's work always had the ability to engage our imagination, to bring us into his interior landscapes. His paintings never seemed like a representations on a flat surface, but 3-dimensional experiences. You just couldn't step inside them – until now.
From the Dreams of Dalí site:
Move around inside the painting in a fully immersive 3-D environment. Adventure into the towers, peer from them to distant lands, and discover surprises around every corner—in a way we can only imagine Dalí may have dreamed.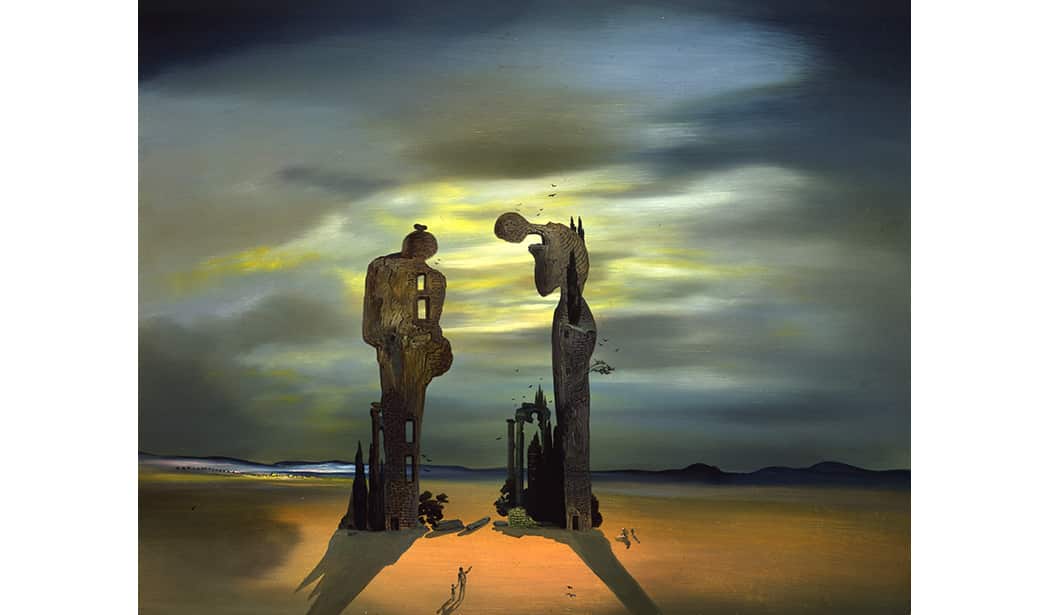 No doubt Dalí would have used VR if it had been available in when he was alive. According to Kathy Greif from the Dalí Museum,
Dalí was always exploring new ways to express his art. Advancements in virtual reality allow us to provide an almost tangible view.
From Millet to Dalí to Virtual Reality
The inspiration for Dalí's painting came from one the most widely reproduced paintings of the 19th century, Millet's The Angelus, completed 1857-1859.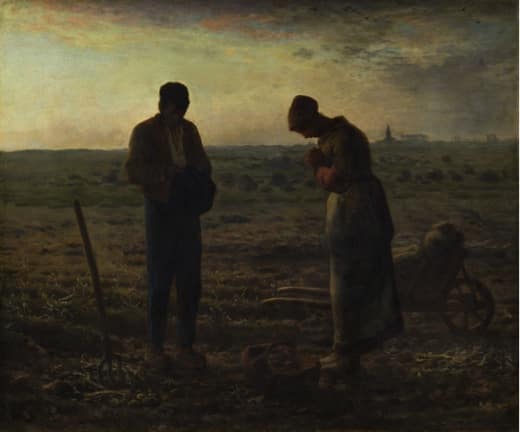 The painting portrayed two peasants saying a prayer as they bowed over their small basket of potatoes in the field. Millet turned the peasants into noble figures, 19th century symbols of a world quickly dying in the onslaught of the Industrial Revolution.
Not surprisingly, Dalí takes it in another direction. In the 20th century, the figures are now frozen in space, monumental carved stones in a moonlit, barren landscape. As Dalí said,
I surrendered myself to a brief fantasy during which I imagined sculptures of the two figures in Millet's 'Angelus' carved out of the highest rocks….
As the Dali Museum notes, the modern version is layered with meaning:
In this painting, the couple appear as ancient monumental ruins in a moonlit landscape. He painted them so that the female – looking like a praying mantis – towers over the male, whom Dali depicts as dominated and vulnerable. Two pairs of figures observe the couple. Both show Dali as a child accompanied by an adult – the pointing figure is his father, the seated one his nanny. These references to childhood, the "reminiscence" in the title, suggest fragments of memory uncovered through introspection.
The VR Exhibit
The exhibition runs from January 23 through June 12. The virtual reality experience is designed by San Francisco agency, Goodby Silverstein & Partners (GS&P) and uses Oculus VR headsets. We'll update as more details become available.
As a VR experience, it will be fascinating.
Emory Craig is a writer, speaker, and consultant specializing in virtual reality (VR) and artificial intelligence (AI) with a rich background in art, new media, and higher education. A sought-after speaker at international conferences, he shares his unique insights on innovation and collaborates with universities, nonprofits, businesses, and international organizations to develop transformative initiatives in XR, AI, and digital ethics. Passionate about harnessing the potential of cutting-edge technologies, he explores the ethical ramifications of blending the real with the virtual, sparking meaningful conversations about the future of human experience in an increasingly interconnected world.