Here's DigitalBodies' three picks for the top tech toys this year. We love to play with tech and our criteria for this year's selection was affordability, experience and mobility. Here's our list which includes VR, AR, and AI devices.
Spectacles
Number 3 on our top tech toys list goes to SnapChat and its Spectacles with price of $130. Whether it's the Holiday party or a walk around town, Snap Spectacles feels like the perfect gear to have. Spectacles are sunglasses with an integrated video camera that makes it easy to make snaps and video. They are available in 3 different colors and look like a pair of sunglasses. Spectacles connect directly to Snapchat via Bluetooth or Wi-Fi and transfer your memories directly into the app.  Snap also introduced a brand new circular video format which captures the human perspective with a 115 degree field of view.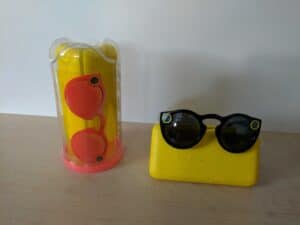 Spectacles are not easy to get but I did get my pair at the pop-up Snap Spectacles store on the corner of Fifth Avenue which is open until New Year's Eve. If you happen to be in NYC you need to plan a day trip to get them.
For those out of town, consider checking the Snap website for where the Bot will appear next. Yes, you buy Spectacles from a Vending Machine Bot that materializes around the country and just like snaps it only shows up for a limited time in any location. If you're in a must-have-them-now mood, there is always the Spectacles for sale on eBay, but you'll pay a premium. Right now, it's about a 100%-150% markup, but that less than when they first appeared at a 300% markup.
If you're lucky enough to get a pair, CNet has a helpful "11 tips and tricks for Snapchat's Spectacles." Spectacles may well turn out to be a groundbreaking device in the Wearables market.
https://www.youtube.com/watch?v=Vc9SOkPWqIQ
Google Home
Google Home, the new Google Voice Assistant, is second on our list of top tech toys. You can buy it from the Google Store, BestBuy, Target, Walmart and Verizon for a $129. While 2016 was billed as the year of virtual reality, according to Fortune Magazine, virtual assistants are expected to top VR devices in holiday sales. No one would have predicted that a few months back.
Google Home is a versatile device that connects to services like Nest, Phillips, Smart Things for Smart Home. It also brings streaming services like Netflix, Pandora, Spotify into your house.  Google Home works with its companion mobile app. You can use it to play music, read a customized news feed, do calendar reminders and look up information. To connect to your TV you'll also need to step up Chromecast. From our experience, it was painless and took less than three minutes.
The voice recognition far surpasses anything we've seen in the past. While the device is not perfect (it tells me it's "still learning"), Google has done their research and it signifies where our tech is going in the future. Consider Google Home (and Amazon's Echo) as the advance guard for artificial intelligence coming into our lives. This is just the beginning of AI moving into our homes.
As Phys.org put it, you'll feel a little like you're talking to a disembodied computer on the flight deck of the Starship Enterprise. It's both fascinating and somewhat unnerving.
Here's the sales pitch from Google.
https://www.youtube.com/watch?v=nWiIWyCeZso
Google Pixel + DayDream
Top of my list is the combo Google Pixel and Google DayDream View. Yes, you need them both in order to use Google's mobile VR (though you can use the Moto Z or Moto Z Force phones). Google Daydream is superior in quality to what you can do right now on GearVR or using another Smartphone with Google Cardboard. The price tag for Google DayDream View is $79. The Pixel phone comes in several options from $649 or $27.04/month for 24 months with Google Store Financing.

https://www.youtube.com/watch?v=rLLAA4ENIP4
The reviews on Pixel are still coming but we have one word – photos. Pixel's has the highest rated smartphone camera. With a best-ever DxOMark Mobile score of 89, Pixel's camera lets you take brilliant photos in low light, bright light or any light. They are simply beautiful. Finding your way around the phone takes some time but you will be pleased with the high level of customization you can achieve. Given that this is Google's first foray into producing smartphones, we expect things to only get better.
Our initial use of Pixel with Google's Daydream VR headset has been everything that we would expect. The experiences are incredibly immersive for a low priced headset and the hand controller is simple and fun to use. We'll have a more in-depth review in the coming weeks.
https://www.youtube.com/watch?v=Rykmwn0SMWU
Top tech toys
This is our top tech toys list for Holiday 2016. Yes, we also love the HTC Vive and Microsoft HoloLens – and we'd love to find them under our tree. But the price tags make these items a bit out of our reach this holiday season. HTC Vive is our VR headset of choice. But remember that you'll also need a $1,000 plus computer to use it. That said, certainly consider Vive and HoloLens for the Geeks in your life if you can afford it.
Among other things, 2016 has been referred to as the year of VR. With all the tech shows and non-stop announcements from Google, Microsoft, HTC, Samsung, Oculus and Intel it has absolutely earned that title.  Of course, we did not see devices from Apple or Magic Leap but there's much to come in 2017. Stay tuned for end of the year reports on the developments in 2016 in the coming days.
There's only a few days left, so it's time to get to the stores. We hope you've been nice and your presents make it on to Santa's sleigh!
Maya Georgieva is an EdTech and XR strategist, futurist and speaker with more than 15 years of experience in higher education and global education policy. Her most recent work focuses on innovation, VR/AR and Immersive storytelling, design and digital strategy. Maya actively writes and speaks on the topics of innovation, immersive storytelling and the future of education and consults organizations and startups in this space.