We all know this is not the year to go anyplace where there are crowds, so here are the best New Year's events in VR. It's either flat screens or virtual reality, and since you're here, we suspect you are interested in the VR New Year's options. Surprisingly, we thought there would be more virtual reality events given the pandemic this year.
We love that the readership at Digital Bodies is truly global, and for some of you, New Year's has already arrived. For those of you still waiting to ring in what will hopefully be a much better time in your lives, here are some options to join a virtual celebration through your VR headset.
Please be safe and stay home tonight. And social distance if you do go out. And our heartfelt wishes for a Happy New Year!
The Best New Year's Events in VR
We'll try to hit many of these today and follow up with our reactions in the New Year. Many of these events will also be available as live-streams if you only have access to a flat-screen.
Jean-Michel Jarre Live Concert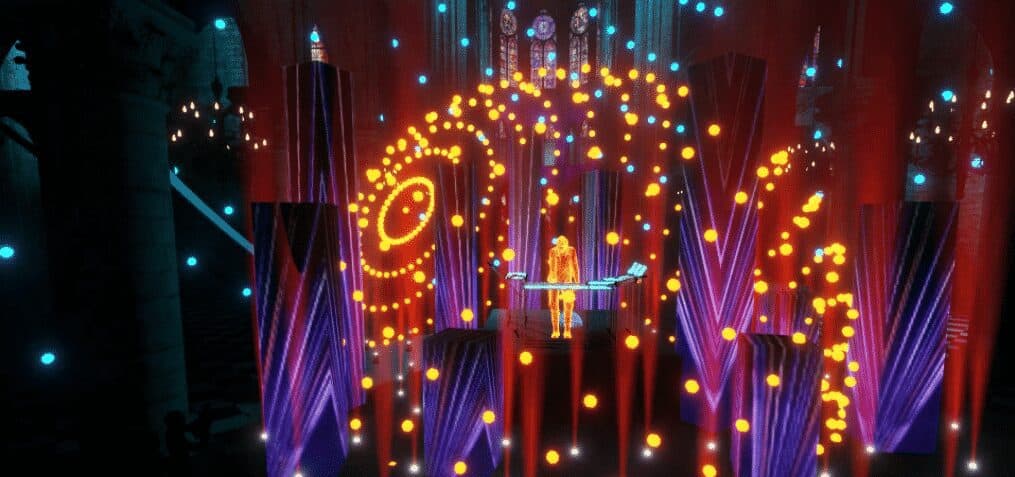 The electronic musician tries another live VR concert in Paris on New Year's Eve. His avatar will play from inside a virtual Notre Dame while he actually performs from his nearby studio in Paris. We'll definitely be dropping by to see the recreation of Notre Dame in virtual reality. There are multiple ways to access the event – both live-stream and in VR on Jean-Michel Jarre's site.
New York City New Year's Eve
Our home town will have no crowd of one million people in Times Square this year. But we'll still have a celebration and the classic ball drop at midnight – though this will be the first time the ball drops without a live crowd. Since you can't be there in person (not that we'd ever want to actually do that), you can access an augmented and virtual experience through the Virtual New Year's Eve App. However, note that the website talks about an AR event, not a full VR experience.
New Year's Weekend Celebration at Burning Man
The massive Burning Man event went virtual this year, and the celebration continues with a weekend of New Year's events in VR. Head over to the BRCVR site to check out the schedule and how to get access.
The New Year Party Bus
If you're up for some New Year's events on the major social VR platforms, then check out the New Year Party Bus. Lots of events in AltspaceVR, VRChat, Rec Room, Sansar, and more.
Bangkok Celebration in 360 Video
Bangkok may have just celebrated New Year's Eve, but you can still watch the event in 360 video.
Patti Smith Not in VR, But Not to Miss
One event not in VR but not to be missed is our hometown poet, author, and rock star Patti Smith who lives just a few blocks away. Patti and her band will celebrate the arrival of 2021 with a 10-minute performance on Europe's largest screen in London's Piccadilly Circus. It will be live-streamed worldwide for free on the CIRCA YouTube channel at 11.30 pm GMT (6.30 pm EDT, 7.30 am AEDT).
The event will be a moving tribute to the healthcare workers who sacrificed their lives for all of us in 2020. If you tune in earlier, there will be a film by artist Anne Imhof. We'll see you in Piccadilly Circus this evening.
Update: We just learned that this event will no longer be streamed from London's Piccadilly Circus due to social distancing concerns. However, it will still be available live on the YouTube channel.
That's our list of the best New Year's events in VR. Stay safe, and Happy New Year!
Emory Craig is a writer, speaker, and VR consultant with extensive experience in art, new media, and higher education. He speaks at global conferences on innovation, education, and ethical technology in the future. He has published widely and worked with the US Agency for International Development, the United Nations, and the Organization for Economic Co-operation and Development (OECD). Living at the intersection of learning, games, and immersive storytelling, he is fascinated by AI-based avatars, digital twins, and the ethical implications of blurring the boundaries between the real and the virtual.