Samsung VR is offering a spectacular Virtual Reality experience this holiday season. If you're in New York, catch the virtual ride on Santa's sleigh in Herald Square on 34th Street. You'll also find it downtown at the Samsung 837 digital playground and event space in the Meatpacking district. On the West Coast, it's available at The Grove in Los Angeles.
Here's the ride in a 360 degree immersive video – not the same as VR, but close. It should work on your browser. If it doesn't work on your mobile device, watch the video on YouTube.
https://youtu.be/Ym5z08m-BMo
Samsung VR Sleigh Ride
What makes the Samsung VR sleigh ride so compelling is the moveable chairs and wind that's part of the experience. And if you're doing it in Herald Square in Midtown, you're outdoors in the cold, giving it even more realism.
And yes, the sleigh is as big as it looks:
Samsung VR
Samsung's had a rough ride this fall with exploding phones and a new VR headset from Google that's a cut above the groundbreaking Gear VR. How quickly new tech gets old – especially in Virtual Reality.
But don't count Samsung out. A new Gear VR headset is on the way and they're working on an innovative AR or Mixed Reality project. And as they've continually shown in the 837 space, they're creating multi-sensory virtual reality experiences. It's similar to Disney's approach with the Soarin' experience in their theme parks.

Marc Mathieu, Samsung Electronics America's Chief Marketing Officer, summed up the power of Virtual Reality. It's a marketing pitch, but it makes the point. When you blur the lines between reality and the virtual, technology is no longer hardware. It simply becomes an experience:
At Samsung, we believe technology is so much more than a device – it's an experience that can connect, delight and inspire everyone. We're always looking for ways to create memorable, immersive experiences with our Samsung VR ecosystem and with 'The Night Before…' we are able to blur the lines between virtual and reality in an enjoyable, festive way like never before.
And indeed, they do. The Samsung VR sleigh ride is utterly delightful. And you'll completely forget the device and live the experience. It's as close as we'll come this holiday to hopping on board a sleigh in NYC – much less a ride with Santa around the world. Don't forget to turn around and look at the pile of presents behind you.
It's a story we know so well, but instead of experiencing it as passive listeners, we're sitting in his sleigh, participants in the journey. When Santa turns and looks at you with a wink, you wink back, drawn into the experience. In virtual reality, you are the story.
From Digital Bodies, enjoy your virtual – and very real – holiday season!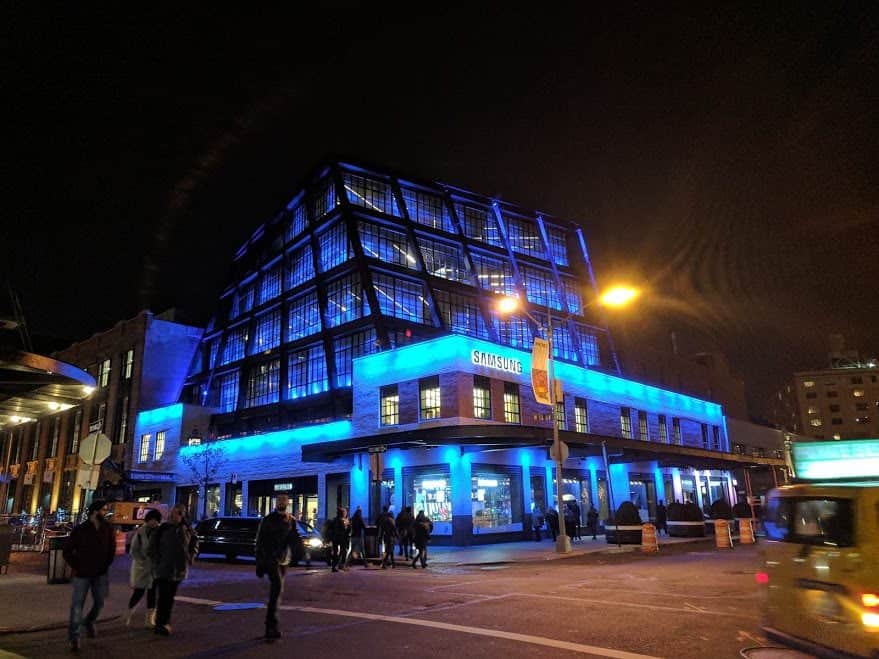 Maya Georgieva is an EdTech and XR strategist, futurist and speaker with more than 15 years of experience in higher education and global education policy. Her most recent work focuses on innovation, VR/AR and Immersive storytelling, design and digital strategy. Maya actively writes and speaks on the topics of innovation, immersive storytelling and the future of education and consults organizations and startups in this space.