A report from The Information brings news that Apple AR device testing is underway. This doesn't mean Apple has a fully designed prototype but that the essential element – the AR lenses – are in trial production. During this stage, the company makes thousands of units for an engineering validation test, or EVT, work out mass production challenges and finalize the design.
As ever, Apple's CEO, Tim Cook, remains bullish on the future of augmented reality.
My view is it's the next big thing, and it will pervade our entire lives.
Apple AR Device Testing
Here are the details from The Information.
. . . Apple is working with Taiwan's Foxconn Technology, Apple's largest contract manufacturer and the one responsible for building most iPhones, to develop semitransparent lenses for its AR devices. As of two months ago, the lenses—considered one of the most essential elements of the head-worn devices—had passed the prototype stage and entered trial production, a person familiar with the matter said.
It's very possible that Apple is using technology from Akonia Holographics, a Colorado-based company they acquired in 2018. The latter was developing waveguide displays, the solution that is most common in AR and Mixed Reality headsets. These displays essentially beam light into the side of a lens, creating an image as the light bounces off of irregularities in the glass.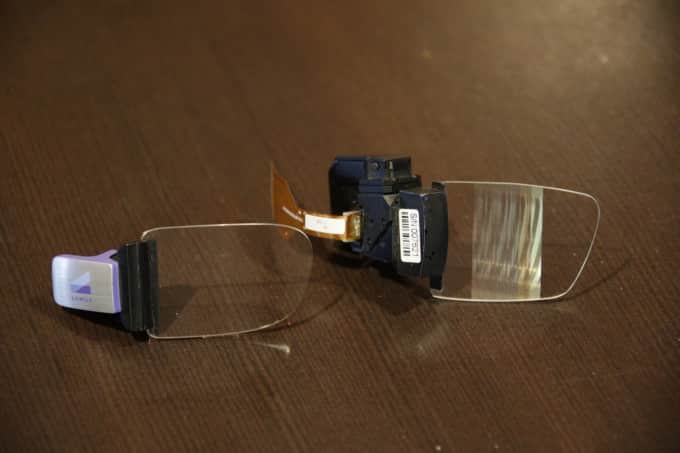 Technical Challenges
While Apple perfects its lenses, they still face challenges in battery life and other areas (especially in 5G rollout which they don't control). As we reported before, the initial version of Apple's AR device will likely run off an iPhone. Later versions would move to a standalone model, possibly in 2023. It's inconceivable that Apple would go with either a bulky headset or one that constantly needed charging.
The only way around this dilemma at the moment is to run it off an external device that enhances processing power and battery life. While Apple could go the Magic Leap solution with a "hockey puck" accessory for your belt or pocket, that would conflict with the minimalist design aesthetic residing in Cupertino.
Adoption Challenges
As elegant as an Apple AR device – iPhone pairing solution might be, it presents a huge challenge in using the device in education and the global community.  With Google and Facebook both pushing massive AR device projects, we'll end up with two or more competing platforms. It's hard to imagine that Apple would allow its AR glasses to pair with an Android phone.
Add to this the current cost of the iPhone and you can see the obstacles for device adoption outside of the high-GDP economies. And even within them. Given that many K12 schools and universities are scrambling to make sure students have access to basic technology and broadband, widespread adoption is at least five years out. And though we've seen nothing so far from Google or Facebook, you can see where the AR market is heading. The most widespread AR device will likely be an Android headset, even if the Apple AR device wins on design and usability.
That said, it's still good to see these developments. With store closures and production issues arising from the current global pandemic, Apple needs to continue working on augmented reality. It will, in the words of Tim Cook, "pervade our entire lives." The only question is when.
Emory Craig is a writer, speaker, and consultant specializing in virtual reality (VR) and artificial intelligence (AI) with a rich background in art, new media, and higher education. A sought-after speaker at international conferences, he shares his unique insights on innovation and collaborates with universities, nonprofits, businesses, and international organizations to develop transformative initiatives in XR, AI, and digital ethics. Passionate about harnessing the potential of cutting-edge technologies, he explores the ethical ramifications of blending the real with the virtual, sparking meaningful conversations about the future of human experience in an increasingly interconnected world.