Some virtual reality demos are simply magical – and the new Oculus VR Painting tool is one. Artist Wesley Allsbrook demonstrated the Oculus Quill, a 3D virtual-reality drawing tool that lets you paint in the air by just waving your hands. It's unclear if it will be released to the public but you can imagine the possibilities.
The Quill makes use of the company's new Touch controller which will be out later this year. It looks similar to Tilt Brush, a VR painting app that Google picked up last year.
VR Painting with Oculus Quill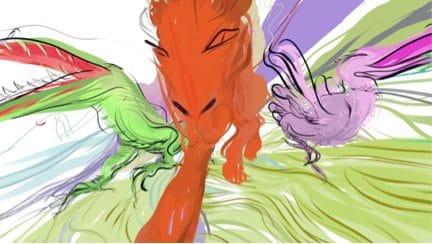 TechCrunch provides more details:
Oculus Story Studio built Quill to make its new VR short film Dear Angelica, where hazy watercolor drawings let a daughter explore the fantastical memories of her movie star mother. . . . Dear Angelica lets you watch flying fish, dragons, and a child's bedroom be birthed into being one line at a time, reacting to where you look.

Even if Oculus doesn't publicly release Quill, it could inspire a whole new medium of VR performance art by showing how to add dimensions of time and 3D space to live illustration. The order and cadence of Quill brushstrokes could let artists infuse suspense, humor, or crescendo into the journey of creation.
Story Studio is previewing Dear Angelica at the Sundance Film Festival, and a few scenes are available now. The full VR film will not be available until later this year.
Oculus released its first VR film, Lost, at Sundance last year. Creative director Saschka Unseld told Fast Company:
The idea since we started the studio, since VR is a medium, and there's no inherent style in VR, [is that] with all the projects we do, each project should experiment with something new and different.
Dear Angelica explores narrative through an incredibly expressive mode of painting – in virtual reality. As the Studio notes:
is the story of Jessica, a teenage girl looking back on the stories her mom told her as a child. As she recreates these vivid landscapes in her mind, you're pulled into the magical and dreamlike worlds of her memories.
The First VR Painting Exhibition
If you scroll back to the middle of last year (a long time in the frenetic pace of VR), there was a VR painting exhibition in San Francisco. Billing itself as the world's first virtual reality painting show, a group of artists came together to create art using Tilt Brush. While a video of a screen display probably doesn't do this justice, the movement does not seem to flow as well as it does with the Oculus Quill:
https://www.youtube.com/watch?v=4oU47zkm6Tc
Using VR to Create VR
Right now, Quill is seen by Oculus as an "internal development tool." And even if it doesn't end up in the hands of the public, it may still transform the way we create virtual reality experiences. Again, from TechCrunch:
That's why I see the rapid-prototyping potential of Quill as even more important than Dear Angelica. VR producers are constantly plagued with trying to develop scenes, characters, or action in 2D and then port them into 3D where everything works different. But with Quill, they could simply draw rough concepts of what they want, when and where. Finally, artists will be able to create in VR for VR.
This spring you'll be able to step inside a Dali painting. Soon enough, you may also step into a VR environment and create a Dali-like painting of your own.
And that would be magical.
Emory Craig is a writer, speaker, and consultant specializing in virtual reality (VR) and artificial intelligence (AI) with a rich background in art, new media, and higher education. A sought-after speaker at international conferences, he shares his unique insights on innovation and collaborates with universities, nonprofits, businesses, and international organizations to develop transformative initiatives in XR, AI, and digital ethics. Passionate about harnessing the potential of cutting-edge technologies, he explores the ethical ramifications of blending the real with the virtual, sparking meaningful conversations about the future of human experience in an increasingly interconnected world.