As expected, there were no major hardware releases at Oculus Connect 6. But we didn't lack for VR news. The major announcement was that hand tracking will come to the Oculus Quest headset. We can finally put down those Touch Controllers and simply interact with the virtual world with our hands.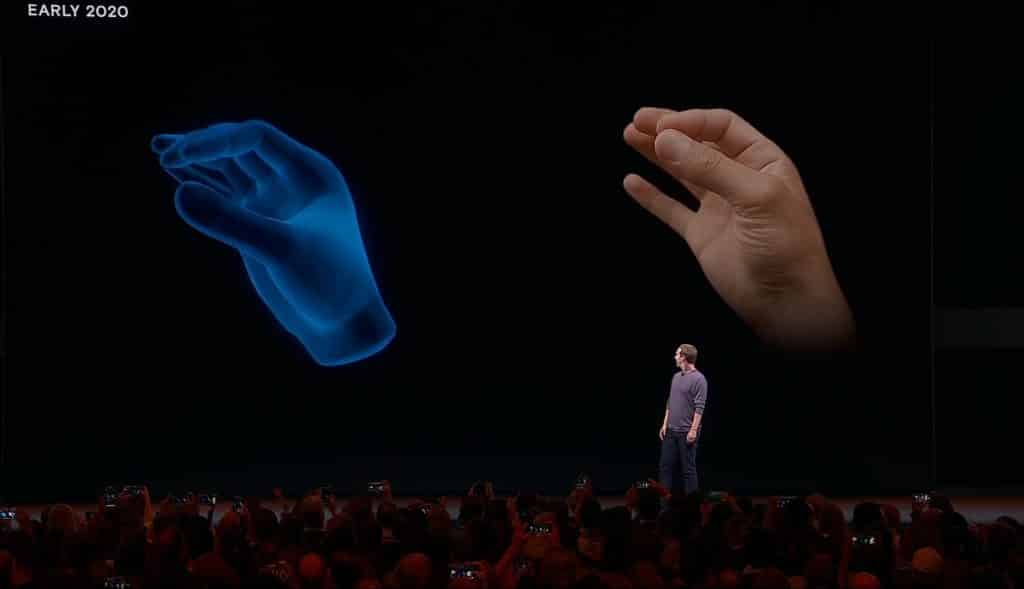 In terms of VR adoption, it's a significant development. The gaming community doesn't have issues with hand controllers. But many in the broader public do. A more natural experience will speed the acceptance of VR across the broad, especially in education and training.
Most importantly, it deepens the sense of immersion and presence. You'll be able to push a button, pick up an object with your hands in VR just as you would in the real life.
We said from the beginning of VR – well, from the beginning of hand controllers. It never made sense to have to hold a real object in order to pick up a (virtual) object.
Hand Tracking in VR
Hand tracking will be released on the Quest in early 2020. Facebook's blog has the details on how they pulled this off:
Deep neural networks are used to predict the location of a person's hands as well as landmarks, such as joints of the hands. These landmarks are then used to reconstruct a 26 degree-of-freedom pose of the person's hands and fingers. The result is a 3D model that includes the configuration and surface geometry of the hand. APIs will enable developers to use these 3D models to enable new interaction mechanics in their apps or to drive a user interface.

We use a novel tracking architecture that produces accurate, low-jitter estimates of hand pose robustly across a wide range of environments, and an efficient, quantized neural network framework that enables real-time hand-tracking on a mobile processor, without compromising resources dedicated to user applications.
Their video gives you a sense of the tracking experience.
What this means for companies developing haptic feedback devices is anyone's guess. And anyone that uses VR regularly gets used to a limited form of haptic feedback from our controllers. In many games and experiences, that feedback is critical. It wouldn't surprise us to see a Kickstarter project offering a small palm wearable to restore tactile sensation in the near future.
More Oculus Connect News – Social VR
The second piece of significant news was the new social VR platform, Facebook Horizon. That means the end of Facebook's initial experiments in this area, with Oculus Rooms and Facebook Spaces shutting down on October 25th. It marks Facebook's move to consolidate their work in this area and begin a process of convergence that will someday join Oculus and Facebook as a single platform.
VR is already a great place to hang out with friends, play games, and watch movies. It's also a fantastic way to learn new skills and explore our world. Human curiosity and connection are central to each of these experiences, and they're also at the heart of Horizon. Starting with a bustling town square where people will meet and mingle, the Horizon experience then expands to an interconnected world where people can explore new places, play games, build communities, and even create their own new experiences.

Before stepping into Horizon for the first time, people will design their own avatars from an array of style and body options to ensure everyone can fully express their individuality. From there, magic-like portals—called telepods—will transport people from public spaces to new worlds filled with adventure and exploration. At first, people will hop into games and experiences built by Facebook, like Wing Strikers, a multiplayer aerial experience.
With the new platform, Facebook promises that it will be easy to build virtual worlds and create your own activities. And as with any social platform, the critical issues in all social media will be there. Facebook claims that,
. . . Horizon will ensure a welcoming environment through new safety tools and human guides—Horizon Locals—to answer questions and provide assistance, if needed.
Of course, that's easier said than done. But the human guides may be the key to people getting along in this new public square.
More Oculus Connect News to Come
John Carmack's always fascinating keynote is on the schedule for tomorrow. And there's several sessions on Oculus and social VR. So yes, the Facebook Horizon announcement is a major deal.
If there's one insight that would sum up the Oculus Connect news from Day One, it's this: the Quest is now the primary HMD in the Oculus lineup. Much of the content on both the Rift S and the Oculus Go will be available for the Quest. It's chipping away at everything that makes the Rift S unique. And sucking the air out of the Oculus Go space.
Facebook gets it – standalone VR is the key to our virtual future.
Emory Craig is a writer, speaker, and consultant specializing in virtual reality (VR) and artificial intelligence (AI) with a rich background in art, new media, and higher education. A sought-after speaker at international conferences, he shares his unique insights on innovation and collaborates with universities, nonprofits, businesses, and international organizations to develop transformative initiatives in XR, AI, and digital ethics. Passionate about harnessing the potential of cutting-edge technologies, he explores the ethical ramifications of blending the real with the virtual, sparking meaningful conversations about the future of human experience in an increasingly interconnected world.