While this week's VR news will focus on the upcoming Oculus Connect conference, Google's Daydream VR headset is gaining new features. Two of the experimental developments are designed for the only Daydream standalone HMD on the market – the Lenovo Mirage Solo. They include six degrees of freedom (6DoF) controllers and a new "See-through" mode that lets you interact with the real world. The latter, according to Google, is good enough that you could even play ping-pong while wearing your VR HMD.
Much as we love VR, that wasn't high on our bucket-list (nor yours, likely). But the accuracy level is critical if VR is to withstand the forthcoming tsunami of Augmented Reality.
The third experimental feature might be the most interesting. It would allow developers to add Daydream VR support to already existing applications. And as we've often said, content is the major challenge in VR.
Google's Daydream VR headset grows up
Here's Google's take on the three experimental features which are currently open only to developers:
6DoF controllers
We've also created experimental 6DoF controllers that use a unique optical tracking system to help developers start building with 6DoF features on the Mirage Solo. Instead of using expensive external cameras and sensors that have to be carefully calibrated, our system uses machine learning and off-the-shelf parts to accurately estimate the 3D position and orientation of the controllers. We're excited about this approach because it can reduce the need for expensive hardware and make 6DoF experiences more accessible to more people.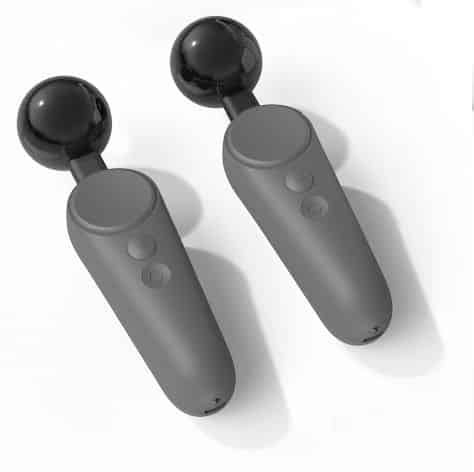 There's a lot of small pain points in using Virtual Reality and resolving hand-controller orientation is definitely one of them. One of the features we love about the Oculus Go standalone HMD is that you can simply pick it up and use it. Every VR HMD needs to be as simple as using your Smartphone.
"See-through" feature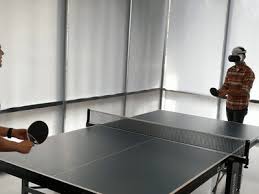 Okay, it's not about playing ping-pong while wearing VR headsets. But Google's "see-through" feature is clearly addressing the rapid developments in AR. With both Apple and Google pushing ARKit and ARCore projects out the door and AR Glasses coming by 2020, VR headsets need to get out of their isolation mode.
There are times when we'll want a full VR experience and need to block out the world. But there are other times when we'll want access to our surroundings. And we may want both in the same VR experience.
The combination of see-through mode and the Mirage Solo's tracking technology also opens up the door for developers to blend the digital and physical worlds in new ways by building Augmented Reality (AR) prototypes. Imagine, for example, an interior designer being able to plan a new layout for a room by adding virtual chairs, tables and decorations on top of the actual space.
Integrate this feature with a multi-user platform in the future and it will open new possibilities in the teaching-learning environment. Pull the virtual object out of my immersive space and place it on a table where we all can analyze it.
Deeply immersive and deeply collaborative is a powerful combination.
Smartphone Android Apps in VR
If VR has a major problem right now, it's content, not hardware. The third feature for Google's Daydream VR headset would make it easier for developers to get existing 2D content into Virtual Reality.
With support for Android Apps in VR, developers will be able to add Daydream VR support to their existing 2D applications without having to start from scratch. The Chrome team re-used the existing 2D interfaces for Chrome Browser Sync, settings and more to provide a feature-rich browsing experience in Daydream.
We're not fans of moving gif images on web pages, so we'll just link to Google's example here.
These are essential features
These three features may be in experimental mode now, but they're essential for the future of Virtual Reality. 6DoF controllers should be standard on every headset and Augmented Reality developments will make "See-through" mode a requirement. Finally, porting Smartphone apps in VR helps address the content issue.
You might also see Google's announcement as an effort to counter the upcoming release of standalone Oculus Santa Cruz HMD. Lenovo's Mirage Solo is a good headset, but the entire Daydream platform has never taken off as Google promised. Santa Cruz may well arrive as a full-featured VR headset in the same price range as the Mirage Solo.
We'll know more about that in a few days. For now, the experimental features in Google's Daydream VR headset are welcome developments.
Emory Craig is a writer, speaker, and consultant specializing in virtual reality (VR) and artificial intelligence (AI) with a rich background in art, new media, and higher education. A sought-after speaker at international conferences, he shares his unique insights on innovation and collaborates with universities, nonprofits, businesses, and international organizations to develop transformative initiatives in XR, AI, and digital ethics. Passionate about harnessing the potential of cutting-edge technologies, he explores the ethical ramifications of blending the real with the virtual, sparking meaningful conversations about the future of human experience in an increasingly interconnected world.