Snap is at it again, with new AR Glasses rumored by the end of the year. We've already seen two versions of the Snap Spectacles, neither of which have been a factor in the augmented reality market. In fact, Snap has lost 50% of its market value and is facing a Department of Justice and SEC subpoena over misleading investors. It's a tough year for CEO Evan Spiegel, though "tough" is a relative term when your net worth $1.5 billion.
Despite the extensive hype around the earlier versions of their AR Glasses, they've been a marketing disaster. According to Cheddar,
Snap initially captivated the tech industry with the surprise release of Spectacles and its rebranding as a "camera company" in the fall of 2016. But early buzz around the glasses led Snap to widely overestimate demand, leading to a charge of roughly $40 million in unsold inventory after the company ordered roughly 800,000 units from its Chinese supplier.
The first version of Snap's Spectacles was sold in pop-up stores and required a nearly all-day wait in line (yes, we waited and it wasn't easy). The second version, Spectacles 2, was supposed to be an improvement. But after the first version sat unused in our workspace, we didn't even bother to check them out.
Snap got a lot right with their glasses – especially the ease-of-use and the charging case. But the truth of the matter is that there wasn't much you could do with Spectacles. The potential was there; they didn't deliver. It's the classic lesson in all emerging technology. It's not the hardware, but what you can do with it that matters.
At this point, we're not sure anything will save Snap – including new AR Glasses. There's a damning report on the company by Tom Dotan in The Information (email required for access) if you're curious to what's going on behind the scenes. To sum up: young company founder argues for going long-term while the Board and investors watch their equity disappear.
That scenario usually doesn't end well.
New AR Glasses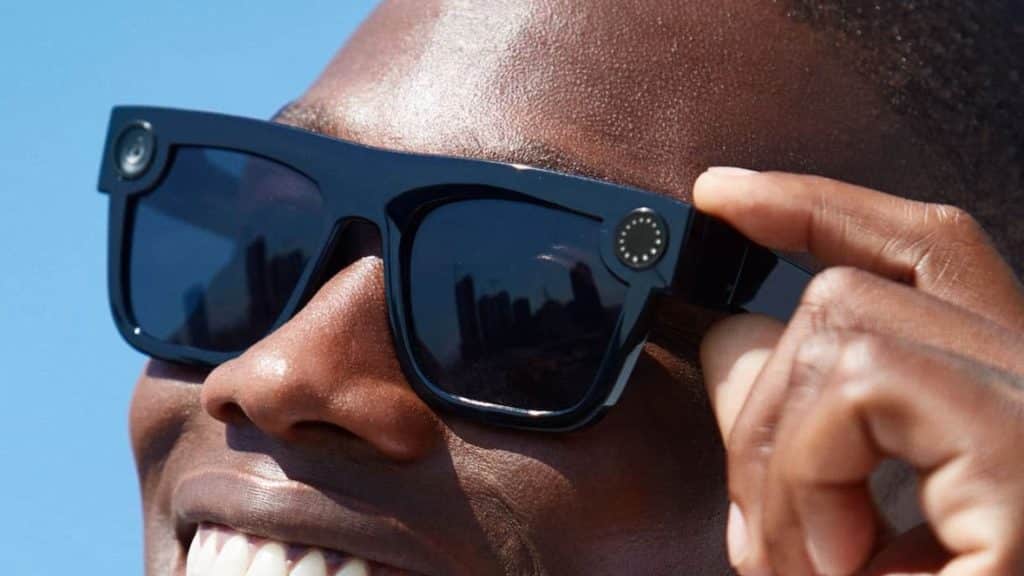 Cheddar has details on the Snap's new AR Glasses.
The new Spectacles, internally codenamed Newport, will feature an all-new design with a more premium frame made of aluminum and cameras capable of producing augmented reality effects in videos, according to people familiar with the matter.
The device will have two cameras to create 3D photos and AR effects in videos. While that might sound innovative, we doubt it will sell. Technically, these are still not true AR Glasses, but eyewear that works through an AR App. At a rumored $350, that's a steep price to pay for limited features.
Worse yet, Snap is largely a platform for younger users. But teens seem to have no interest in their AR glasses. As Reality Technologies put it,
Overall, Spectacles 3 sound like a premium device for a premium audience. Who is it for then, since Snapchat is primarily used by teenagers who frowned at the both cheaper versions? . . . . To no one really if you ask us. Coming out by the end of this year, they will be a cornerstone, Snapchat's way of showing what camera glasses can be. Spectacles 3 will be sort of a flagship for all camera glasses out there.
With Apple's AR device due out by 2020, Snap's new AR Glasses seem more like a move of desperation. We agree with Reality Technologies assessment that it's exciting to see any new developments in the AR space. But we disagree with their view that it's a "bold path" and a "bet for the future."
Ultimately, a successful AR HMD need to be more than a photo and video device that runs off an app on your Smartphone.
As we've said before, there's immense potential in AR Glasses done right. They'll be a game-changing device. But we're deeply skeptical of Snap's ability to deliver what we're all looking for.
Emory Craig is a writer, speaker, and consultant specializing in virtual reality (VR) and artificial intelligence (AI) with a rich background in art, new media, and higher education. A sought-after speaker at international conferences, he shares his unique insights on innovation and collaborates with universities, nonprofits, businesses, and international organizations to develop transformative initiatives in XR, AI, and digital ethics. Passionate about harnessing the potential of cutting-edge technologies, he explores the ethical ramifications of blending the real with the virtual, sparking meaningful conversations about the future of human experience in an increasingly interconnected world.