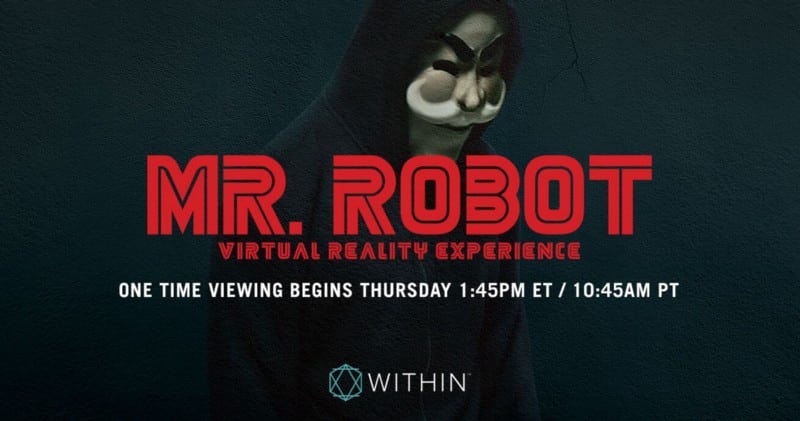 Within (formerly Vrse) tries another virtual reality experiment today with a one time broadcast of the Mr. Robot show. The segment will air at the San Diego Comic Con and then go "live" at 1:45pm EST on July 21. Following the format of a traditional television, once it's over, it's gone.
Update: Somehow we knew this would not work. The one-time broadcast was a provocative idea but Mr. Robot has returned. It is now available on the Within app so you can still do the experience. It is definitely worth seeing – at once fascinating and disturbing (like the show as a whole).
According to The Creators Project:
This film is billed as, "the first nationally simulcast virtual reality experience," and will disappear when the scheduled time ends, á la old-school television. Within—known as Vrse until recently—has been producing immersive documentaries for two years, aligning with media giants like The New York Times and VICE News to shoot and distribute their brand of storytelling. The collaboration with Mr. Robot showrunner Sam Esmail is part of a push for more dramatic content at Within, and it's a great starting point. Known for not just breaking the fourth wall, but actively making the audience a participant of the actions onscreen, it will be exciting to see Esmail take advantage of new techniques unique to virtual reality.
If you are not familiar with the show which pulled in six Emmy nominations for its first season, here's a quick description:
Mr. Robot is an American drama–thriller television series created by Sam Esmail. It stars Rami Malekas Elliot Alderson, a cybersecurity engineer and hacker who suffers from social anxiety disorder andclinical depression. Alderson is recruited by an insurrectionary anarchist known as "Mr. Robot", played by Christian Slater, to join a group of hacktivists. The group aims to cancel all debts by attacking the large corporation E Corp.
How to Watch Today's VR Broadcast
UploadVR has what details are available.
The experience will be available for free through the Within app on Samsung Gear VR, Google Cardboard, Oculus Rift and HTC Vive. But hurry, the nature of this broadcast is such that if you miss it live you may not see it at all. Visitors to Comic-Con this year that take part in the Mr. Robot premiere event will be given Google Cardboard headsets to view the experience on in one large group.
Within's Virtual Reality Projects
Chris Milk's VR studio Within continues to push the boundaries of virtual reality. From working with The New York Times to the largest simultaneous VR experience at TED this year, they have continued to experiment with new ways of delivering and experiencing VR.
If you're free this afternoon, open up the Within app on your phone and get a VR headset ready. The 12 minute Mr. Robot VR broadcast is definitely worth watching.
Emory Craig is a writer, speaker, and consultant specializing in virtual reality (VR) and artificial intelligence (AI) with a rich background in art, new media, and higher education. A sought-after speaker at international conferences, he shares his unique insights on innovation and collaborates with universities, nonprofits, businesses, and international organizations to develop transformative initiatives in XR, AI, and digital ethics. Passionate about harnessing the potential of cutting-edge technologies, he explores the ethical ramifications of blending the real with the virtual, sparking meaningful conversations about the future of human experience in an increasingly interconnected world.