If you've been waiting for the new Mirage VR headset and camera, they'll be available on May 11th according to B&H Photo. The joint project by Lenovo and Google demoed at CES 2018 this year but without a release date. It includes the Mirage VR headset and the Mirage VR camera, which is billed as a "point and shoot" device utilizing Google's new VR180 video format.
The date isn't official but makes sense in light of Google's I/O conference which runs from May 8-10. No doubt this is only part of what Google will be doing on the Virtual Reality front this year as they ramp up against the expected releases from Facebook/Oculus.
Here's the video demo from CES if you missed it.
The only catch (and there always seems to be one as VR gets off the ground) is the price – $399. For that money, you can pick up an Oculus Rift or go all in and have HTC Vive's room-scale VR. As Android Police observed,
During CES they were positioned as "simple and designed for anyone to use," provided that this "everyone" is ready to pony up $399 for the Mirage Solo headset and $299 for the Mirage Camera.
$700 is a lot though you do get a VR headset free of cables and not in need of a phone. It will find a home in education, nonprofits and we expect to see boxes of them at exhibitions and film festival events where someone is trying to put twenty people through VR simultaneously.
Mirage VR headset review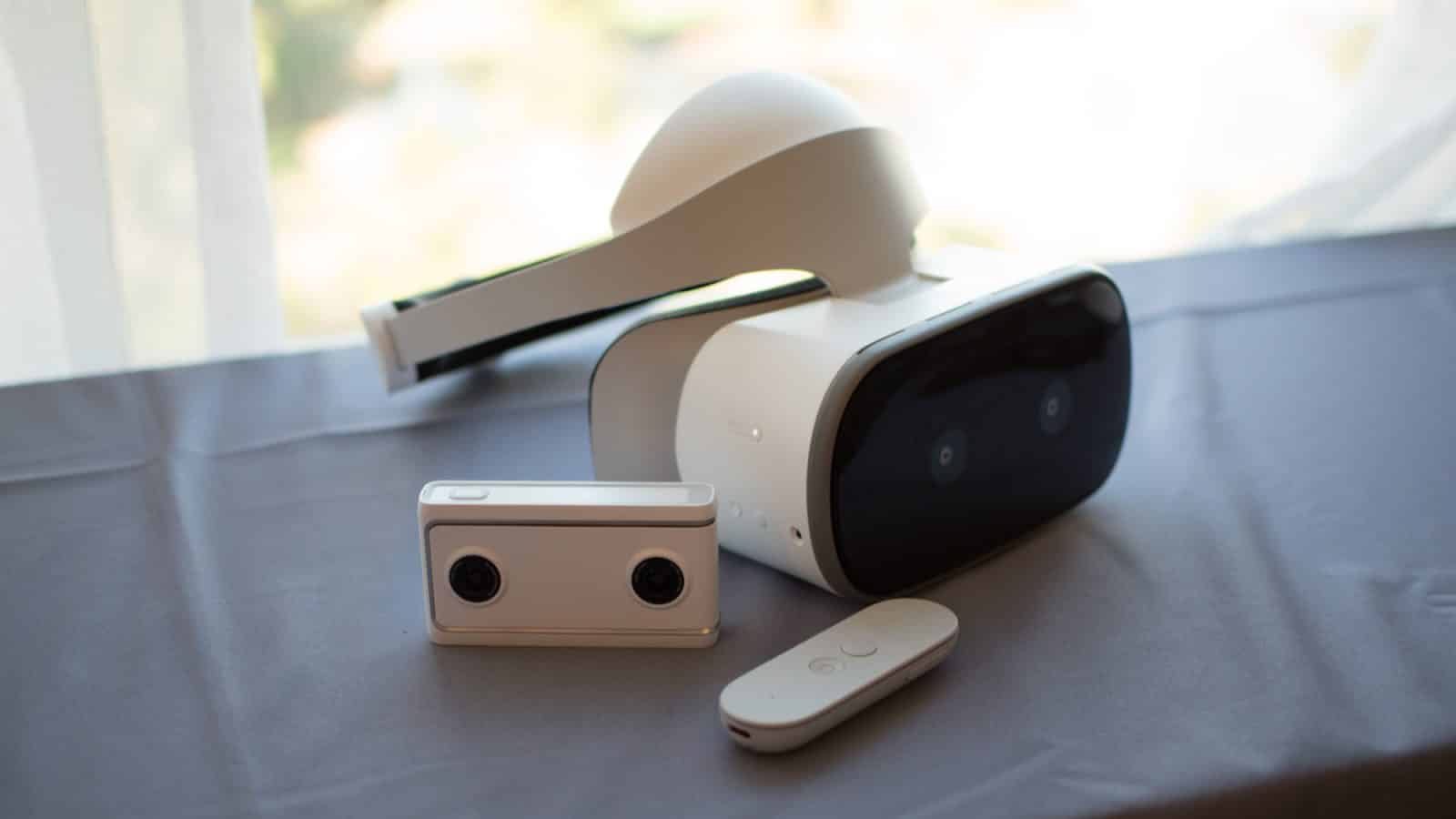 From our standpoint, the Mirage Solo (the actual name) is a nicely designed VR headset. It's comfortable to wear with the weight distributed across your forehead instead of pushing down on your face. A 4,000 mAh battery should give you about 7 hours of use – which will definitely help if they'll be used in a media center or public exhibition.
The QHD resolution in the display is well-done, though you'll still get a slight screendoor effect. But it's hardly noticeable and the 110° field of view makes up for it (Google's Smartphone powered Daydream headset comes in at paltry 90°).
Our only complaint was the lack of a flip-up visor – a feature nicely executed on the Microsoft Dell units. And we would have liked to see Google redesign their hand controller. Simple and inexpensive, it was a design success when released with the original Daydream headset. But when you're scaling up the VR, it's time to scale up the hand controller. And these small devices will disappear in public settings.
The Mirage VR Camera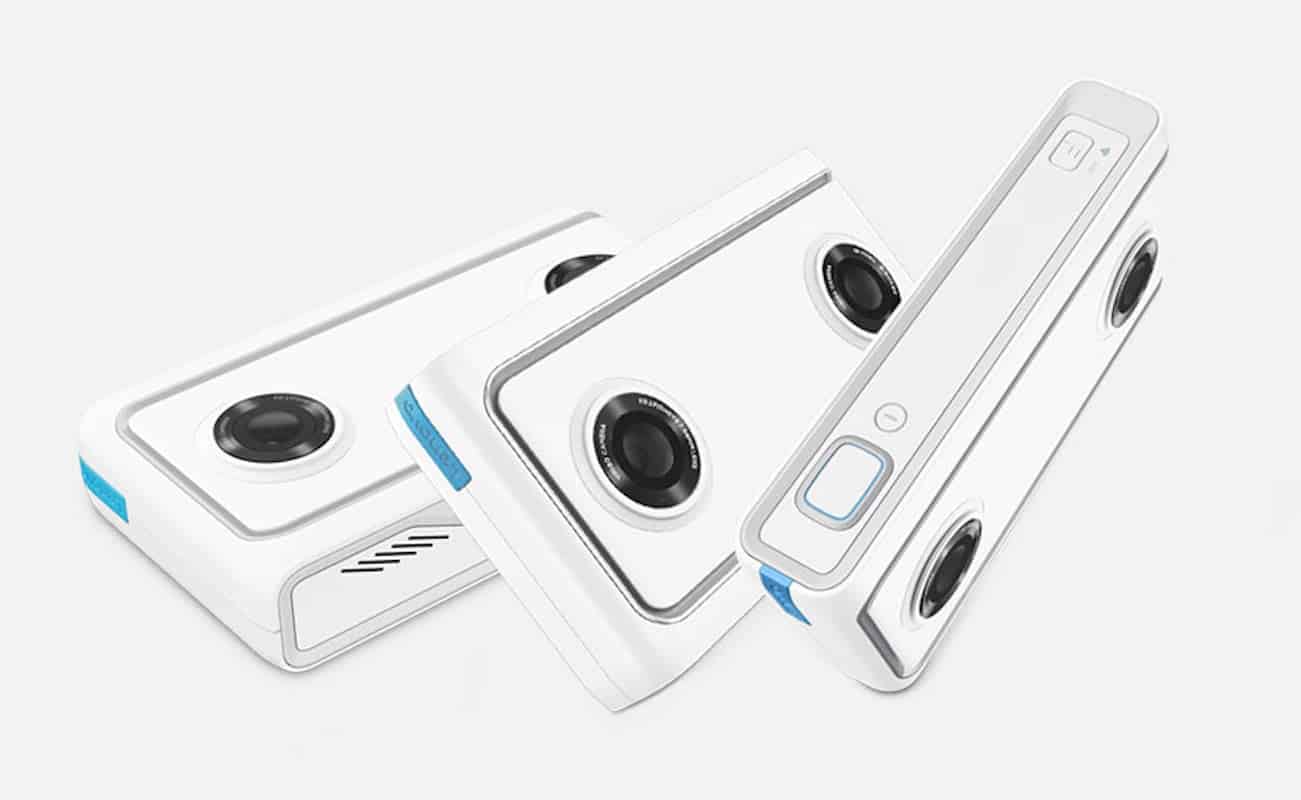 We're waiting to get our hands on Google's new Mirage VR camera (also available through B&H on May 11) though we somewhat skeptical of the VR180 format. Shooting 360° is challenging but that's what makes it innovative. The viewer becomes the character in the scene. 180° video seems more like a wide-screen display.
Interesting, but not game-changing.
One nice feature if you get both the camera and the Mirage VR headset. You can shoot video with the former and then drop the SD card directly into the headset to check your work in the field. Every basic VR / 360° camera should have this option.
Overall, we're excited to see Lenovo and Google push the Daydream project to the next level. And we'll try to keep an open mind on the camera.
With Facebook and Google's upcoming events this spring, there's a lot more to come in standalone VR headsets. Time to cut the cord.
Emory Craig is a writer, speaker, and consultant specializing in virtual reality (VR) and artificial intelligence (AI) with a rich background in art, new media, and higher education. A sought-after speaker at international conferences, he shares his unique insights on innovation and collaborates with universities, nonprofits, businesses, and international organizations to develop transformative initiatives in XR, AI, and digital ethics. Passionate about harnessing the potential of cutting-edge technologies, he explores the ethical ramifications of blending the real with the virtual, sparking meaningful conversations about the future of human experience in an increasingly interconnected world.