We see a lot of amazing virtual reality projects these days, but medical VR stands out for its immediate impact. You might even see medical simulations as the "low-hanging" fruit of VR adoption. They're often expensive to develop, but we're working in a known conceptual framework. Medical VR is creating simulations in a field that has a long history of using simulations for learning.
It's very different from immersive storytelling where you're in a radically new media form where the traditional narrative structure of storytelling disappears.
There's one use of virtual reality in the medical area which is particularly compelling. This involves working with seriously ill children who endure painful procedures or lengthy hospital stays.
Child life services is a relatively new field, beginning in the 1960s. At the time, parents were often excluded from pediatric hospital wards except for brief visits (which seems unthinkable today). In striving to provide a child-friendly environment, the field focuses on creativity, education, and preparation for medical procedures. As specialists are discovering, virtual reality can play a critical role in all of those areas, helping those who are most vulnerable. 
Previously, we've looked at how VR can be used to treat chronic pain in adults. And one of our favorite augmented reality projects is Honda's AR holiday card for children. It really was the ultimate get-well card. Unfortunately, it relied on the now-bankrupt Blippar augmented reality program so it will need another platform in the future.
We'll highlight a couple of outstanding Medical VR projects from around the country (in fact, there's many, and we'll come back to others later this spring). All of them are further the goal of child-friendly pediatric care.
Medical VR in the Starlight Program
The first project is from Starlight, a 36-year-old charity that works to alleviate the challenges for children in long-term hospital stays. Leave aside the VR for a moment – they also do amazing non-VR work. Starlight provides hospital gowns that let children play dress-up, delivers video games, and develops projects with Disney and LucasFilms. Kids love it.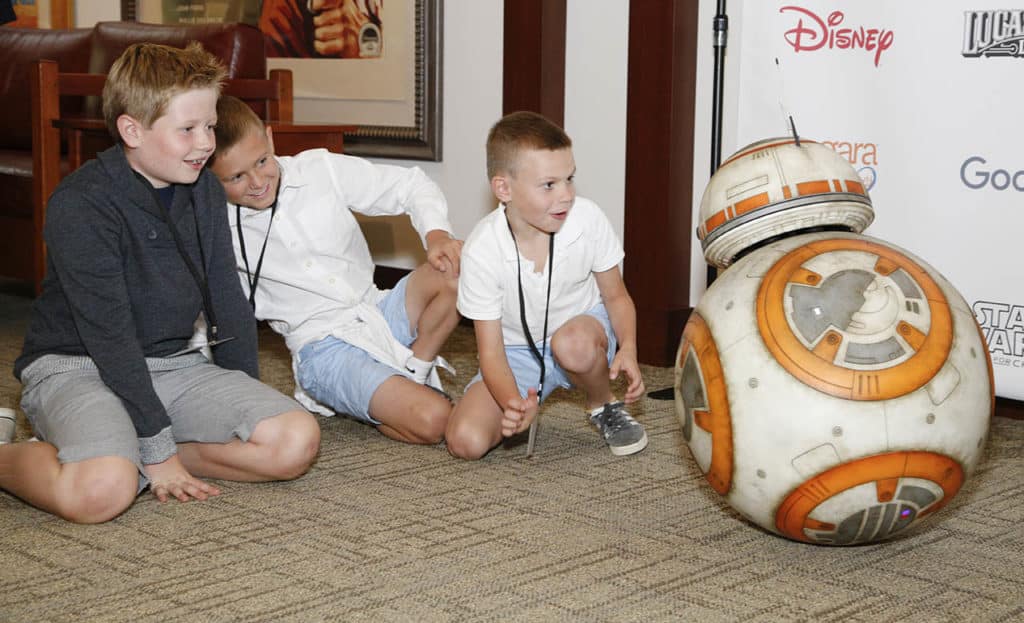 In 2017, Starlight began distributing hundreds of VR headsets to hospitals across the country. UpLoadVR describes the Xperience VR project.
In partnership with Google and Lenovo, Starlight delivers a Starlight Xperience kit to participating hospitals. The VR headset is a custom Lenovo Mirage Solo headset pre-loaded with over 20 VR experiences and customized for hospital use. The kit also includes headset-mounted headphones, charging cables, and a branded carrying case. Inside the headset the software has all been modified as well so instead of being in the Daydream UI you're actually inside of a Starlight-branded portal with strict access to only the pre-approved age-appropriate content.
As a form of distraction therapy, virtual reality can have a significant impact: Chris Helfrich, CEO of Starlight notes.
We see children getting immersed in VR during painful medical procedures and the immersive distraction therapy lessens the need for heavy painkillers and anesthesia. VR can even take the place of painkillers in some cases.
New roles for healthcare providers?
Of course, there's a challenge here in that it's almost like a dosage calculation. The VR experience must avoid being too simple or too intense. Otherwise, it won't be a distraction from pain at all.
Medical VR may lead to new roles for healthcare professionals in the future. People whose expertise lays in prescribing VR for medical conditions and procedures. Professionals who understand the different ways virtual experiences affect patients.
At Stanford, clinicians can already adjust the "cognitive load" of immersive content. Using VR for pain management is much more than strapping a VR headset on a child.
Stanford Children's Heart Center – Virtual Reality Program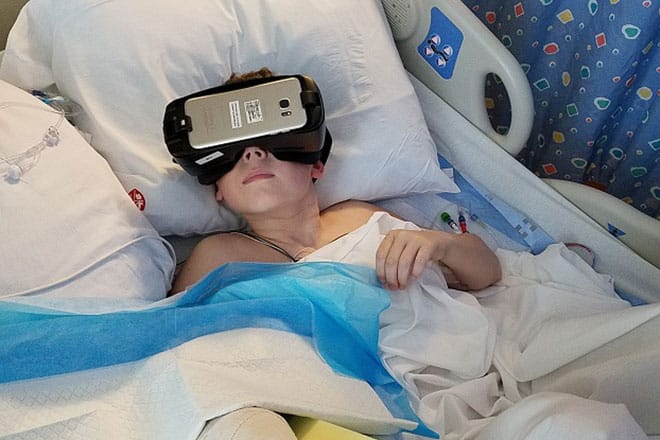 Stanford University has been a leader in VR initiatives that study pain reduction in children. And not surprisingly, the Starlight Foundation has played a role here, too. They provide support for Stanford's CHARIOT program, the Childhood Anxiety Reduction through Innovation and Technology program at Lucile Packard Children's Hospital.
Chariot also makes use of augmented reality devices. AR provides an advantage in that children can still see what's going on around them while in an immersive experience.
But sometimes, the best way to help a child is through the parents. Stanford's Virtual Heart project allows pediatric cardiologists to explain complex congenital heart defects to families.
[The Project] . . . helps families understand their child's heart conditions by employing a new kind of interactive visualization that goes far beyond diagrams, plastic models and hand-drawn sketches. For medical trainees, it provides an immersive and engaging new way to learn about the two dozen most common and complex congenital heart anomalies by allowing them to inspect and manipulate the affected heart, walk around inside it to see how the blood is flowing, and watch how a particular defect interferes with the heart's normal function.
David M. Axelrod, MD, clinical assistant professor of pediatric cardiology at Stanford University School of Medicine, points out how difficult it is to talk about the heart as a 3-dimensional organ.
Virtual reality eliminates a lot of that complexity by letting people go inside the heart and see what's happening themselves — it's worth way more than a thousand words.
When you put parents at ease, their children will have far less anxiety as patients. And it's a powerful teaching tool, letting medical students step inside a beating heart.
Virtual reality at Children's National
Like Stanford, Children's National Hospital in Washington, DC has multiple VR initiatives underway. They range from a cutting-edge virtual reality surgical system to off-the-shelf VR headsets in pediatrics.
Yes, off-the-shelf headsets. Sometimes, you don't have to spend a lot of money to bring about change.
The Washingtonian points out,
In some cases, the VR technology that hospitals are using is literally toys. At Children's National, pediatric anesthesiologist Julia Finkel is studying how VR can be used to reduce the experience of pain for pediatric patients undergoing bone-marrow transplants. In this case, the VR goggles are off-the-shelf models loaded with games such as Minecraft and Jurassic Park.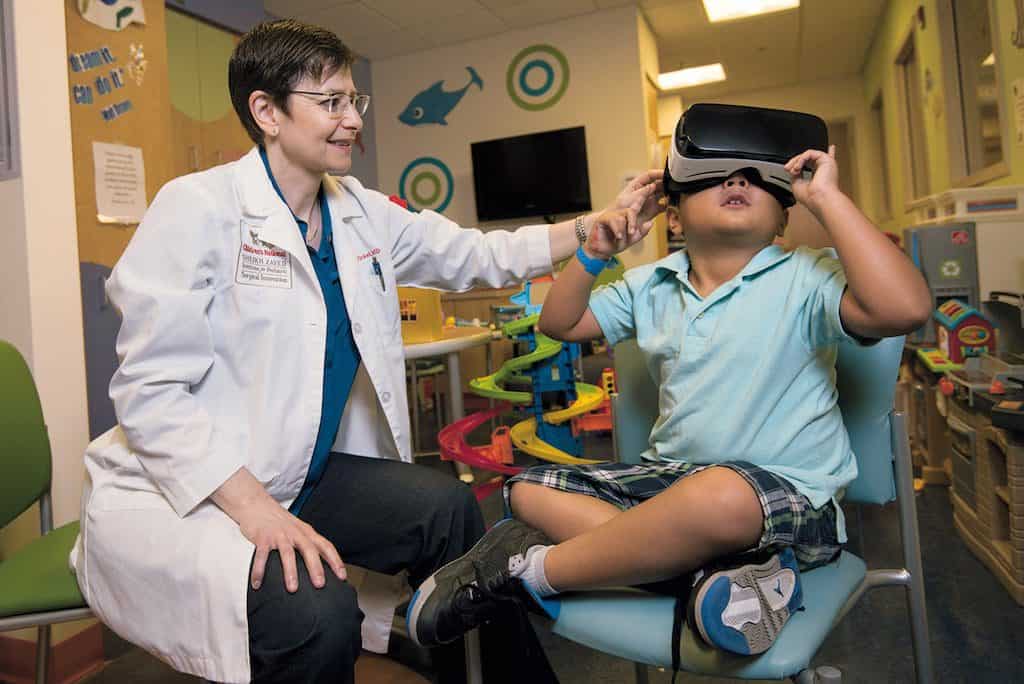 As Julia Finkel observes,
Moving away from some of the medications we use to manage pain helps diminish the side effects. Also, the patient experience is enhanced. The kids universally enjoy the VR, and it does have anxiety-alleviating effects. Even if pain management is our goal, the side effects of VR are all positive ones.
Medical VR in the future
These projects provide glimpses of what the future holds through the use of immersive technologies. No longer will parents face the impossible challenge of explaining a complex procedure to a child that they don't understand. And seriously ill children will have the opportunity to virtually step away from the confines of their hospital beds and painful procedures.
How will it change healthcare in 20-30 years? The virtual reality headsets and platforms we use now are primitive, our first steps into a future world of deeply immersive experiences. What happens when we have something like the Oasis in the movie Ready Player One? A fully immersive world that is as a vibrant and real as our baseline reality.
Of course, there's no way to know the answers to those questions now. What we do know is that these innovative projects are not the end of a journey but the beginning. It's a journey that will transform the work of healthcare providers and the experience of patients. For anyone – but especially for young children – that day can't come soon enough.
Emory Craig is a writer, speaker, and consultant specializing in virtual reality (VR) and artificial intelligence (AI) with a rich background in art, new media, and higher education. A sought-after speaker at international conferences, he shares his unique insights on innovation and collaborates with universities, nonprofits, businesses, and international organizations to develop transformative initiatives in XR, AI, and digital ethics. Passionate about harnessing the potential of cutting-edge technologies, he explores the ethical ramifications of blending the real with the virtual, sparking meaningful conversations about the future of human experience in an increasingly interconnected world.