Welcome to the future . . . well, not quite, but another step closer. Or as VentureBeat put it,
If you've been waiting for live, hologram-like human beings to pop up in AR or VR experiences, that wait's almost over.
What triggered this observation was the news that Jaunt acquired Personify's innovative AR teleportation platform. Personify was founded by researchers at the University of Illinois at Urbana-Champaign and has been a leader in immersive video since 2010. It describes its platform as a " . . . Teleporter for AR/VR Holographic Live Streaming."
A few years back, Microsoft did groundbreaking work in this area and their live multi-user demos with HoloLens still hold up well. But recently, Personify and other companies have picked up the pace of development.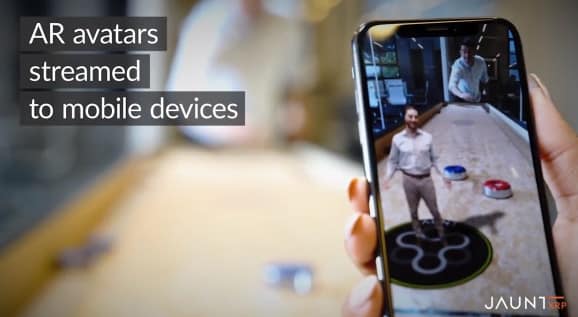 Jaunt's strategic move
As an early startup in the modern VR revolution, Jaunt made a name for itself hosting 360° videos. Now, they're focusing on JauntXR, their cross-platform content distribution system and – no surprise – their own AR teleportation solution. The Personify acquisition is a strategic move as SiliconAngle explains.
The move by Jaunt is part of the AR/VR startup's push on research and development for cutting-edge communication technology that will allow people to recreate themselves visually anywhere in the world in an immersive fashion.

Jaunt previously announced a breakthrough in its own 3-D volumetric capture last month with a demonstration of its own 360-degree volumetric capture and streaming product. With its own proprietary capture software and technology, people can stand within a space surrounded by cameras and have their images translated into an AR or VR asset that mimics their expressions, gestures and appearance in real time, viewable from any angle.
According to VentureBeat, Jaunt's existing solution uses
. . . an array of six Intel RealSense cameras to capture a circular video of a moving person, turning the video and depth data into a volumetric stream that represents the person's body and motions. The person can then be inserted into an AR or VR app as a hologram-like avatar, interacting in real time with the user — including gesturing in 3D and talking.
Webinars? Are you serious?
Someday, people will shake their heads and wonder how we ever survived webinars confined to flat-screen monitors and our mobile phones. PowerPoint with talking heads. It's the worst possible aspects of our current technology. I pity our students and the corporate world that suffers this daily.
If I was GoToMeeting or WebEx, I'd be worried about my future. Very worried.
AR teleportation
Here's a quick but fascinating video of Personify's AR teleportation solution in action. It makes you realize just how different the future will be once this is commonplace.
https://youtu.be/sJDLiB5wunQ
Personify has other fascinating projects on deck, including Presenter, a 3D camera that automatically puts you in green-screen for a presentation. And software – ChromaCam – which does something similar with your own webcam. From what we understand, these products will continue to be developed by the company.
Real-world applications
The full impact of AR teleportation is anybody's guess as it will move far beyond the educational and corporate presentation arena. Medical care is an obvious possibility and not only for medical professionals helping each other. Who knows? The quaint home doctor visits of another era may become a reality again, with your doctor virtually in your living room.
Similarly, it could turn online education inside out. So-called "distance learning" could actually become "in your home learning" with an instructor and other students immediately present. A closer connection than sitting in a classroom. And of course, there's the other side of the coin. Will some instructors try to ban students working on papers and projects with someone virtually assisting them at home?
But we're also fascinated by potential uses in uses in entertainment and storytelling. We're just scratching the surface when we push out movie trailers in 360° video. And consider how AR teleportation might be used by the millions that now share aspects of their lives or artistry on YouTube.
The possibilities for virtual teleportation are endless. It's just one more way that the immersive tech revolution will upend our lives, transforming the way we work, learn and play.
Emory Craig is a writer, speaker, and VR consultant with extensive experience in art, new media, and higher education. He speaks at global conferences on innovation, education, and ethical technology in the future. He has published widely and worked with the US Agency for International Development, the United Nations, and the Organization for Economic Co-operation and Development (OECD). Living at the intersection of learning, games, and immersive storytelling, he is fascinated by AI-based avatars, digital twins, and the ethical implications of blurring the boundaries between the real and the virtual.