If you've been following augmented reality developments, you know that Facebook's AR Studio has been in closed beta for most of the year. Its Camera Effects Platform (CEP) first appeared at the F8 conference back in the spring, but access was limited.
CEP is still in beta, but Facebook announced it is opening it up to developers to create AR applications for business and personal use. It will offer new opportunities and challenges for K-12 and Higher Education, but the full impact will be seen in our daily lives.
From Facebook's press release:
Earlier this year we released Camera Effects Platform (CEP) in closed beta, putting the first augmented reality platform into the hands of talented creators such as brands, publishers, artists and developers. With AR Studio, this platform empowers creators to connect art with data to bring augmented reality into everyday life through the Facebook camera. . .

Starting today, we're expanding availability of the platform and the AR Studio creative tool to everyone. One of our goals with AR Studio is to put the power of augmented reality in the hands of all creators. Over the last few months, we've expanded the AR Studio toolset for even more creators to build and share AR experiences with the Facebook community.

As part of AR Studio's expanded availability, in the coming days we will also enable world effect technology within AR Studio. Creators will soon be able to develop 3D digital objects for people to place onto surfaces and interact with in their physical space.
The impact of Facebook's AR Studio
The move to open Facebook's AR Studio to a wider audience will help push AR experiences into the public sphere. Pokemon Go was only a distant glimpse of our augmented reality future.
To see what I mean, the news isn't just making the usual circuit of the tech publications – it's spreading through the business world. Small Business Trends picked up on it yesterday,
One of the benefits of AR is it doesn't require additional equipment to make it work in the real world. . .

Small businesses can develop 3D objects in which their customers can interact with products or even the shopping experience. Just like the Pokémon mania that had millions engaged last year, content can be generated to drive customers to a small business's location. You can create AR experiences connected to locations, objects, events or activities.
When the conversation moves outside the (often insular) tech world, you know the ground is beginning to shift. Admittedly, it's taken a while to get here – the DAQRI Smart Helmet was trying to position itself as an essential AR work accessory way back in 2015. But that was then; with the developments over the past two years, we've finally arrived.
AR in education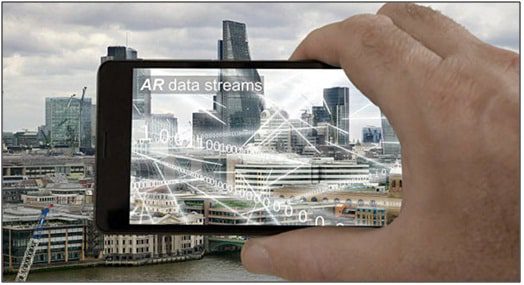 The popularization of augmented reality has major implications for education. Both Apple and Facebook are developing platforms that will make it easy to create AR experiences. Without the need for hardware and lengthy development times required by virtual reality, we'll see rapid adoption over the next two years.
We often think about how new technologies are used in our learning environments. That's an incredibly important conversation. But we also need to consider how they will be used in the world at large. Augmented Reality will have its the largest impact in the public sphere.
And that leads to a new set of questions: how will we provide students with the skills they need for a world rich in augmented reality experiences? A world where the digital is no longer on found on screens but in places, objects, and people?
We like to think we already live in a media-saturated world – and we do. But in the new universe of AR, media will break free of our devices, embedding itself into every aspect of our environment. That will require a radically new form of digital literacy.
To look at it another way – the social media revolution was just a practice run for what's to come.
Emory Craig is a writer, speaker, and consultant specializing in virtual reality (VR) and artificial intelligence (AI) with a rich background in art, new media, and higher education. A sought-after speaker at international conferences, he shares his unique insights on innovation and collaborates with universities, nonprofits, businesses, and international organizations to develop transformative initiatives in XR, AI, and digital ethics. Passionate about harnessing the potential of cutting-edge technologies, he explores the ethical ramifications of blending the real with the virtual, sparking meaningful conversations about the future of human experience in an increasingly interconnected world.