The incredible David Bowie Is exhibit may have wrapped up but we'll soon get to see David Bowie in VR – or at least major parts of the incredibly popular exhibition. After being seen by over 2 million people in 12 cities, it will come to our Virtual Reality headsets. It's a collaborative project by London's Victoria and Albert Museum (V&A) which has done a number of innovative exhibits recently (see The Future Starts Here), the David Bowie Archive, and Planeta.
A New York Times article did Bowie's costumes in AR – one of the best instances we've seen of incorporating Augmented Reality into a news media story. Having the costumes in your living room in miniature on a table or walk around them in life-size is remarkable. We're about to get a lot more with the Virtual Reality experience.
According to VR Scout,
The touring exhibit gave visitors access to custom-made performance costumes, oil paintings, handwritten lyric sheets, as well as videos featuring the legendary artist's various film and television roles.

This digital adaption of David Bowie Is takes the popular exhibit and uses VR/AR technology to transport you into a more intimate environment where you can step into his process through audio-visual spaces. You're also free to try on one of Bowie's many fantastical outfits from all eras of his career, as well as engage with the influential artist in a way that has never been done before.
David Bowie in VR
Perhaps fittingly, we don't have a lot of details on the VR experience – Bowie himself was often secretive about his projects, though he lived a very public life in New York (it's easier to pull that off as a celebrity in NYC). All we know is that it will arrive sometime this fall and will be on "all major VR/AR platforms" in nine different languages. You'll be able to step inside some of his costumes – which would probably be an Augmented Reality experience – but we'll have to see.
According to the promo for the project, it will include
. . . astonishing, but deftly connected sequence of audio visual spaces through which the work and artifacts of Bowie's life can be experienced. (Road to VR)
For Bowie, it was never just the music but entire audio-visual experience as he played with and reinvented his persona over five decades.
Until the David Bowie in VR experience arrives, echoes of his work continue to live on in NYC. Here's a short 360° video from OutFront Media recently done at the Broadway-Lafayette station near where he lived.
If you're interested in updates on the David Bowie in VR experience, you can sign up at DavidBowieIsReal.com.
The Starman awaits.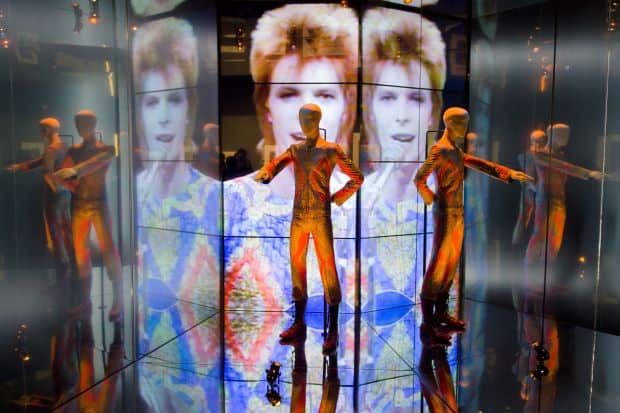 Emory Craig is a writer, speaker, and consultant specializing in virtual reality (VR) and artificial intelligence (AI) with a rich background in art, new media, and higher education. A sought-after speaker at international conferences, he shares his unique insights on innovation and collaborates with universities, nonprofits, businesses, and international organizations to develop transformative initiatives in XR, AI, and digital ethics. Passionate about harnessing the potential of cutting-edge technologies, he explores the ethical ramifications of blending the real with the virtual, sparking meaningful conversations about the future of human experience in an increasingly interconnected world.