Google Tilt Brush on Oculus Quest is a perfect match for virtual reality. A free-form VR painting and design tool on a standalone HMD with six degrees of freedom. Last year, Facebook hyped the concept of "arena-scale" VR with the forthcoming Oculus Quest. And indeed, they set up a 4,000 square foot space at the Oculus Connect conference.
Yes, 4,000 square feet – or 371 sq. meters for our many global friends and readers. And did we note that they added co-location? Yes, the Oculus Quest demo was multiplayer.
We've all seen the anticipated games and experiences for the Quest. UpLoadVR has a more or less definitive list. And it's largely skewed toward gaming – which we surely don't have a problem with.
But not everyone comes to VR for the games. And VR can do – and be – so much more. Adding Google Tilt Brush takes the Quest in a new direction. It will be about new opportunities for artistic creativity in virtual reality.
Google Tilt Brush on Oculus Quest
It's hard to believe, but Google's VR painting tool just marked its third birthday (April 6, 2016, if you're curious). And after all that time (light-years in VR time), it's still a go-to platform for us. It gives you a sense of the possibilities embedded in this new media form.
We've seen some amazing work in Tilt Brush, including a collaborative Star Wars project by six artists and Anna Zhilyaeva's stunning live performance that recreated Delacroix's famous painting, "Liberty Leading the People." Though this week we fear that Liberty is in tears after the horrific tragedy at Notre Dame (more on that later).
Now imagine what artists will be able to do once they are free of cables and base-stations. When they are free to roam as they create. And free to share their art in VR with others.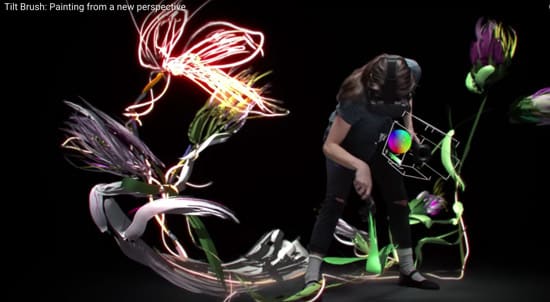 A Few Tilt Brush Feature Trade-offs
Of course, there's a few trade-offs here. Oculus Quest runs off the same mobile processor that you probably have in your Smartphone. And Tilt Brush isn't happy on low-end hardware. But according to a post on Facebook's blog, Google has been preparing the platform for a standalone HMD. A few features had to be scaled back, but it's by no means a limited version.
There's an excellent interview with Google Product Manager Elisabeth Morant on the Facebook site if you're curious about the preparations for porting it over. One major feature of Google Tilt Brush on Oculus Quest is that we'll have access to Google's 3D object library, Poly. That will provide artists with more opportunities for collaboration.
The Future of VR
In the development of modern virtual reality, there's been a major focus on getting free of the cables. I think we used to refer to it (in my more negative moments) of being chained like a dog to technology. Loved every moment of VR – despised the cable tying me to a gaming rig.
Oculus Go was a major breakthrough as a standalone HMD. The computer and the immersive display were now in the same place (on your head). But a problem remained, there was really no place to go. It was a 3DOF HMD so it didn't make a difference if you moved around. In fact, it was better if you didn't walk around while watching 360 videos (for both you and your coffee table).
But with Facebook's new HMD, we're free to move around in VR. And Tilt Brush is a platform that screams for freedom of movement. Putting Tilt Brush on Oculus Quest will open up the creative possibilities of virtual reality.
Now we've cut the cable. The next step will be to open up the space of VR – to give it real, meaningful space. That's the new frontier for immersive tech. Don't worry if you just built a small VR lab. There will always be a need for enclosed spaces for virtual experiences. Like those moments in the future when you're being introduced to a virtual avatar and you don't want an audience watching you. You'll just need to build out larger spaces for the arena-scale VR in the future. And figure out how virtual activities will mesh with your current physical space.
Tilt Brush and Oculus Quest are another step forward in the journey to our immersive future. In the end, the Holodeck will have no walls.
Emory Craig is a writer, speaker, and consultant specializing in virtual reality (VR) and artificial intelligence (AI) with a rich background in art, new media, and higher education. A sought-after speaker at international conferences, he shares his unique insights on innovation and collaborates with universities, nonprofits, businesses, and international organizations to develop transformative initiatives in XR, AI, and digital ethics. Passionate about harnessing the potential of cutting-edge technologies, he explores the ethical ramifications of blending the real with the virtual, sparking meaningful conversations about the future of human experience in an increasingly interconnected world.