We finally have the schedule for the 2018 Winter Olympics in Virtual Reality. As we noted when the Olympic VR project was announced, Intel and NBC will offer over 50 hours of live coverage in VR.
As is always the case with these events, obstacles could get in your way including:
You won't be able to use Oculus RIft or the HTC Vive headsets – though you can use a Windows Mixed Reality HMD
You'll have to authenticate your subscription with your cable, satellite or digital operator if you want to see the live stream of coverage
You're apparently out of luck if you are outside the United States region (licensing issues, of course) – though RoadtoVR is looking for workarounds.
While Virtual Reality continues to move forward, broadcast TV and cable seem stuck in the past. So it's not as simple as putting on a headset. And as long as the cable companies have their way, it never will be.
But if you can get past the roadblocks, definitely give it a try. Intel's True VR platform is amazing and you'll get to see what the future may hold for broadcast TV (we really should just call it media at this point).
If you have to pass on the Virtual Reality, then enjoy some of the other cool tech stuff at the Olympics, including the robots that are everywhere and the spectacular drone display (though that was prerecorded due to weather issues).
Here are the VR headsets that work
You'll find more detailed instructions over to NBC, but you will need one of the following HMD's for Virtual Reality. Our choice? Go with the Windows Mixed Reality headset if you have one; the others are not as comfortable.
Samsung Gear VR:
Samsung: Galaxy Note8, Galaxy S8 (and S8+), Galaxy S7, Galaxy S7 edge, Galaxy Note5, Galaxy S6, Galaxy S6 edge, Galaxy S6 edge+
Google Daydream VR Headset:
Google: Pixel, Pixel 2, Pixel 2 XL; Samsung: Galaxy S8, S8+, Note8; Motorola: Moto Z, Moto Z Force, Moto Z2 Force; ZTE: Axon 7; Huawei: Mate 9 Pro, Porsche Design Mate 9; LG: LG V30; ASUS: ZenFone AR. Quick side note: so much for Google's promise of "hundreds of millions of users" on Daydream almost two years ago – that hasn't quite come to pass.
Windows Mixed Reality HMD
This is your best bet for the Virtual Reality experience but you'll have to jump through a few hoops. First, download the NBC Sports VR app from the Microsoft store app and then do the following:
Press the Windows button on your controller to get to the start menu
Click on the XXIII Olympic Winter Games VR content
And if you're going to access the live stream, you'll have to prove you have a subscription with your cable, satellite or digital operator.
Let us know what you think of the Winter Olympics in Virtual Reality!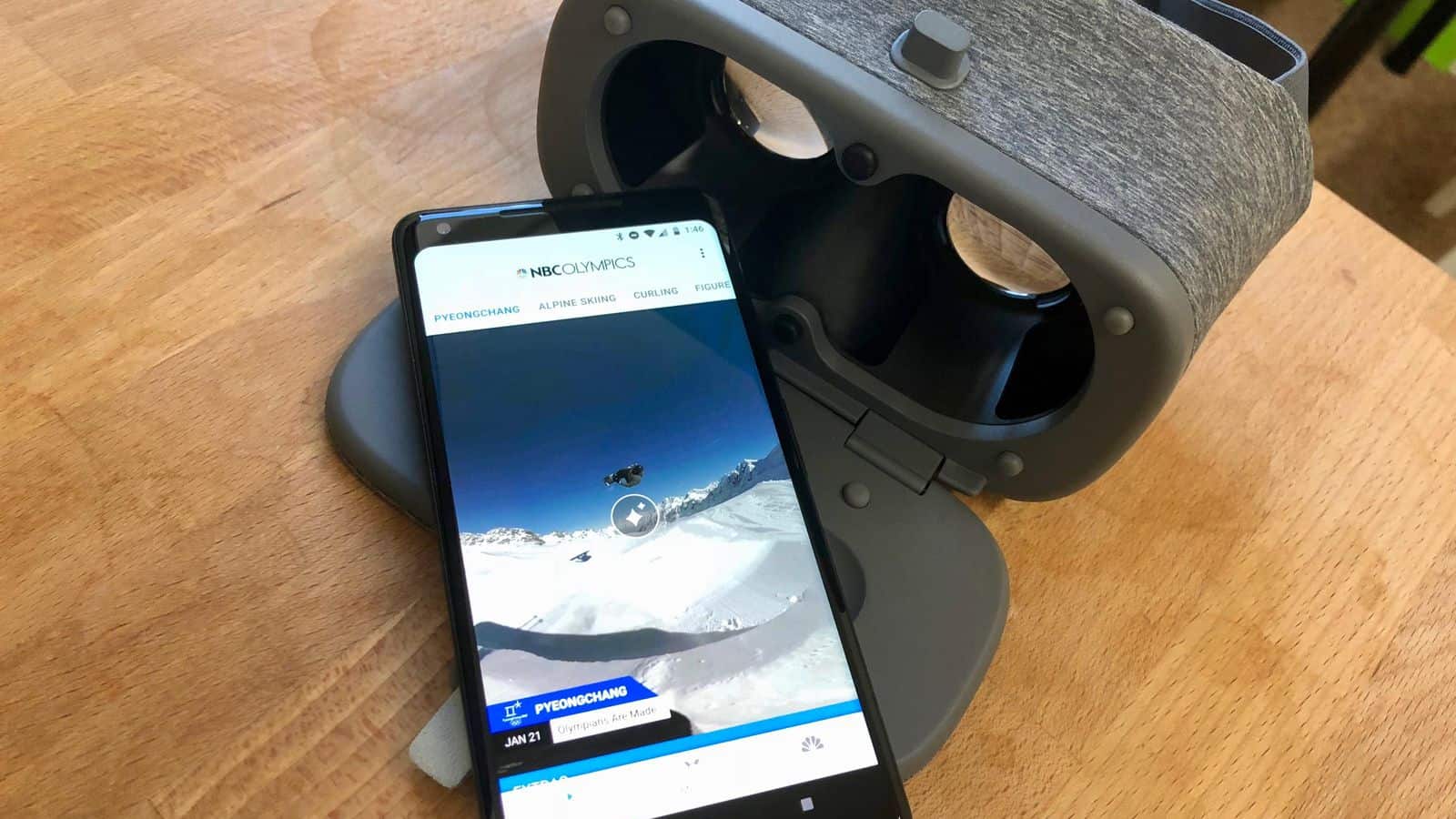 Emory Craig is a writer, speaker, and consultant specializing in virtual reality (VR) and artificial intelligence (AI) with a rich background in art, new media, and higher education. A sought-after speaker at international conferences, he shares his unique insights on innovation and collaborates with universities, nonprofits, businesses, and international organizations to develop transformative initiatives in XR, AI, and digital ethics. Passionate about harnessing the potential of cutting-edge technologies, he explores the ethical ramifications of blending the real with the virtual, sparking meaningful conversations about the future of human experience in an increasingly interconnected world.