We are excited to announce the ShapingEDU Humersive Learning Project as part of our roles as Innovators in Residence at ASU's ShapingEDU community. As part of our charge, we will lead an actionable exploration of the intersection of humanity and immersive learning.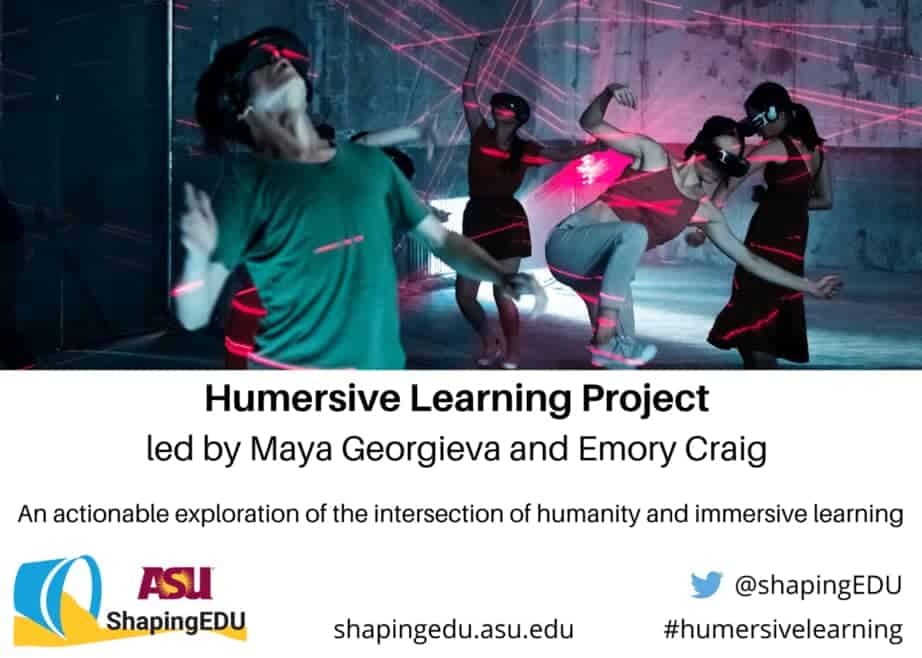 ShapingEDU Humersive Learning
What is the Humersive Learning project for ShapingEDU? The term is a portmanteau of Humanize and Immersive. It explores the convergence of technologies, including VR, AR, and AI, and the way they will impact both education and society.
More than ever today, our world is shaped by lines of code on our screens. Social Media has already impacted our lives and society in ways that we do not fully comprehend. In the near future, people will spend increasing amounts of time in digitally rendered environments. We will inhabit virtual worlds with virtual beings, some real, some AI-driven characters, created by data and lines of code.
That brings fascinating opportunities to reinvent learning and reshape our lives in society. It will also raise profound ethical challenges. This is what the Humersive Learning project is about.
Project Statement
Here's the statement from the project.
The Humersive Learning Project responds to several of the themes from the 2019 ShapingEDU Unconference. The Project will consider human and student experience in the context of emerging technologies and the convergence of extended reality (XR) and artificial intelligence (AI). We will explore how virtual environments and immersive technologies could profoundly reshape learning and social interactions. The Project will share research on the efficacy of XR learning experiences, identify critical socio-cognitive needs for XR in education and explore the possibilities for peer-review of content. A guiding question will be how we can humanize these technologies while simultaneously fostering innovation that will bring disruptive change to education.
In our work with the ShapingEDU community, the project will be divided into three phases. We will develop a framework, solicit exemplars for an immersive environment, and lead a working session at the ShapingEDU conference in March 2020.
During the first phase, the Project will focus on asking critical questions to develop guiding principles for Humanizing Learning (the framework) with interested members of the community. In the second phase, Maya Georgieva and Emory Craig will invite the broader community to contribute to building exemplars in an immersive environment. During the final part, Maya and Emory envision leading a working session at ShapingEDU where participants will be invited to contribute to, experience, and discuss the framework. The final document will be released following the conference incorporating contributions from the community. This first iteration of the Humersive Learning Project will conclude with a ShapingEDU LIVE online event.
Get Involved!
We'd love to have you join us in the Humersive Learning project! You can sign up for email notifications, event invitations, and information about opportunities to contribute.
We take our first public steps with a Tweet-Up on Tuesday, December 10, 2019. And stay tuned as there will be much more to follow!
Humersive Learning Tweet-Up
December 10, 2019
2-3 p.m. MST (GMT-7:00)  @shapingEDU @emorycraig @mayaig #shapingEDU #humersivelearning
You can register for email reminders.
Ongoing Discussion – #humersive-park
Join the conversation in the ShapingEDU Slack channel #humersive-park.
Not in the ASU Slack workspace yet? Request to join.
January 15, 2020 9am-10am U.S. Mountain Standard Time
Immersive Gallery
Submit content (images, video, 3D objects, etc.) for the Immersive Environment/Gallery, to be unveiled at the 2020 ShapingEDU Unconference in March. Submission details coming soon. 
Maya Georgieva is an EdTech and XR strategist, futurist and speaker with more than 15 years of experience in higher education and global education policy. Her most recent work focuses on innovation, VR/AR and Immersive storytelling, design and digital strategy. Maya actively writes and speaks on the topics of innovation, immersive storytelling and the future of education and consults organizations and startups in this space.