The new VR experience, Wolves in the Walls debuts at the Sundance Film Festival in Park City, Utah this week. At a time when some see virtual reality failing (see here and here), this short VR film does the opposite. It reveals how quickly storytelling in VR is developing its own language.
This VR experience draws upon the well-known Oculus Story Studio piece, the Emmy award-winning Henry. But instead of a cute hedgehog, you find yourself interacting with an eight-year-old girl who hears noises in the walls of her house.
And as you enter into this wonderfully surreal experience, you find yourself in a realm of imagination and mystery. Here's the official trailer.
Wolves in the Walls is a product of the newly announced Fable Studio, which launched out of the ashes of Facebook's Oculus Story Studio. Story Studio was killed off earlier this year to the dismay of many (including us).
But to no one's surprise, VR artists have regrouped elsewhere. Fable Studio was started by former members of the Oculus group and has four other projects at Sundance.
A new VR experience
The VR experience has been called Virtual Reality's Pixar moment by Deadline for the way it's moved beyond the first VR shorts. Inspired by Neil Gaiman's children's book, it is at once child-like, and so much more. You interact with the character Lucy and become part of her world.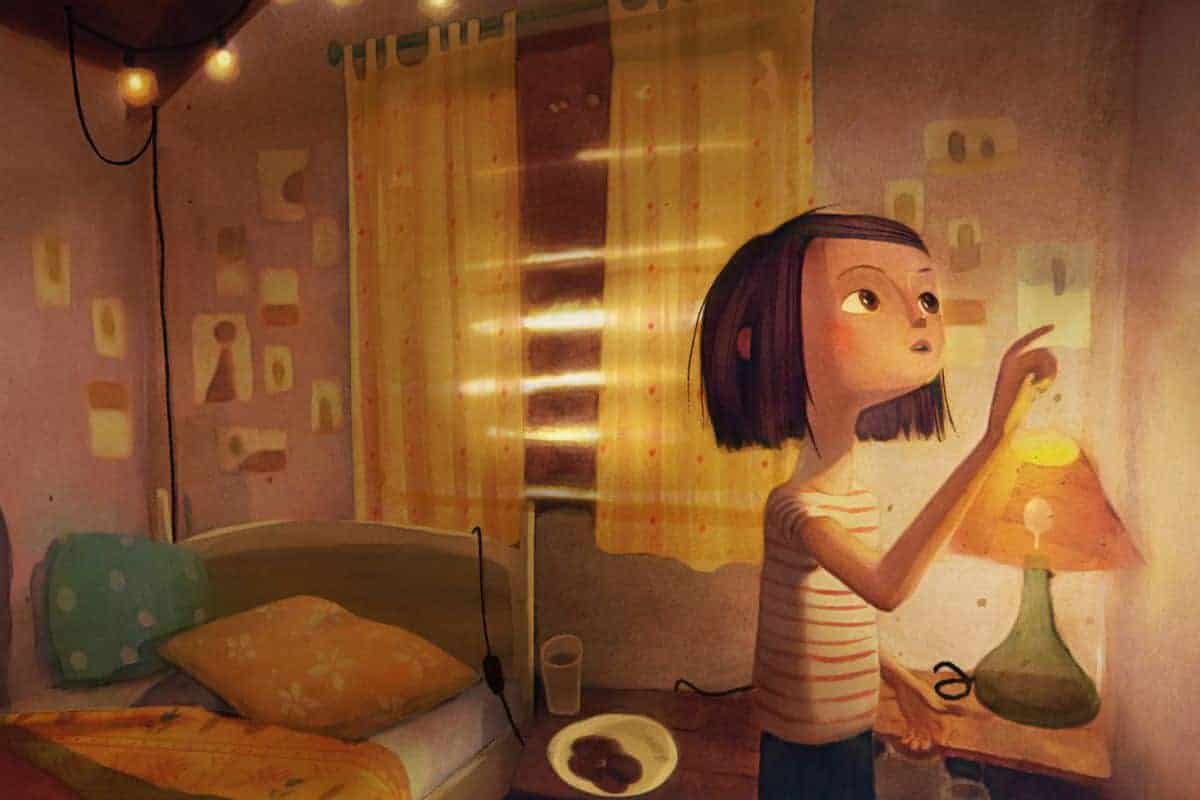 Director Pete Billington talks about the genesis of the story.
In the middle of Henry we did this thing, we had the character make eye contact with the audience. It gave us all the chills. 'Wow a character just acknowledged our presence.' It was powerful.
For Billington, the newly released Oculus Touch controllers were a game-changer. After his first experience of the controllers, he says,
I went into my parking lot, I sat in my car for about a half an hour realizing my past 20 years working in film — it was all going to change.
As they developed the VR experience, they watched live performances of experimental theater groups in Brooklyn and tried a game format. But nothing would connect participants to the character. As Deadline notes, they kept coming back to Lucy and her interaction with the participants,
There's a moment in the early minutes of the first chapter where Lucy begins to sketch out a chalk drawing on the floor, and the viewer feels compelled to squat down next to her, to watch. In another scene, Lucy hands the viewer a Polaroid — which the viewer can hardly resist the urge to accept.
Rather than Lucy reacting to you, you're reacting to her.
What makes this so compelling is that you are not just a character in the story – which is to some degree true of all VR storytelling. In Wolves in the Walls, you may be nothing more than Lucy's imaginary friend.
Or as Producer Jessica Shamash told Polygon,
She creates you and brings you into her world. Do you really exist or are you just an extension of her?
Cinematography in VR
The production crew also worked on ways to impact participants emotional reactions by changing the environment. In virtual reality, you can't change the camera or the lens. But that leaves another option – change the space that the all-seeing eye of the camera "records". As Lucy talks about what is happening in her world, the environment morphs into a reflection of her feelings. Billington explains,
We call that an emotional point of view. One of the things we set out to solve is cinematography in VR, because we can't change the lens, we can't really control the camera, but we can control the space and the lighting — all these theatrical tricks to control your emotions. You see the world the way Lucy feels the world. If she wants to make you feel scared, she will change the space.
With this, storytelling in VR is beginning to find its own voice, discovering new techniques to shape your experience in a virtual world.
And it will go far beyond this if Fable Studio fulfills its mission. Virtual characters will live with you both inside and outside of VR. And they'll interact with you and others in a social environment.
Here's more on the experience and the future of storytelling as Fable Studio sees it.
The first part of the story is available at Sundance now. The full version will be out later this year.
Experience it when you can – it's a window into the future of storytelling in VR.
Emory Craig is a writer, speaker, and consultant specializing in virtual reality (VR) and artificial intelligence (AI) with a rich background in art, new media, and higher education. A sought-after speaker at international conferences, he shares his unique insights on innovation and collaborates with universities, nonprofits, businesses, and international organizations to develop transformative initiatives in XR, AI, and digital ethics. Passionate about harnessing the potential of cutting-edge technologies, he explores the ethical ramifications of blending the real with the virtual, sparking meaningful conversations about the future of human experience in an increasingly interconnected world.