The Hunger Games Virtual Reality experience with the Samsung Gear VR opened today in New York City at the Pop14 event space. It's an incredible opportunity to try out the new Samsung Gear VR devices as the pop-up shop has lots of interactive VR stations.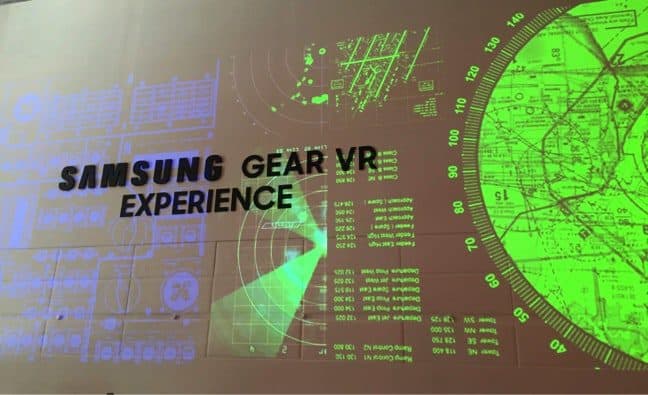 In addition to the Samsung headsets, you could also play around with the new Mockingjay app, get serious with
your face on a rebel poster, and try out Samsung's virtual notepads and other apps. Not surprisingly, Samsung watches were also there. I must confess, it was a little strange wearing an Apple Watch and Samsung's Watch at the same time (more on that later).
This weekend's event followed on the heels of last night's opening event for the upcoming Hunger Games movie with Jena Malone – who also tried out the Samsung VR demo. There were far less crowds this morning, but by afternoon, there were long lines for the Hunger Games virtual reality experience.

Is The Movie Trailer Dead?
This has been the year of virtual reality coming to Hollywood – first Gravity, The Martian and now the Hunger Games have all made use of VR experiences to help the viewer step into the picture. 
It has also been a way to showcase the new Samsung Gear and Oculus Rift devices as salons have been setup at movie festivals and conference venues. Virtual reality may not be everywhere, but it's showing up at key events. As you try out the VR trailers, you get a sense that the traditional movie trailer is on its way out – virtual reality will be the new way to hook prospective audiences into a movie. 
The Motion Picture Now Includes Audience Motion
iMax and 3D movies have been around for some time, but they are still static experiences. Virtual reality has finally reached a development stage where watching VR films is becoming an option. The headsets are more comfortable, the audio good, and motion sickness is becoming less and less an issue. If you get dizzy now, it's the mind-blowing experience itself that throws you off balance.
The virtual reality demos are getting more sophisticated, the spaces larger, and often provide the comfort of a swivel chair for your immersive experience. The Samsung pop-up shop today had a nice addition in that the chairs included a vibrating "backpack" add-on that vibrated in sync with the action in the demo. When you moved, you felt like you were actually traversing across the ground (or that a large object was moving past you).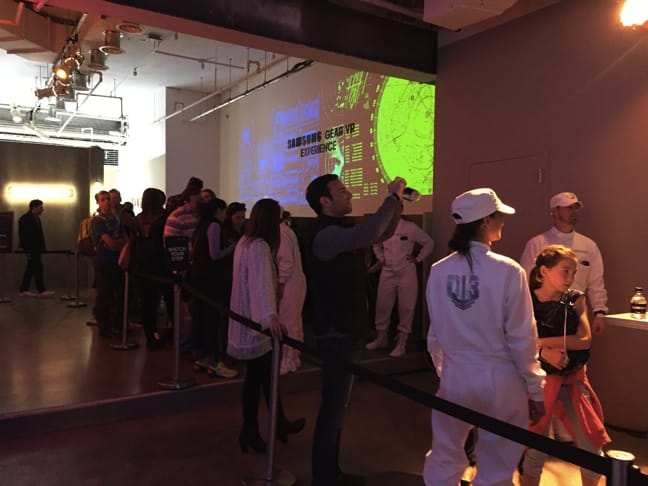 The Disney Ride of the Future
The Hunger Games VR experience, not unlike a Disney ride, walks you through the main scenes of the movie. You have a 360 video view and following the opening scene you can already see how these virtual reality films are exploring new techniques involving lighting and sound to lead you through the experience. You can decide to turn back and see the path you just took, but it's hard to ignore the visual and auditory hints of the action and scenes appearing in front of you.
Colin McGreal, designer and director at ReelFX of The Hunger Games Virtual Reality Experience explains some of the challenges filmmakers have to confront in doing VR:
VR is still obviously an infant industry in terms of resolution, goggles, how much the engines can handle and software to build it . . . I come from a broadcast, graphics and filmmaking background and I'm very conscious to keep the narrative involved.
This was perhaps the most striking aspect of the VR Hunger Games trailer itself – there was a strong sense of narrative and direction. As much as you might have wanted to stop and explore a specific setting, the short film pulled you through it, giving you something of a directed virtual experience.
McGreal goes on to say:
[it's] a big challenge because by the nature of VR you can look wherever you want, you can explore what you want to explore regardless of what's going on in front of you. So how can we bring a directed storytelling aspect to this 360 experience and keep people looking where we want them to look?"
Other elements contributed to the experience. The characters seem more like a standard 3D movie and some had the feel of the Madame Tussaud's wax figures as they were not fully animated. That cut down on the overwhelming stimuli that you sometimes experience with VR (you could quickly glance at them and then had to return your gaze to the upcoming surroundings). The vibrations on the chairs worked in sync with the motion on the screen so you definitely had the feeling of the movement as you moved through the scenes.
It is more of walking tour with audio and visual effects but still totally fun to see and experience. Part of it feels like you are on a Disney ride and a few times it felt similar to Soarin which lets visitors in Disney experience flying over California and other options. There is more to be desired in perfecting the experience but I can definitely say that I wish there was more and the Samsung Gear 2 is feeling really comfortable to wear. When you think about it is remarkable that it is a phone position right in front of your eyes that is actually powering the entire experience. The Samsung Gear VR in essence is a set of lenses that make the illusion appear real.

If you have the opportunity, go to the Hunger Games Virtual Reality event at Pop14 in the Meatpacking District tomorrow. It will give you a preview of the direction that cinema and entertainment is headed.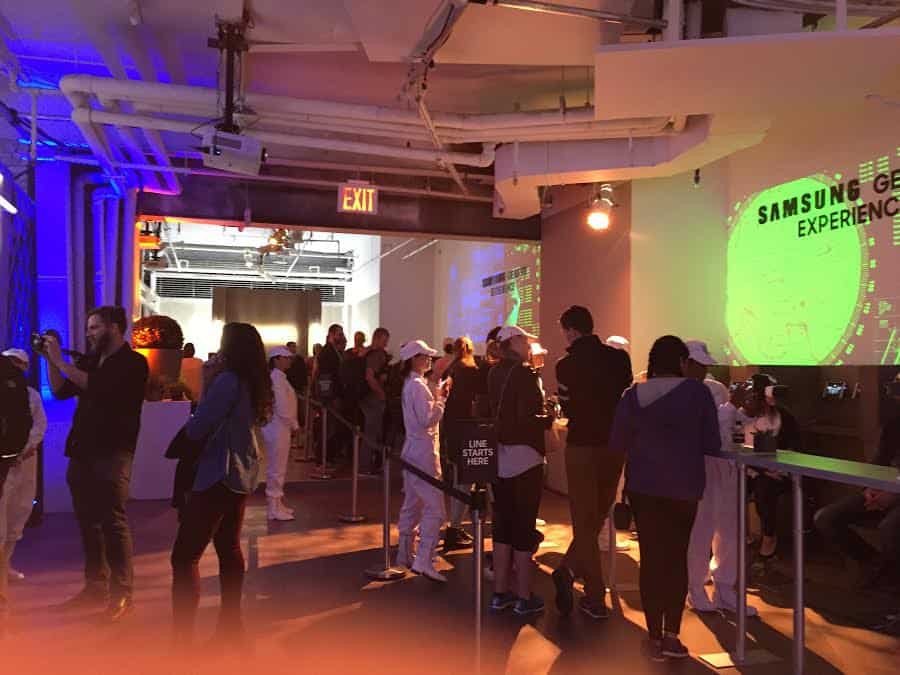 Maya Georgieva is an EdTech and XR strategist, futurist and speaker with more than 15 years of experience in higher education and global education policy. Her most recent work focuses on innovation, VR/AR and Immersive storytelling, design and digital strategy. Maya actively writes and speaks on the topics of innovation, immersive storytelling and the future of education and consults organizations and startups in this space.