The Google Daydream View VR headset, announced on October 4th, will be in stores on November 10th.  The headset will be available in the online Google Store and via retailers in 5 countries including United States, Canada, UK, Germany and Australia.  DayDream View will sell for $79 in the US via the Google, Verizon and Best Buy stores.
Google Daydream View and Pixel
Google Daydream View works with Google's new Pixel or Pixel XL phone. Sources are indicating that other compatible phones will be announced in the coming months. But for now, you'll need a Pixel phone to enjoy the benefits of Daydream View. The Pixel starts at $649, and the Pixel XL goes for $769. One of the most talked about features of the phone is its highly rated camera. You can take panoramic photos, 360-degree photos (called "Photo Spheres"), and "lens blur" shots (similar to the iPhone 7 Plus's new "portrait mode"). 360 photos will be increasingly common as we move into the virtual and mixed reality era. 
The hand controller that comes with Google Daydream is superior to all other mobile VR solutions and provides for greater interactivity. It fits comfortably in the palm of your hand and with its circle trackpad and two buttons, it makes games and VR experiences far more immersive. But using it requires a Daydream enabled phone.
Pop-up Store in New York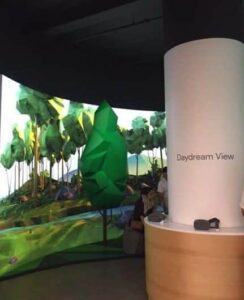 Following Google's announcement, a pop-up store opened in New York to showcase Made by Google products. In the Soho store, you can sample Google Home and Google AI Virtual Assistant in mock living room and kitchen spaces to experience Google's vision of the future. For examples, you can connect your TV, lights, music and others to Google Home which allows you to control these devices and search with voice control options.
But the real highlight in the store is the Pixel and Google Daydream View. Google Daydream View takes a novel design approach. It's made of fabric and foam, which makes it feel incredibly light and easy to wear. For once we have a mobile VR headset that doesn't feel like a piece of hardware. As Google noted in their original announcement, we wear fabric on our bodies, not plastic. And Daydream View follows that paradigm. You're still wearing a phone on your face, but it's a lot more comfortable.
Three VR Experiences
In the store, you can try out three VR experiences. The first one is YouTube VR. You can watch the entire library of YouTube videos on a large virtual screen and experience immersive VR videos from top creators. The video that pops up during the demo is Rhomaleosaurus: Back to Life in Virtual Reality which is a partnership project with the Natural History Museum in London.
Here's a preview in the YouTube version, but you really need to try it out in Daydream View.
https://www.youtube.com/watch?v=J9bkKUrFloo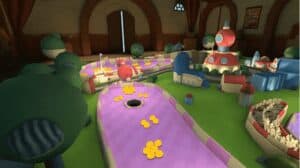 The third experience is a Wonderglade game which teleports you to an ever growing theme park where you can enjoy carnival-themed classic games. It is amazing how powerful the controller can be in this environment with its accuracy and range of motion. For example, in certain games like pinball you can affect the movement by simply tilting or rotating your hand. In trying this out, you can certainly see the possibilities for education and business related applications.
If you're in New York, get down to the pop-up store to try out Daydream View. It's a fun way to try out Google's new products and see where they're headed. The pop-up store in New York will remain open until late December.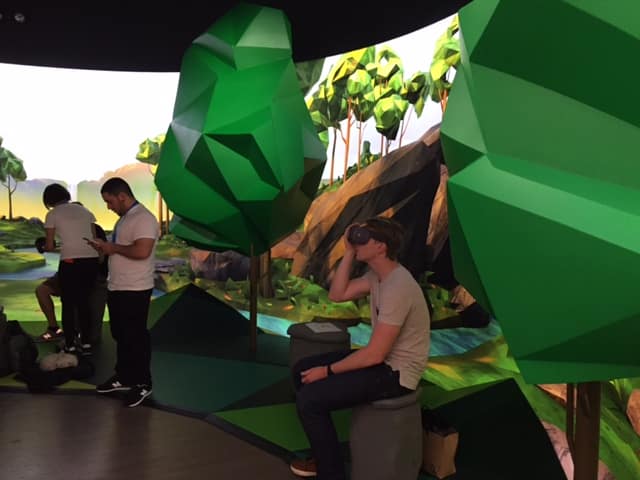 Daydream View at Educause and its impact on education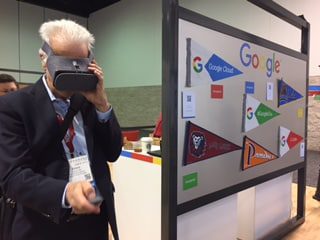 Google took Daydream View on the road and it showed up in late October at Educause Annual Conference, where 8,000 attended higher education's largest event on education and technology. At the Google for Education booth attendees could sample Expeditions with Google Cardboard, Daydream View, and  watch a sketch artist play with Tilt brush and HTC Vive. Surprisingly, there were no long lines to try it out – a very different experience than we've had at film and other festivals. Virtual Reality is already in the world of cinema. Right now, it's just entering the education community. But VR headsets like Daydream View will dramatically speed adoption.
Daydream View is a major improvement in the quality of mobile VR headsets. And the innovative hand controller is in a category of its own – small and simple to use. Our only concern is that Daydream View requires a Pixel phone for now, which makes things more complicated when it comes to using it with students and faculty.
Cardboard Google offered inexpensive access for students and faculty to try VR. Over the past few years, we have bought, shipped and used hundreds of Cardboards in our workshops around the country. But we never had to consider which Smartphones participants will bring. Android or Apple, it didn't matter. If Apple doesn't adopt Daydream standards, we'll soon be in a world of incompatible and competing mobile VR platforms.
If you get the chance, try out Daydream View. It's a major development in virtual reality, as important as the introduction of Google Cardboard at the Google I/O conference on June 25, 2014. We saw the potential of VR back then. You can see it even more with Daydream View and the controller which simply works like magic.
Maya Georgieva is an EdTech and XR strategist, futurist and speaker with more than 15 years of experience in higher education and global education policy. Her most recent work focuses on innovation, VR/AR and Immersive storytelling, design and digital strategy. Maya actively writes and speaks on the topics of innovation, immersive storytelling and the future of education and consults organizations and startups in this space.