CARNE y ARENA (Virtually present, Physically invisible) originally premiered at the 70th Cannes Film Festival in 2017. It was the first VR story featured at the festival, which like most film festivals, is now rapidly expanding its VR programming. In 2018, we had the opportunity to experience it in Washington, DC, and it remains for us a high watermark of immersive storytelling. 
Originally conceived by the renowned Mexican film director Alejandro G. Iñárritu ("The Revenant," "Birdman") it was produced in collaboration with three-time Academy Award®-winning cinematographer Emmanuel Lubezki. In 2017, Iñárritu was the recipient of a special Oscar® for CARNE y ARENA, with the Academy of Motion Picture Arts and Sciences (AMPAS) recognizing it as an exceptional storytelling experience.
This fall, the deeply compelling immigrant VR experience returns for a global tour with the first installations opening in Denver and Montreal. It's an exciting development since, unlike many other VR experiences, CARNE y ARENA requires an expansive physical space for its three-part exhibition. Indeed, for a spell, it seemed unclear if it would ever be accessible to the public again.
While newly optimized for a larger number of participants, it is still a low-capacity, reservation only, VR event. In other words, it's well-suited for a world in the midst of a raging global pandemic. You'll be fine if you see it – and with their cleaning protocols in place, it's likely a safer experience than eating out in a restaurant these days.
A VR Story of Hope, Anguish, and Despair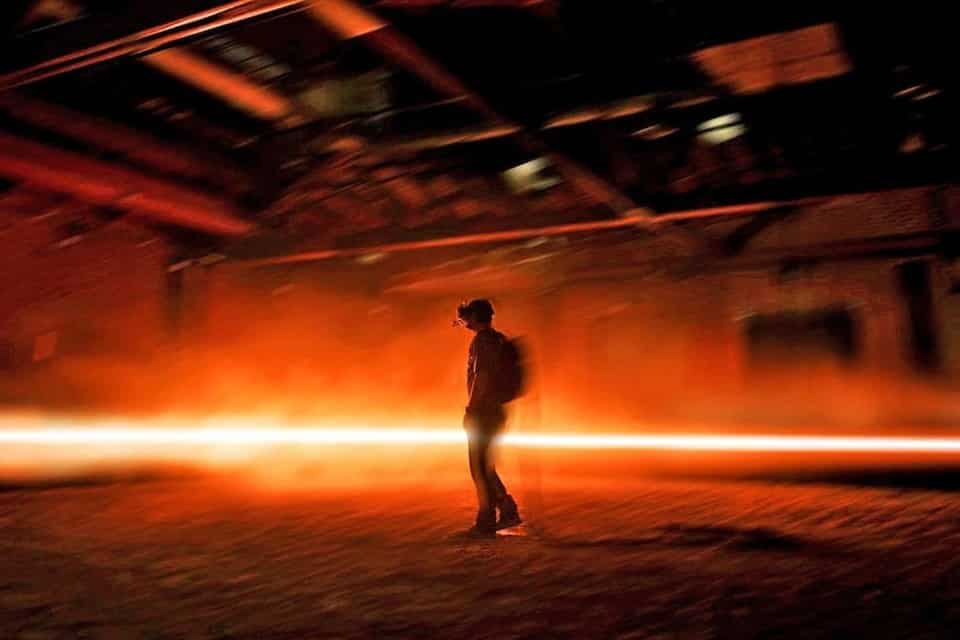 CARNE y ARENA (Virtually present, Physically invisible) is not your typical virtual reality experience where you just strap on a VR headset and leave once you are done. The installation is organized in three sections, with as much thought given to the non-VR introduction and the conclusion as to the actual immersive story at the center. You enter a frigid room and remove your shoes to sit on a steel bench surrounded by worn-out shoes collected from immigrants who have tried to cross the desert to America. The shoes were gathered from the border and it seems inconceivable that someone would try to cross such an inhospitable terrain in worn-out sandals, or worse, broken heels.
A jarring alarm summons you barefoot into a large darkened space with a sand-covered floor. In this central section of the experience, the staff provide you with a VR headset and remain nearby for assistance. Now you find yourself virtually walking with immigrants across the desert until the helicopters and border patrol show up with guns drawn, screaming at you to get down on your knees. We won't give away the rest of the VR story, but you can imagine the range of emotions and the depths of despair from the virtual characters you have been walking with. There are no actors here as Iñárritu worked directly with Mexican and Central American refugees. The avatars were developed through motion-capture technology of people who know the treacherous journey from firsthand experience.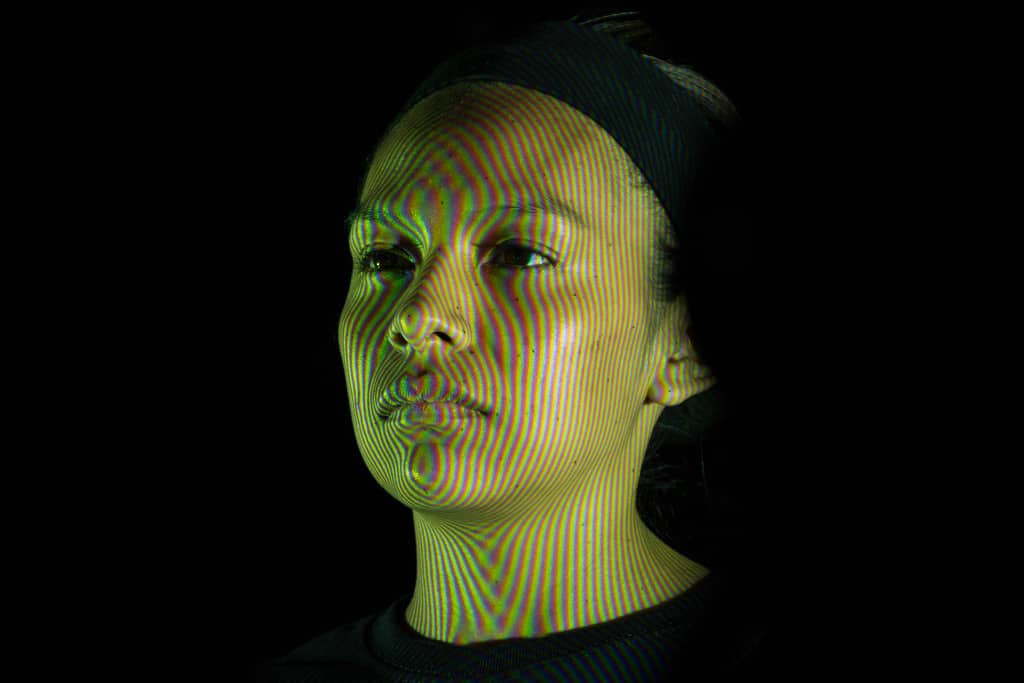 In the concluding section, you retrieve your own shoes, shake the sand off your feet, and try to regain your sense of composure. You exit to a hallway where you find yourself face-to-face with close-up video portraits of people you were walking with in the desert. Now, they are living in America, and you listen to their stories of love and sacrifice to feed their families, escape the violence of their homeland, and better their lives. Some are hopeful, others paranoid that they'll be forcibly returned. Some have been here for only a few years, other for decades. Some know of no country other than America, having come as young children or born on the journey itself. All of them embody the hope that this country has held for millions of immigrants since its founding.
It's something we too easily forget in the heated rhetoric of our political debates.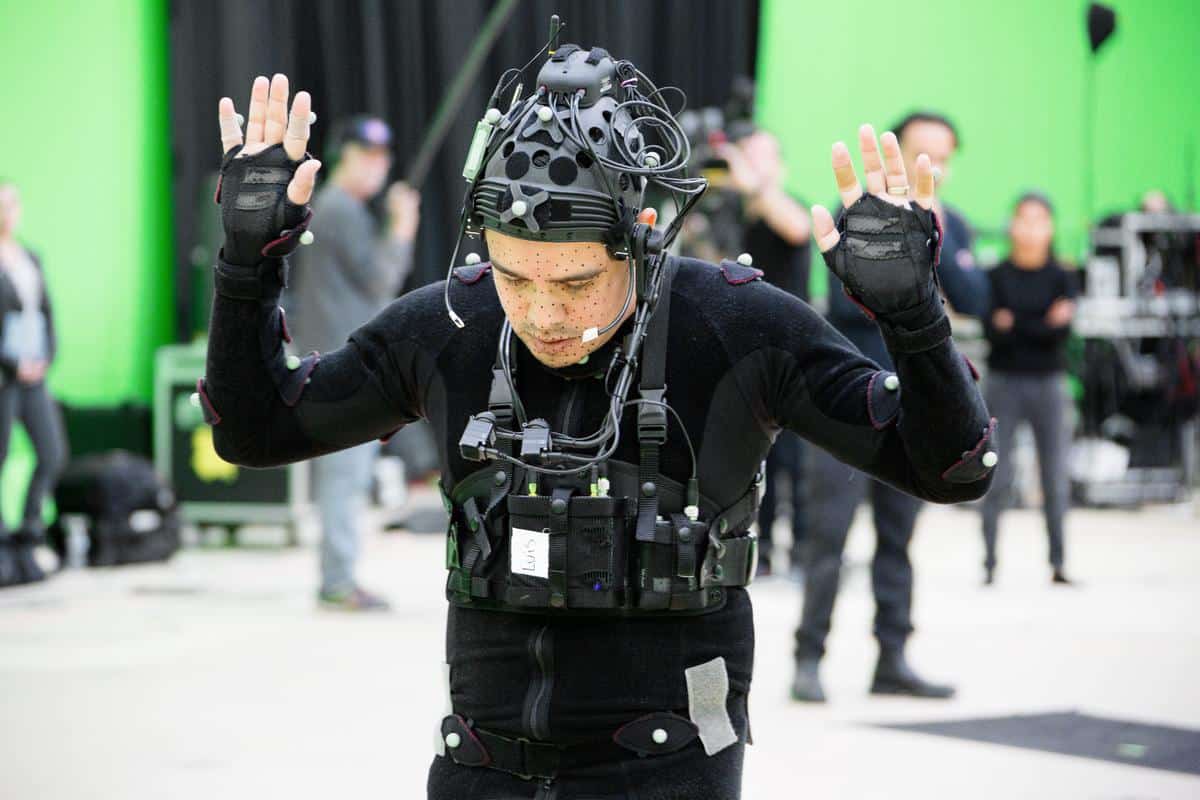 A Stunning Example of Immersive Storytelling
As immersive storytelling, it is one of the most remarkable VR stories we have ever encountered. Alejandro G. Iñárritu talked about the source of his inspiration.
Their life stories haunted me, so I invited some of them to collaborate with me on the project. My intention was to experiment with VR technology to explore the human condition in an attempt to break the dictatorship of the frame — within which things are just observed — and claim the space to allow the visitor to go through a direct experience walking in the immigrants' feet, under their skin and into their hearts.
Organizing the experience into three components – each of which would stand on its own as a work of art – vastly increases its power. The central drama utilizes virtual reality, but the introductory section prepares you for the immersive experience and the concluding section brings a sense of closure. It's a design strategy that focuses on storytelling instead of technology. Virtual reality becomes the space for human experience, where you encounter the rawness of hope, anguish, and despair.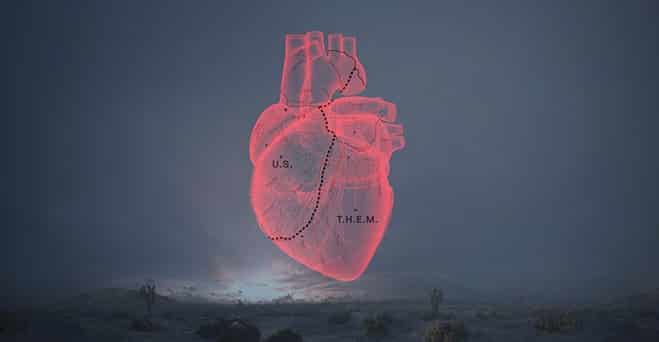 Iñárritu continues,
I took some creative risks, walked into never before visited layers, and learned many lessons. While both are audiovisual, VR is all that cinema is not, and vice versa; the frame is gone and the two-dimensional limits are dissolved… During this realistically unreal experience, our brain wires and most of our senses were tested.

No experience in CARNE y ARENA will ever be the same for any visitor. We created a truthful alternate space where you as a visitor will walk alongside the immigrants (and into their minds) with infinite possibilities and perspectives within a vast landscape, but you will go on your own terms.
Iñárritu creates a multi-narrative virtual space that no two people will experience in the same way. It is storytelling that immerses you into the lives of immigrants, experiencing the journey from their eyes and their hearts. It is a breathtaking VR story that everyone working, studying, or thinking about the field needs to experience.
The Question of Empathy
Can CARNE y ARENA generate empathy for the immigrant experience? There is no simple answer to that question, but the real power of the VR story is in how it may change us. As Ana Campoy wrote in Quartz back in 2018,
. . . it's a far cry from the sheltered congressional chambers where [immigration] policies are made.
Elsewhere, we've considered the risk of the alternative, where VR could be used in ways similar to social media for negative ends and further increase our political polarization. This is why creative projects like CARNE y ARENA are critical. We need powerful examples of how virtual reality can help us bridge our differences and foster cross-cultural understanding.
A New Global Tour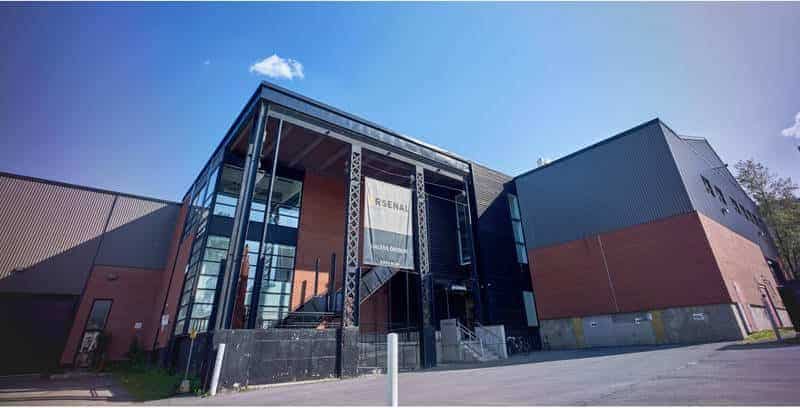 PHI Studio has optimized CARNE y ARENA (Virtually present, Physically invisible) for its new global tour in partnership with Laurene Powell Jobs' Emerson Collective and Legendary Entertainment. The first installations will be at The Hangar, Stanley Marketplace, in Aurora, Colorado (beginning October 23), and at Arsenal Contemporary Art in Montreal, Quebec (beginning December 2020), followed by additional locations (see the initial schedule).
CARNE y ARENA explores a critical issue of our era in a way that few VR stories have been able to do. As it makes its way around our fractured world in a new global tour, make every effort to experience this outstanding immersive storytelling project.
Emory Craig is a writer, speaker, and consultant specializing in virtual reality (VR) and artificial intelligence (AI) with a rich background in art, new media, and higher education. A sought-after speaker at international conferences, he shares his unique insights on innovation and collaborates with universities, nonprofits, businesses, and international organizations to develop transformative initiatives in XR, AI, and digital ethics. Passionate about harnessing the potential of cutting-edge technologies, he explores the ethical ramifications of blending the real with the virtual, sparking meaningful conversations about the future of human experience in an increasingly interconnected world.