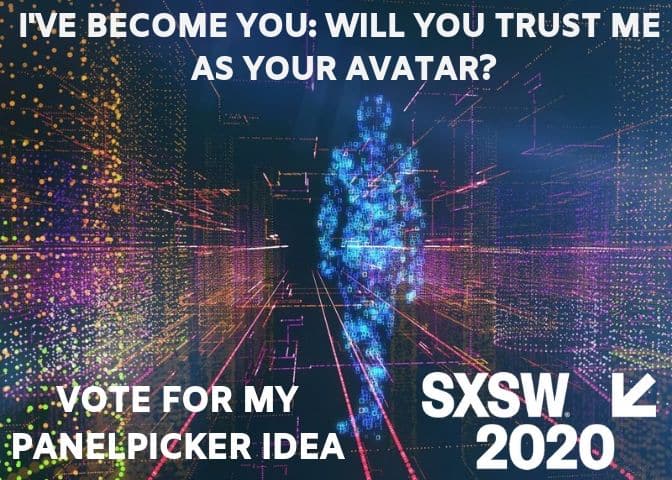 SWSX 2020 Proposal: Will You Trust Me As Your Avatar?
Join us for a fast-paced and provocative Focus15 conversation not about the future of technology – but the future of us. A world that will blur – if not completely erase – the boundaries between the real and the virtual. The SXSW 2020 Theme? Fantastic Future, of course! 
VR, AR, and Mixed Reality are rapidly advancing as innovative and disruptive tech developments. But it's the convergence of different technologies that transform human behavior and culture. What happens when XR meets AI? When avatars are not only lifelike but respond to you in human fashion? Facebook's avatars and Magic Leap's Mica are just a distant glimpse of how we will live in the future. 
Vote on our SXSW proposal on the convergence of VR and AI: I'VE BECOME YOU: WILL YOU TRUST ME AS YOUR AVATAR. Community input is an important part of the selection process and we'd love to have your support!
Thank you!
The voting period has ended – thank you for your support!
Vote for our proposal – I'VE BECOME YOU: WILL YOU TRUST ME AS YOUR AVATAR?
SXSW 2020 Proposal Description
XR puts us at the center of the experience/story – but what happens when virtually embodied AI-driven avatars drive the story? Both Fable's Wolves in the Walls and Magic Leap's Mixed Reality avatar, Mica, are preliminary windows into our surreal future. A future at once marvelous and unnerving. What will be the consequences of our relationships and interactions with embodied beings in virtual worlds? What happens when anyone can create an avatar that looks like anybody alive (or who has ever lived) and animate that avatar to do whatever they'd like? We'll be empowered through multiple versions of ourselves, and challenged by manifold versions of each other (or is it the reverse?). What is identity when everything is equally real in the virtual? Will you accept me becoming you? 
Objectives
To understand how the convergence of AI and XR will open fascinating opportunities and challenges in our social, political, and personal lives.

To learn how Artificial General Intelligence (AGI) will raise questions over who defines who – the avatar or the human.

To grasp the essential conversations we need to have to understand identity in a world that erases the boundaries between the real and the virtual.
Say Hello to Mica . . .
If you haven't experienced Magic Leap's AI-driven avatar, watch it now. And then let's talk in Austin next spring.
I've had the opportunity to interact with her several times. Most striking is not what she does now, but how rapidly the project is progressing. But Mica is just a forerunner of the avatars to come in our virtual world. And a peek into how AI-driven virtual avatars will impact how we relate to our environment.
Let's move this conversation forward at SXSW 2020!
See you in Austin!