The news of Facebook closing Oculus Story Studio caught us by surprise. We were counting on seeing more VR films and projects from the award-winning venture. Indeed, just a year ago, Mark Zuckerberg was promising additional funding for content creation. This isn't a doomsday signal for virtual reality as some trolls on the VR forums might see it, but it points to continuing challenges in VR content production.
And it's evidence of where Facebook sees the future of immersive technologies – it's not VR but AR that will dominate.
So what happened?
No one knows exactly, but here's Facebook's account in an Oculus blog post:
Two years ago, at the dawn of the modern VR revolution, Oculus launched Story Studio to prove the possibility and allure of a new art form: real-time storytelling. Story Studio created a series of cutting-edge VR shorts, including Lost, Henry, and Dear Angelica, that would inspire traditional filmmakers—and a new generation of storytellers—to invest in VR.

We're now entering the next chapter of VR development, where new creators enter the market in anticipation of adoption and growth, and we've been looking at the best way to allocate our resources to create an impact on the ecosystem. After careful consideration, we've decided to shift our focus away from internal content creation to support more external production.

As part of that shift, we'll be winding down Story Studio.

Now that a large community of filmmakers and developers are committed to the narrative VR art form, we're going to focus on funding and supporting their content. This helps us turn our internal research, development, and attention towards exciting but unsolved problems in AR and VR hardware and software.
The most telling line here is the last sentence – that Facebook is shifting their attention to "VR and AR hardware and software" (my emphasis).
After the recent F8 conference with its new focus on augmented reality, maybe we shouldn't have been surprised. Facebook is shifting its focus. They haven't given up on virtual reality, but they see far more potential in AR platforms and services. In the end, their revenue is from advertising. And VR content production may have started to look like a bottomless pit compared to the possibilities in AR.
Facebook already knows your location, your activities, your friends and your likes and dislikes. They vacuum up people, objects and data as in the priceless 1908 silent film, Segundo de Chomón (The Vacuum Cleaner). And it's ready to be monetized in augmented reality.
So grab a chair and settle in. It will a long journey to our virtual reality paradise.
Facebook closing Oculus Story Studio
When Story Studio got underway in 2015, the future was bright. They poached talent from Pixar and other entertainment studios. The funding and resources helped jumpstart the VR industry. Two years later, it's a different story. Although Facebook announced that they will commit $50 million to ". . . exclusively fund non-gaming, experiential VR content" it means the end of a number of creative projects. As Variety noted, the largest impact may be on VR animators:
That could be bad news for animators looking to explore new forms of storytelling in VR; the Story Studio team had in recent months been looking to venture into 3-D comics, and debuted a collection of VR comics at the Tribeca Film Festival last month. At the time, it announced that these comics would be released on the Oculus Store later this year, but that seems less certain now.

Also likely cancelled is the latest cinematic VR project of the studio, a virtual reality adaptation of Neil Gaiman's children's book "The Wolves in the Walls," which was expected to be released next year.
We'll have to see what projects they will now fund. Keep in mind that this is the studio that created "Henry", the animated VR short that garnered an Emmy for Outstanding Original Interactive Program. Those days are over.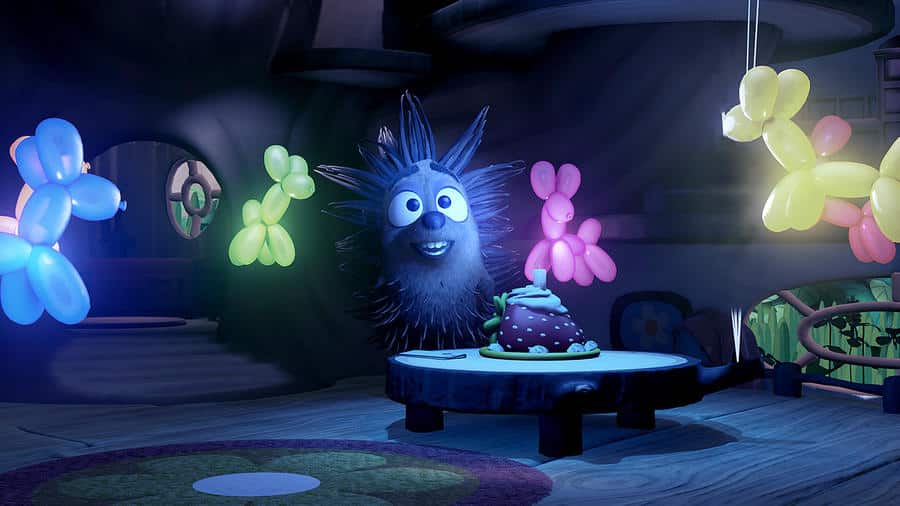 Oculus Story Studio also created a series of VR filmmaking workshops and masterclasses with New York University and the University of Southern California last year. It's doubtful that projects like these will continue.
VR content production
We have no fears about the future of virtual reality, but Facebook closing Oculus Story Studio is a blow to creatives. Ben Lang in RoadtoVR sees it differently, arguing that the closure is good news. Story Studio was competing with VR studios like Within, Baobab, Felix & Paul and Penrose. The move leaves the content space to them and prioritizes Facebook's commitment to VR hardware and software.
We'd like to agree but content production distribution remains the major challenge. The hardware is rapidly evolving and no one has devised a solid distribution platform. You'd never sell a movie ticket or watch a video in class if people had to line up and do it one at a time. Given where we are in virtual reality, artists need all the resources they can get. At some point, Facebook would have to move away from content production. But doing so now is too soon.
As for the 50 employees in Story Studio, Fortune got an email from an Oculus spokesperson:
[They] will reportedly have the option of either leaving the company to pursue new opportunities in the creative community, or applying for new jobs within Facebook.
We're keeping our ears to the ground and will update as the news develops. Let us know your thoughts.