As expected, CES 2018 saw the unveiling of the new HTC Vive Pro VR headset. HTC's high-end HMD sports dual OLED displays with a 2880 x 1600 resolution, or 1400 x 1600 per eye (and 615 ppi). The graphics will be significantly better and it will easier to read text in VR.
As we predicted, the resolution was bumped up but not to 4K – which would have limited its marketability. HTC has been ceding market share as it is with the Oculus Rift price cuts.
The HTC Vive Pro VR headset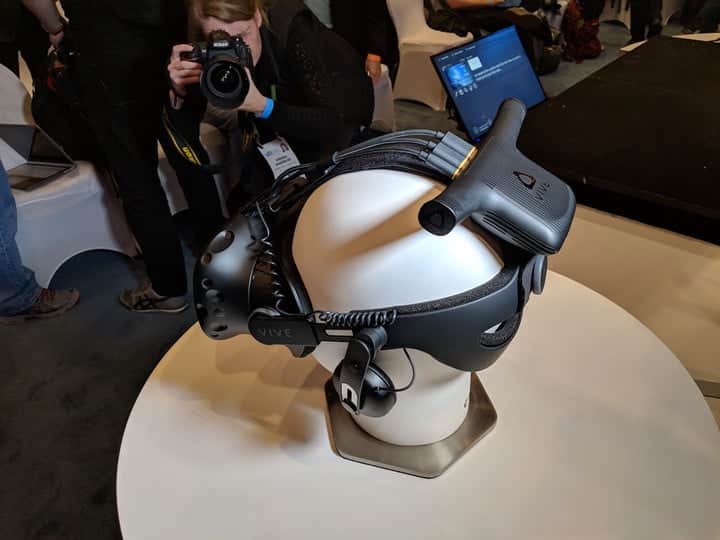 In addition to a redesigned head strap and sizing dial, the unit is lighter in weight (though HTC hasn't said how much lighter). Though the default version is still a tethered device, there's an upgrade option with a new wireless adapter (you may look a little like you're wearing horns).
And the HMD has other interesting features.
HTC has also added dual microphones and dual front-facing cameras, which are designed for developers to take advantage of. The headset itself looks far less clunky than the original, and HTC has added a blue color to the key elements and the front display. The two front-facing cameras look like eyes, and it's a design that will clearly differentiate it from the original Vive. (The Verge)
Serious room to roam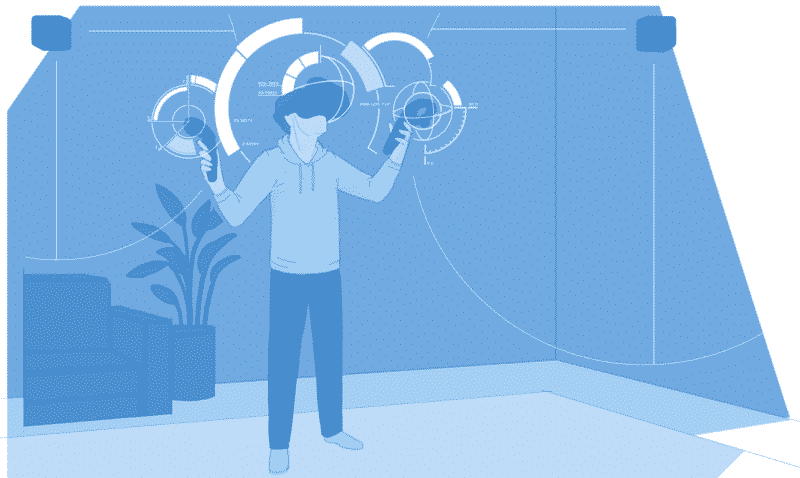 One of the major selling points of the HTC Vive and SteamVR setup has always been the free-roaming space. With two base stations, you could carve out 132 square feet – if you had that kind of room. It was definitely useful for VR arcades, along with university and school installations.
We went with a Vive unit for our workshops for the same reason. HTC seemed to get that virtual reality is often a very physical experience. You don't want to be constrained by boundaries.
Last fall, SteamVR 2.0 was announced but the hardware hasn't been available. The new HTC Vive Pro VR headset will make the platform a reality. It will use 4 base stations to create an astonishing 1,075 square feet of space. Or 99.87 Square Meter (m²).
Let that sink in for a moment.
You're going from a 10×13 foot room to a space that is roughly 33×33 feet. Few of us have anything like that kind of space (definitely not in our urban apartments). It will open the possibility for educational institutions and museums to create far more complex stories and VR experiences than we can have at home.
We'll have to rethink how we design our learning environments for VR labs. And there's a world of new possibilities for arcades, film festivals, and museums. Especially once you go wireless.
Of course, all this comes with a catch. As Ars Technica notes,
. . . the entire SteamVR pipeline must be upgraded to take advantage of this jump, including new "SteamVR Tracking 2.0" base stations that will begin rolling out to developers at the start of 2018. Developers will need to test these tracking boxes with head-mounted displays (HMDs) that are compatible with the new trackers' standard, dubbed TS4321—meaning, not the HTC Vive currently on store shelves. These tracking boxes work the same as the original infrared-crazy base stations, and they add support for "modulated light carrier input."
When can I get one?
Soon, says HTC, but not yet. The current Vive model remains on sale throughout the rest of this year (good news, perhaps, if you just bought one). The new HTC Vive Pro VR headset will be available to current customers this spring with the full package out this summer.
And what about Oculus?
HTC's move put pressure on Facebook's VR efforts especially with the Oculus Go about to appear. While Facebook's HMD is a standalone headset, the resolution won't come close to what the new HTC device offers. Oculus Go could get caught in the middle – between Google's Daydream HMD and Samsung Gear VR on one side, and the HTC Vive Pro VR headset (and Oculus Rift) on the other.
That means there will a lot riding on Facebook's higher-end Santa Cruz project which is not due out until the end of the year. HTC just threw down the gauntlet for a major upgrade in our VR experiences.
But let's not jump to conclusions just yet. CES 2018 is just getting underway.