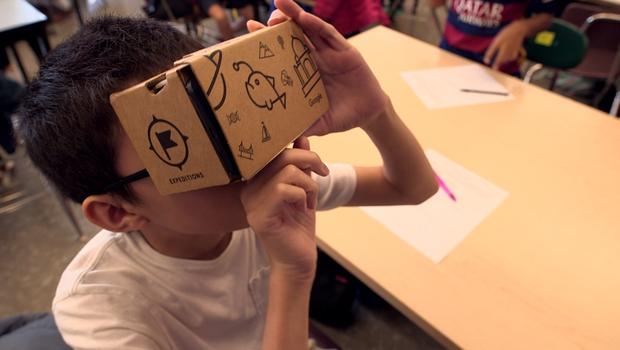 Google Expeditions Project is expanding to twelve more cities in the United States and three internationally. The Google kit for schools includes Asus Smartphones, Google Cardboards that turn them into Virtual Reality devices (some of the kits use Mattel's VR device), along with a tablet and router for the teacher.
Using the kits, students can do virtual reality field trips to over a 120 scenes in VR, including iconic settings such as the Great Barrier Reef and Mount Fuji. For the vast majority of students, it will be their first experience of virtual reality.
From TechTimes:
The program, offered at no cost to schools and students, has expanded to serve classrooms in the U.S. cities of Alexandria, Baltimore, Cincinnati, Detroit, Indianapolis, Las Vegas, New Orleans, Orlando, Phoenix, Portland, Salt Lake City and Washington DC.

Expeditions has also expanded its footprint abroad in serving cities in Canada (Toronto), Denmark and Singapore.
Google has already reached a 100,000 children through the project and is on target to hit a million by the end of 2016.
Impact of VR on education
Given the novelty of virtual reality at the moment, it's sure to have an impact. But with Google's wide distribution of Cardboard, the The New York Times VR initiative, and other projects, virtual reality will soon be a common experience.
The deeper question will be how much does virtual reality actually impact learning – or at very least, the way we learn. That's not a question we can answer at this stage, but the initial signs are very positive. As Michelle Guzman, a teacher in San Jose said:
Teachers were amazed at the things they could do and the places they could see with their students," says Guzman. "Several are continuing lessons that developed from the field trip they experienced. I know that it will change the way I help my students adapt and learn.
When we put students in the middle of a scene instead of just watching it in a rectangle on the wall, it changes our relationship to what we see. It's a new form of visual presence that has the potential to link learning to the sense of agency we take for granted in our daily lives:
In virtual reality, people are acting how they would in the real world; they have a sense of presence, they're now part of the story.

Want to be a part of it?
If you're interested, an Expeditions website is available for schools that want to be apply to the Pioneer Program.
Emory Craig is a writer, speaker, and VR consultant with extensive experience in art, new media, and higher education. He speaks at global conferences on innovation, education, and ethical technology in the future. He has published widely and worked with the US Agency for International Development, the United Nations, and the Organization for Economic Co-operation and Development (OECD). Living at the intersection of learning, games, and immersive storytelling, he is fascinated by AI-based avatars, digital twins, and the ethical implications of blurring the boundaries between the real and the virtual.