Virtuali-Tee is an augmented reality t-shirt that shows a representation of what's under your skin. The project just came up on Kickstarter and it's already 25% toward its goal with 28 days left. For $30 you get a t-shirt with an imprinted design and an augmented reality app for your Smartphone. Point your phone at someone wearing the t-shirt, and you're on your way to a very engaging anatomy lesson.
On one level, this might seem somewhat creepy. It's not really your internal organs, just a good representation. But they are moving which gives it all a very strange quality. Am I seeing more of you than I ever want to know? But on another level, the educational possibilities are fascinating and a not-so-subtle hint of what's coming in the next five years.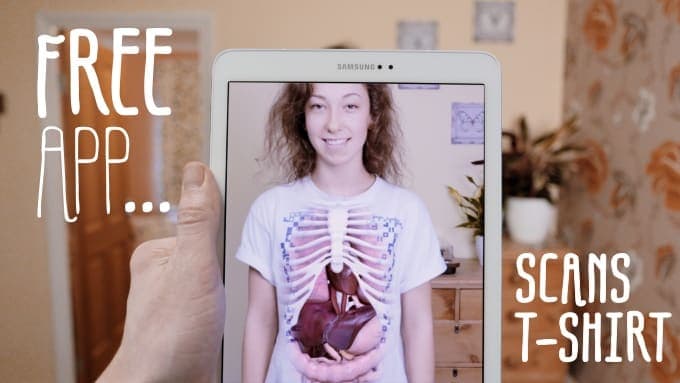 Augmented Reality Clothes
For some reason, AR and clothes just seem to go together. There's a number of companies exploring the use of augmented reality in retail. One of the most interesting was an early project created by the Russian agency AR Door for the Topshop store in Moscow in 2011. Basically it used AR and a Kinect hack to replace the dressing room.
As described in Wired:
Augmented reality allows the customers to select a garment off the rack without having to try it on physically. As a customer, you see yourself onscreen with a 3D copy of a dress. Kinect allows the user to control the program by simple gestures pushing virtual buttons right in the air.
It may not be perfect but one thing is clear – you'll "try on" a lot more items when you do not have to physically dress yourself in each one. Here's a quick video of the installation:
More AR retail apps are on their way, including a recently released app for Fiat Chrysler Automobiles (FCA). Built by Accenture Digital and using Google's Project Tango developer kit (which has lots of possibilities for mobile VR), it's an immersive car sales application. Check out the video of the Fiat Project Tango app – with a Tango mobile device, you can custom design a car to your preferences with a few swipes on an app.
Augmented Reality and Learning
Augmented reality has made a few inroads into the learning environment and we've used Layar for demos and workshops. As Layar notes, you can turn an image into a multimedia player, a social media hub or a conversation. And creating on the app is close enough to PowerPoint to require little in the way of support. We'll have more on Layar in the near future.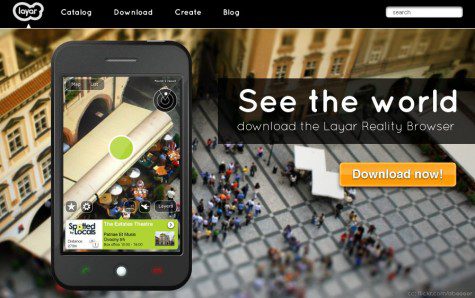 The AR t-shirt Virtuali-Tee is just one small but interesting step in the AR world. You could surely do some engaging anatomy lessons that would turn your body into the text. But you can see this expanding far beyond this single topic. Combine a t-shirt like Virtuali-Tee with Layar's programmable images and designs and you might explore a range of subjects around sociology, identity and culture.
Right now, some of the AR developments can seem gimmicky but this will quickly change with improved resolution and better location tracking (yes, Project Tango, we're waiting for you). And once we get augmented reality off our smartphones and into our eyewear, a whole range of learning opportunities will emerge.
Emory Craig is a writer, speaker, and VR consultant with extensive experience in art, new media, and higher education. He speaks at global conferences on innovation, education, and ethical technology in the future. He has published widely and worked with the US Agency for International Development, the United Nations, and the Organization for Economic Co-operation and Development (OECD). Living at the intersection of learning, games, and immersive storytelling, he is fascinated by AI-based avatars, digital twins, and the ethical implications of blurring the boundaries between the real and the virtual.