High schools and higher education may be rushing to embrace online learning (despite the zoombombing and privacy issues along the way), but it's not so simple in primary schools. With almost 1.5 billion children out of school, teachers are using video, social media, collaborative tools, snail-mail, and even drive-by caravans to stay connected to their students. Augmented and virtual reality may not seem all that relevant for this age group, but Within's AR reading app Wonderscope offers an innovative way to help younger children with their reading skills.
Chris Milk's Within is a premier studio for immersive storytelling experiences in 360 video, and we've always loved their Wonderscope AR app. At a time like this, it's just what children (and parents) need may in a world where education has been turned upside down by a global pandemic.
We're not sure education – or any of us – will ever be the same after this crisis. But that's a topic for a later time when I can walk outside without gloves and a face mask, and don't have to cross the street when I see someone coming down my narrow sidewalk. Right now, everyone is scrambling to make sure classes keep running and making sure learning doesn't become yet another victim of the virus.
Wonderscope AR Reading App
In each episode of this beautifully designed AR reading app, the child meets a character in a virtual environment. The content is not marker-driven or limited to a tabletop; the stories become the environment seen through the screen and respond to a child's voice and movements.
As Chris Milk said back in 2018,
In some ways, I'm making the product that I wish I had when I was 7. . . 7-year-old me was a dyslexic kid that had a lot of trouble reading. I would really have loved to have something like this in my life, where I was active in a conversation with a character.
You can clearly see this in the app as it's designed to help children from 6-8 years old enjoy reading and encourage them to create their own stories.
A Delightful – and Smart – Design
The app uses a basic form of speech recognition – not the most accurate, but it's local, so there is no lag time. And by not focusing completely on accuracy, it opens up the experience to children with speech impediments. The text appears at the bottom of the screen, and as the child reads through it, the words disappear, the characters come to life, and the story progresses. 
This might be augmented reality for a six-year-old, but it does it exceptionally well. There are companies designing AR apps for older students that could learn from Wonderscope.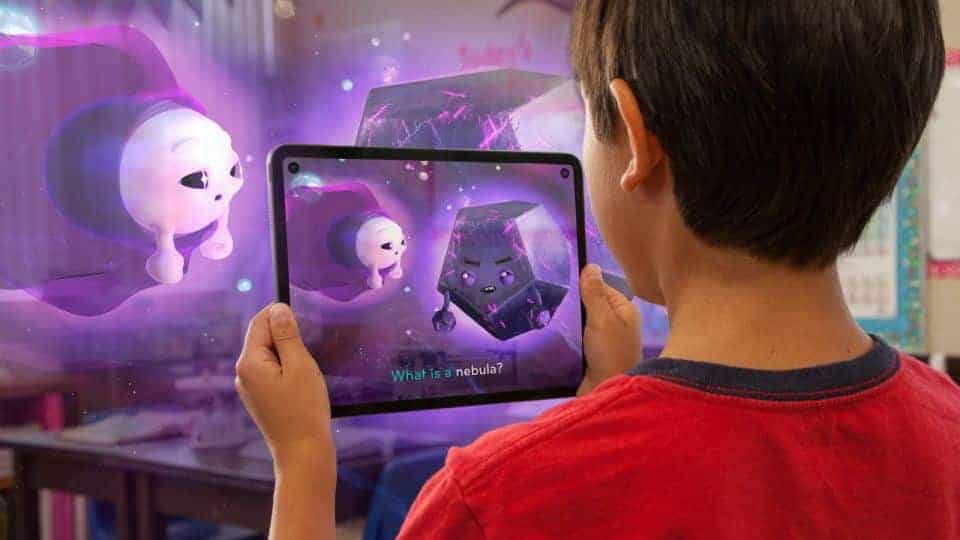 Within recognized that parents might give the app on a tablet to their children and walk out of the room, so it needed safeguards to prevent injuries. In Engadget, Within's director of development, Jonny Ahdout said that the app.
. . . allows developers to create fully immersive content. This involves using Apple's ARKit to craft characters, place them in a space that envelopes an entire room, not just a tabletop. It will also offer safeguards for borders so your kid doesn't go running into a wall (when the feature launches), which, perhaps counterintuitively, makes it safe for them to go exploring within a room.
It's a very well-conceived approach, but one that creates another problem. Building the app only on ARKit limits it to iOS devices. With Android holding 70% of the mobile and tablet market globally (and often, the less expensive products), all too many children won't be able to use it.
Wonderscope's Now-free Content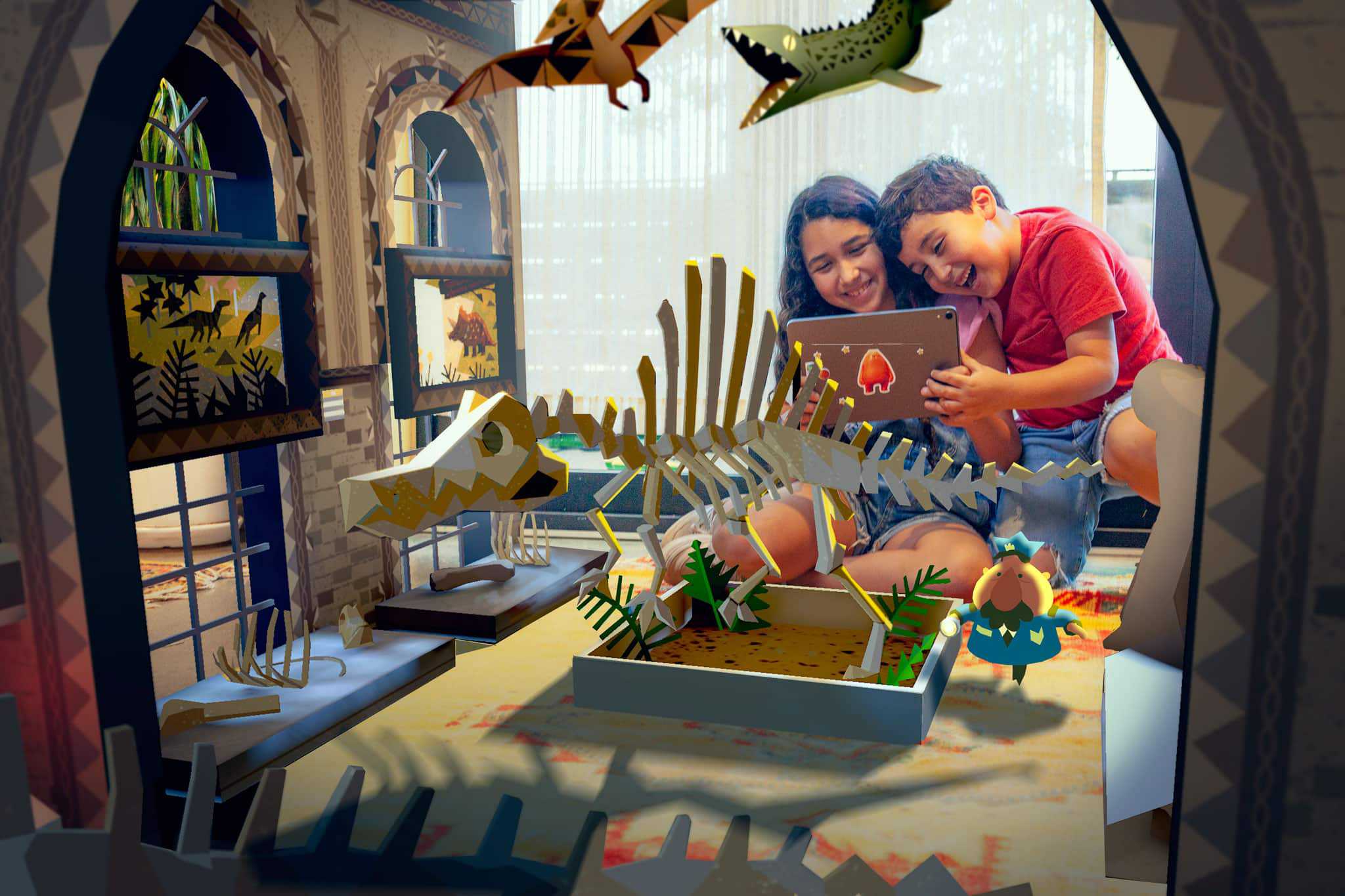 The AR reading app comes with one story with additional AR experiences priced at $4.99. But for now, everything is free if you have an iPhone, iPad, or iTouch to put it on. VRScout has a list of the content that will be freely available until June:
A Brief History of Stunts by Astounding People: Take part in three of history's most impossible stunts and meet the real people that made them happen.
Wonder's Land Ringmaster Wanted: Meet Wonder, the Ringmaster of Wonder's Land, who gives you a tour of the nonsensical world he calls home.
Little Red the Inventor: Become Red's imaginary friend and help her show the Big Bad Wolf how strong her voice can be.
Clio's Cosmic Quest: Step into a space portal and explore amazing facts about our solar system.
Lauren and the Three Bears: Lauren has been tasked with filling in for Goldilocks. There's only one problem: Goldilocks didn't tell her anything about the plot!
Willowcrest Manor: In this story, kids play the house ghost, as Godfrey — the ghost butler
— teaches kids how to haunt and spook.
Sinclair Snake: Kids search for the notorious Sinclair Snake while exploring a natural history museum, solving puzzles and learning fun facts along the way.
Within's move to open up the content is a wonderful gesture for parents who suddenly find themselves taking on new responsibilities as a first or second-grade teacher. Even more so if they are doing the impossible – simultaneously trying to work remotely.
And it's an excellent time to try the app if you're working on augmented reality projects. The overall design and the way it embeds voice recognition and movement into the experience are excellent.
Once again, Within lives up to its tag line of creating extraordinary stories.
Emory Craig is a writer, speaker, and consultant specializing in virtual reality (VR) and artificial intelligence (AI) with a rich background in art, new media, and higher education. A sought-after speaker at international conferences, he shares his unique insights on innovation and collaborates with universities, nonprofits, businesses, and international organizations to develop transformative initiatives in XR, AI, and digital ethics. Passionate about harnessing the potential of cutting-edge technologies, he explores the ethical ramifications of blending the real with the virtual, sparking meaningful conversations about the future of human experience in an increasingly interconnected world.