Update: Watch the 2018 Macy's Thanksgiving Parade in 360° Video!
Want to watch the Macy's Thanksgiving Day Parade in 360 Video? It may actually be the best way to see it if you don't want to brave the cold winds and massive crowds. Notable for its floats and extraordinarily large balloons, the Parade has its 90th anniversary this year.
The live-stream YouTube 360 Video will begin on Thursday, November 24, 9:00am Eastern Time.
[UPDATE: The 2016 360 Video has been removed but the 360 video of the 2017 parade is now available.]
Thanksgiving Day Parade in 360 Video
NBCUniversal and Verizon will VR stream the event by positioning five 360-degree cameras along the route through New York City. The 360 video won't be full virtual reality, but close enough.
As the New York Times proved with its VR work on the Presidential Campaign, The Contenders, large crowd scenes can be a compelling experience in virtual reality. Indeed, it can be better than actually being there.
In many ways, the Parade is a throwback to another era, a form of entertainment that debuted long before television, during the birth of radio and the early days of cinema. You can imagine the visual impact at the time. But as the world changes, it's time for some new media.
In another year or two, we expect the VR cameras will be part of the parade. And with the rapid development in Social VR, it won't be that long before you'll be able to join in the Parade with your own VR avatar. And the balloons will be interacting with you.
From watching to participating – we're entering a new era.
Thanksgiving Parade Design Studio
While you are waiting for tomorrow's event, you can always check out the four 360 videos of the studio where the floats and balloons are designed. The studio is like a makerspace (I've visited it in the past) and getting ready for the Parade is a full-time, year around operation.
Parade preparations
Many of us who live in New York head to the Upper West Side the night before Thanksgiving to watch the balloons get inflated. So for the moment, here's a few images from our real-life trip tonight. It's actually as much fun as the Parade itself. Tomorrow, we'll see how it all looks on the live-stream VR video.
If you celebrate Thanksgiving, have a wonderful holiday!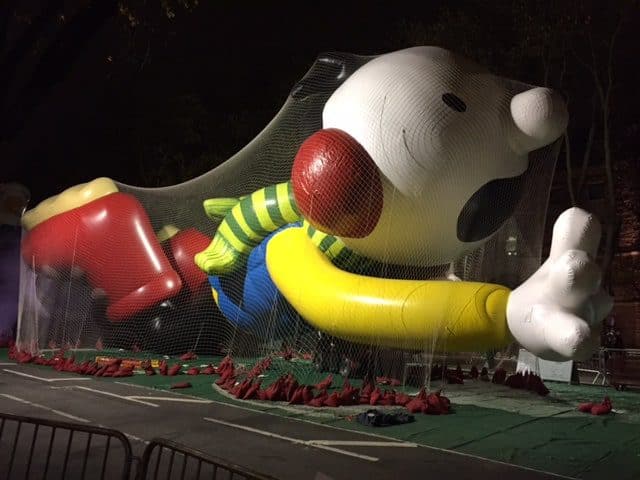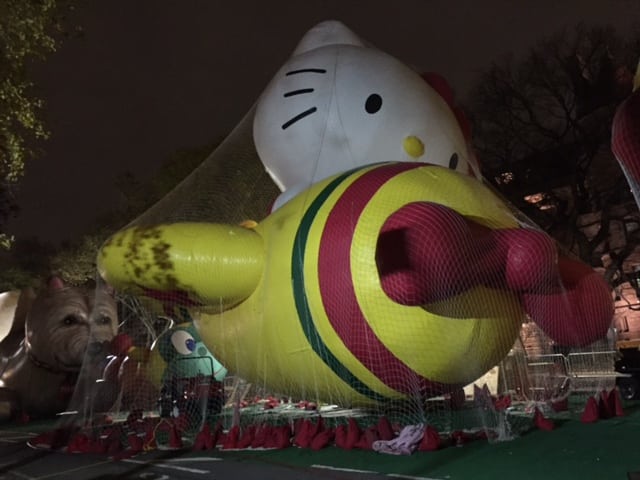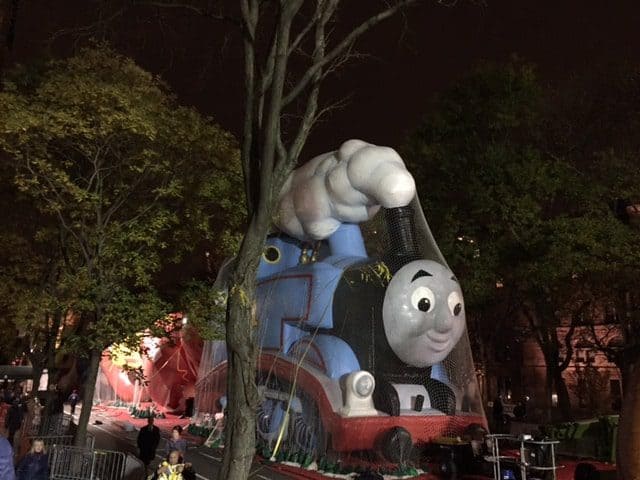 Emory Craig is a VR consultant, writer, and speaker with years of experience in art, new media, and higher education. He is actively engaged in innovative developments for AR and VR at the intersection of learning, games, and immersive storytelling. He is fascinated by virtual worlds, AI-driven avatars, and the ethical implications of blurring the boundaries between the real and the virtual.